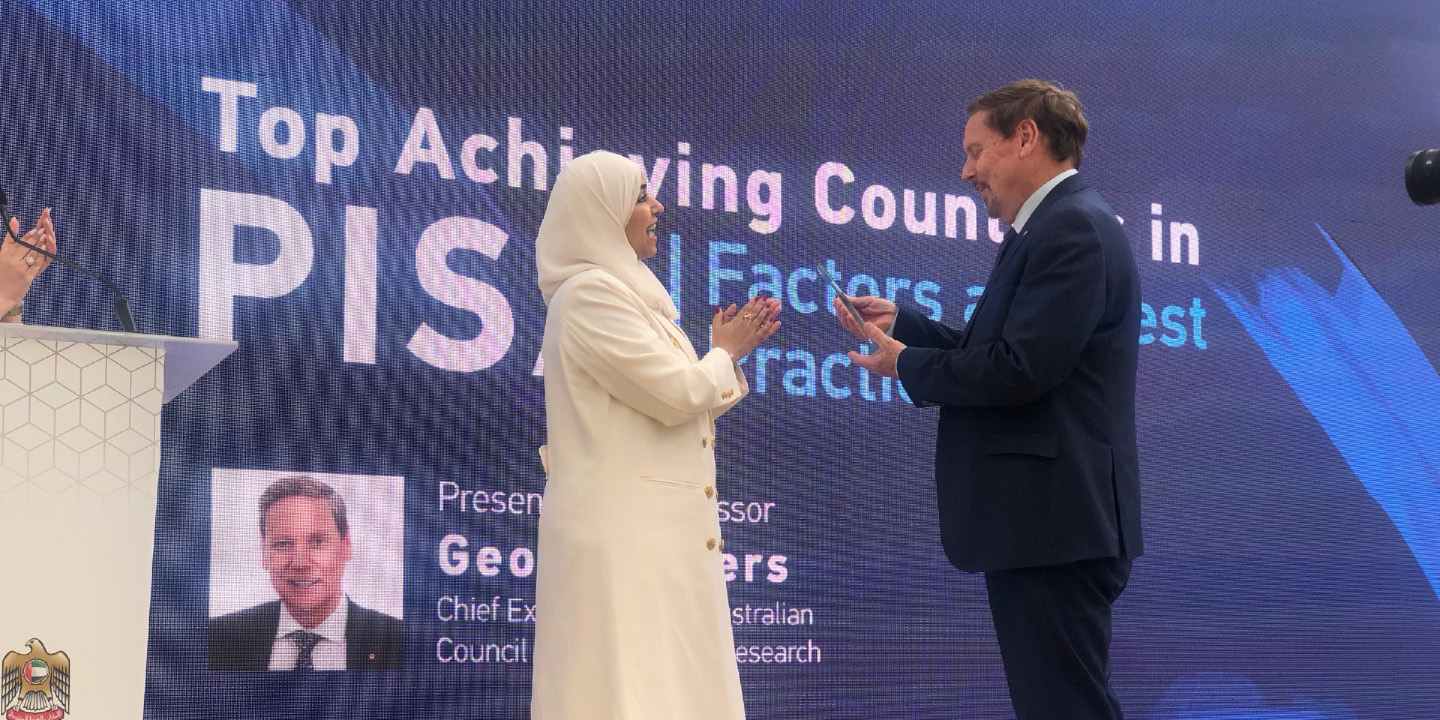 Professor Geoff Masters and the UAE Minister of Education Her Excellency Sarah Al Amiri in Dubai. - Photo ©UAE Ministry of Education
ACER and the Emirates School Establishment
ACER news
3 Mar 2023
4 minute read
Australian Council of Educational Research (ACER) CEO Professor Geoff Masters presented the final outcomes of the Strategy Services Project to the Minister of Education Her Excellency Sarah Al Amiri in Dubai.
In 2022 the United Arab Emirates announced a major restructuring of its education system. From this emerged the Emirates Schools Establishment (ESE) which comes under the umbrella of the UAE Cabinet. The ESE is tasked with enhancing the efficiency of government schools and nurseries, supervising public schools, and implementing policies, strategies and standards related to the development of the education sector.
The ESE engaged ACER to assess the system and compare its policies and practices in:
student outcomes
teaching approaches
assessment and measurement
teacher training and development
effective school leadership with international benchmarks.
The work includes a strategic plan and a final phase which will involve developing frameworks and an implementation plan.
ACER CEO Professor Geoff Masters was in Dubai to present the final outcomes of the Strategy Services Project to the Minister of Education Her Excellency Sarah Al Amiri. He also held several meetings with the senior leadership team of the ESE.

The United Arab Emirates Ministry of Education hosted one event where Professor Masters delivered a presentation on the top achieving countries in the OECD Programme for International Student Assessment (PISA). In the photo above he is pictured with the Director of the Assessment Department, Hessa Al Wahabi. An excerpt from a video of the event is available to view here.

ACER has a 5-year plan to play a global leadership role ​​​​​​​​​​​to better prepare people for their futures, and ​​​​​​​to ensure that every learner learns successfully and nobody is left behind. ACER has committed to 3 general priorities:
to lead reform - leading thinking and undertaking research to address these two challenges
to shape policy - working with education systems on necessary reforms of their current learning systems
to enhance practice - supporting transformed practices through redesigned products and services for practitioners
The work for the ESE aligns with the strategic plan and demonstrates ACER's capabilities with school systems and governments internationally. In the near future, ACER looks forward to highlighting some of the specific outcomes from its work with the ESE.