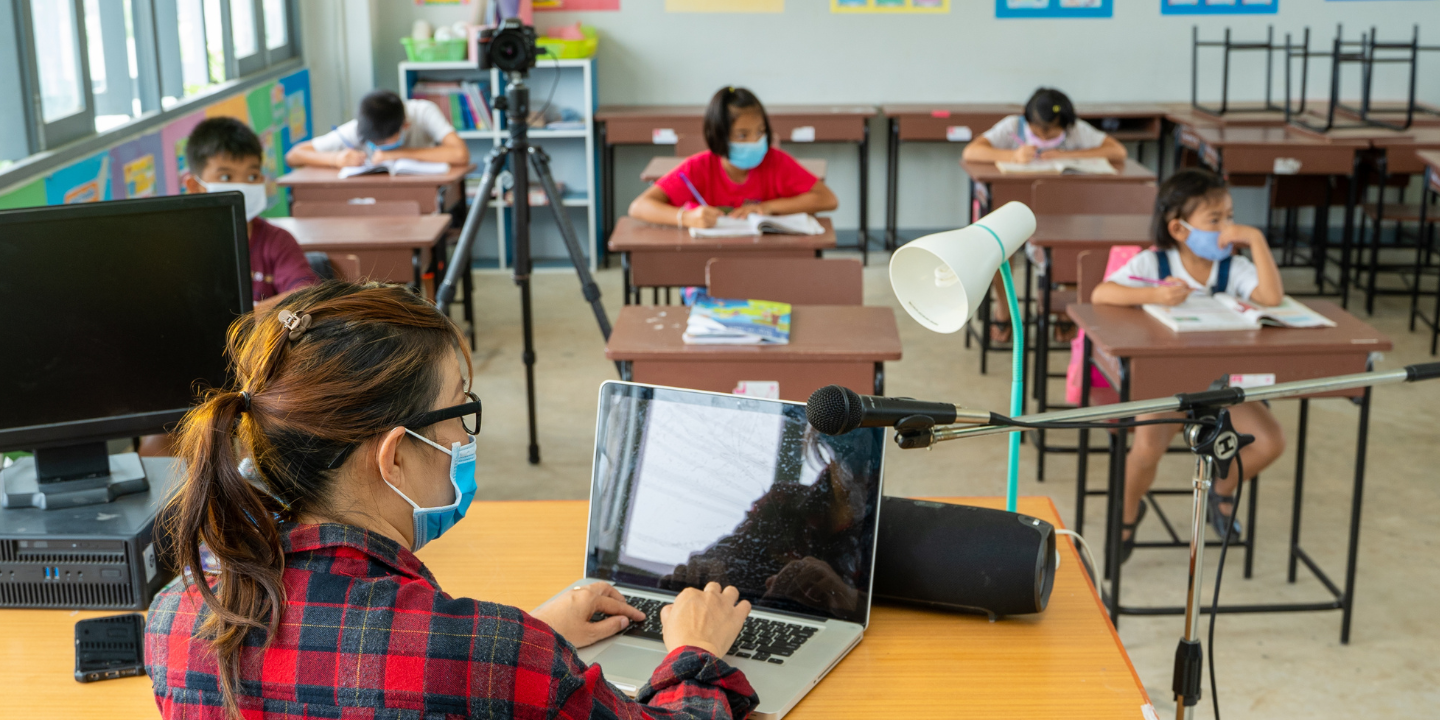 (c) Shutterstock.com/M2020
Exploring system and school resilience in Asia
Research
23 Jan 2023
4 minute read
New research focusing on the experiences of principals, teachers, and parents in the Asia region highlights 'bright spots' in educational practice.
Across the Asia region, it is estimated that around 760 million children were impacted by school closures at the height of the COVID-19 pandemic. As education systems recover, there is a need to develop new ways to safeguard learning and address persistent barriers to learning equality by harnessing opportunities for systemic change.
Over the past 3 years, much educational research has focused on learning loss or declines in student academic performance. However, research into school-based practices and responses that are effective in supporting student learning during crises have not been well examined, particularly in Asia.
Understanding what happens in a school setting can offer meaningful insights into overcoming barriers to educational quality, as education systems rebuild and prepare for future crises. For this reason, a recent study undertaken by ACER for RTI International and the United States Agency for International Development (USAID), focused on examining both challenges and opportunities facing schools and students in the Kyrgyz Republic, the Philippines, and the Lao People's Democratic Republic (PDR). The study forms part of the Broader All Children Reading-Asia Project.
The study examined the readiness, response, and recovery of each country's education system before and during the pandemic. Importantly, it sought to understand how low-income education systems in Asia plan and manage strategies that foster educational improvement and resilience. An additional focus was on school-level practices that safeguard children's learning and social-emotional wellbeing during periods of crisis.
Encouragingly, the study found that while the pandemic has exposed numerous weaknesses in the education system, there are also many opportunities to leverage innovation and motivation at the school level.
Many schools across the Philippines and the Kyrgyz Republic are well positioned to respond to the challenges raised during the pandemic. This is due to strengths in leadership, partnerships and collaboration among local education stakeholders.
At the policy level, political leadership and well-coordinated responses by the central governments in Lao PDR, the Kyrgyz Republic, and the Philippines often provided necessary support for the development of remote learning modalities and resources for vulnerable students to support continuity of learning.
Teachers described gaining new digital skills and greater confidence to teach using technology. These new practices allowed teachers to implement innovative approaches that promoted student engagement. In addition to developing new digital skills, teachers described purchasing devices for students, preparing home learning packs, adapting assessments, and conducting welfare checks for students.
Strengthened partnerships between teachers and parents were also identified in the study. Effective collaborations between schools and families led to improved learning opportunities for students during the pandemic, marking a shift in which children's learning success became a shared responsibility between the school and parents.
Overall, teachers appeared to carry most responsibility for student learning in all 3 contexts. Teachers reported high levels of dedication to their role, often at the expense of their own wellbeing.
It is clear from the research that support for teachers, and partnerships between educators and parents should be reinforced and fostered to support monitoring, growth, and student wellbeing.
Strengthened partnerships between school, home, and community build trust and shared accountability for children's learning outcomes. This also increases the perceived value of education and creates greater confidence in the education system.
Funding
This study was conducted for RTI International, as part of the broader All Children Reading Asia (ACR-Asia) project. ACR-Asia is a USAID-funded, RTI International project that directly contributes to USAID's education goal to improve early grade reading skills for 100 million children.
Further reading
Read – COVID-19 Responses in Asia: Executive summary
Learn more about System Strengthening to Improve Educational Outcomes in Asia: All Children Reading-Asia
Find out more about ACER's Education and Development work and research on System Resilience in Asia
Find out more about ACER's projects in Indonesia