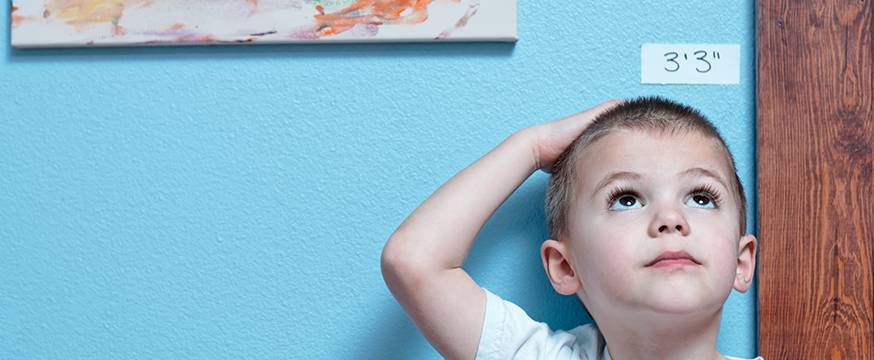 Measuring progress
Research
30 May 2013
7 minute read
Geoff Masters discusses the need for a system of educational assessment that provides long-term pictures of student progress.
When my siblings and I were growing up, my father occasionally stood each of us against the back door and, with a pencil line, marked our height on the door. He wrote our initials and the date alongside each mark. For us, it was an opportunity to inspect how much we had grown since the previous pencil mark and to marvel again at how small we once were. My father's record was made over many years. It was a long-term picture of our growing up.
At school, it was much more difficult to monitor the progress we were making. There, we were judged on how well we had learnt what teachers had just taught. Those who could demonstrate almost all of what had been taught received an 'A'. Those who demonstrated very little were assigned an 'E' or, occasionally, an 'F'. For those of us who received the same letter grade year after year, it could seem as though we were making no progress at all.
American academic Linda Darling-Hammond once observed that schools operate a little like assembly lines. Students are grouped by age and move along a 'conveyor belt' from Kindergarten to Year 12. At each stage, students are delivered the curriculum considered appropriate for their age and, as in many other production line processes, the outputs of each stage are graded for their quality. Not uncommonly, a small percentage of cases fail to meet minimum quality standards.
Letter grades do not provide useful long-term pictures of student progress.
Despite their widespread use, letter grades do not provide useful long-term pictures of student progress because they relate only to short-term success on defined bodies of taught content. Each new school year – and often each new course or topic – is treated as a fresh start and success is judged and graded anew, usually independently of all other assessments of a student's learning.
This practice, which first appeared in the late 19th century, has become the dominant approach to assessing and reporting school learning. Even assessments undertaken to guide teaching tend to be based on short-term judgements of student success. However, this is not the only way of thinking about assessment. In other professions, such as medicine and psychology, the purpose of assessment is not so much to judge as to understand.
If school assessments in the 21st century are to contribute to improved learning and better outcomes for all students, then a change in approach is required. Assessments must be designed for the fundamental purpose of establishing and understanding where learners are in their long-term progress in an area of learning at the time of assessment. There are several reasons why this is now urgent.
First, effective decision making in education depends on good information about where students are in their learning. Teachers, parents, school leaders, governments and students themselves require information that can be used to identify starting points and to plan courses of action, to monitor progress over time and to evaluate the effectiveness of their efforts. The level of detail required depends on the user. Teachers sometimes require detailed diagnostic information about individuals' difficulties, errors and misunderstandings. Education systems require group-level information that can be used to target resources, benchmark learning against world's best practice, monitor trends over time and evaluate progress in closing achievement gaps. At all levels of educational decision-making, assessments are now required not merely for judging learning, but for establishing and understanding where students are in their learning.
Among students of the same age, achievement levels in some subjects differ by about six years of school.
Second, better methods are required for assessing and acknowledging the progress that individuals make in their learning. Among students of the same age, achievement levels in some subjects (for example, mathematics and reading) differ by about six years of school. This means that the same year-level curriculum is not equally appropriate for all students. When learning is judged as success on a common year-level curriculum, it is almost inevitable that less advanced students will struggle and achieve low grades and more advanced students will achieve high grades, sometimes with minimal effort. And this is likely to be repeated year after year. A student who consistently receives a 'D' not only is unable to see the progress they are making, but worse, may infer that there is something stable about their ability to learn – that is, that they are a 'D-student'.
The alternative is to recognise that students are at different points in their learning, but that all are capable of making progress if they can be engaged, motivated and provided with relevant learning opportunities. Learning is more appropriately defined and measured as the progress that individuals make, whatever their starting points. Excellent progress should be an expectation of every student. And when students are assisted to see the progress they are making, they are more likely to develop positive views of themselves as learners and to appreciate the relationship between effort and success.
Third, the priorities being identified for schools in the 21st century increasingly require long-term perspectives on student learning. In today's schools, greater priority is being given to the development of personal attributes and life skills, including skills in solving problems, communicating ideas, working in teams, evaluating information, and creating and innovating. More emphasis also is being given to students' abilities to apply what they are learning to real-world problems, often requiring the development of deep understandings of concepts and principles over extended periods of time. Learning of these kinds is not well monitored using processes designed to judge and grade success on limited bodies of taught content. More appropriate are processes for monitoring long-term attribute and skill development.
Fourth, the emergence of new technologies, and changes in where and when learning takes place are demanding new approaches to assessment. Traditional forms of assessment are intimately tied to traditional methods of educational delivery. But new technologies are enabling more flexible, personalised forms of learning, including by providing learning activities tailored to individuals' current levels of progress and learning needs. In classrooms of the future, technology will play a more direct role in gathering information about where learners are in their learning and in monitoring the progress they make over time.
Learning is ... the progress that individuals make, whatever their starting points.
The process of establishing where students are in their long-term progress in an area of learning depends on a deep understanding of the learning area itself. This includes a research-based understanding of how learning typically develops, the role of prerequisite skills and knowledge, and common learning difficulties. School reports of the future must be less focused on judging and grading success, and more focused on communicating where individuals are in their ongoing learning and what progress they are making – a little reminiscent of the pencil marks on our back door.
Find out more:
Read more about Geoff Masters' views on assessment in Australian Education Review number 57, Reforming Educational Assessment: Imperatives, principles and challenges (ACER Press 2013).
The Australian Education Review series is edited by ACER Senior Research Fellow Suzanne Mellor and is available as a free download from the ACER Online Shop. Print copies can be purchased from ACER Press, ph.1800 338 402 or email sales@acer.edu.au.