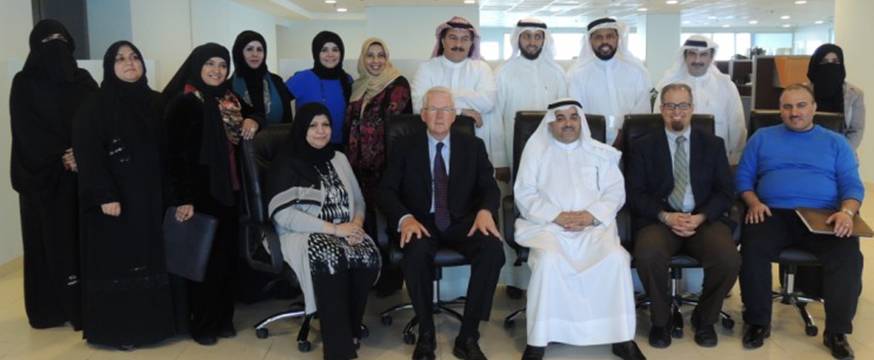 National teaching standards for Kuwait
Research
24 Apr 2013
3 minute read
ACER Principal Research Fellow Dr Lawrence Ingvarson has been assisting Kuwait to develop a national teaching standards framework.
The project is part of a broader World Bank education technical assistance mission project to develop National Education Standards for Kuwait. The World Bank project includes the development of a national curriculum, learning standards, school environment standards and leadership standards as well as teaching standards.
The National Teaching Standards Writing Group first came together for five days in November 2012. It consists of teachers, teacher educators and members of the national teachers' association. Dr Ingvarson guided the Writing Group through the process of preparing the first draft set of standards. After leading two more writing workshops in February and March 2013, the Writing Group has completed a draft ready for consultation and validation.
The validation process will involve distribution of the draft standards to a wide range of educators at all levels of the Kuwait education system during April and May 2013, together with a set of guidelines and questions to assist discussion and evaluation of the draft framework. A national survey and focus group meeting with major stakeholders will also be part of the validation process. It is expected that a final draft of the framework will be completed in June 2013.
As part of the project, Dr Ingvarson has worked closely with members of the National Center for Education (NCED) and the Ministry of Education. Discussions have focused on key policy decisions in relation to the purposes for the standards. These include using the standards for purposes such as:
Accreditation of teacher education programs;
Registration of new teachers for full entry to the profession; and
Advanced certification of teachers.
Dr Ingvarson has advised that each of these purposes must be based on a valid and professionally respected set of standards for good teaching if, together, they are to be effective in assuring teacher quality. Consideration is also being given to whether Kuwait should establish an independent body with legislated responsibility to carry out these functions.
Special attention was given to making sure that the standards developed by the Writing Group were assessable; that is, that they were written in such a way that they indicated what kind of evidence might be gathered to show that a teacher had met the standards. At this stage, the standards only indicate what teachers should know and be able to do. Methods for gathering evidence about a teacher's performance and methods for assessing whether that performance meets the standards will need to be established before the standards are fully developed.
The present set of teaching standards is applicable to all teachers. In later versions of the framework, the standards will be elaborated for different specialist fields of teaching in Kuwait.