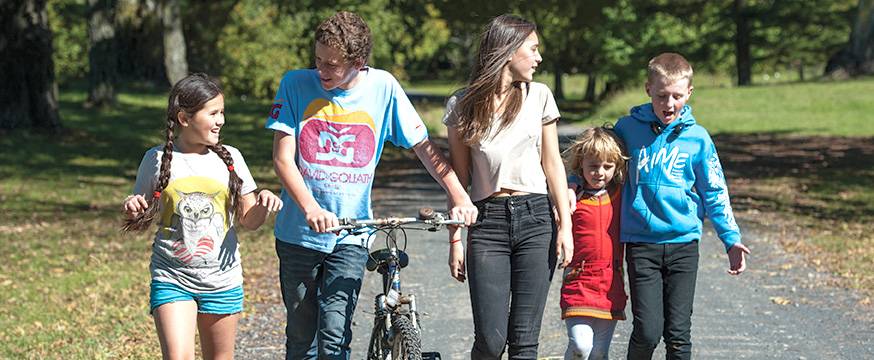 Towards a 'good life' for children in their middle years
Research
5 Feb 2014
7 minute read
Petra Lietz describes a new research collaboration to design and conduct Australia's first internationally comparable survey of student wellbeing, with a particular focus on disadvantaged students.
Towards a 'good life' for children in their middle years
The wellbeing of children in their middle years is important for their current quality of life, and for their future development. Wellbeing can be broadly understood as people's material and environmental circumstances, relationships, and how they think about themselves in the context of those circumstances and relationships.
While there is a growing interest in Australian children's wellbeing in their middle years, less is known about how wellbeing varies among different groups of children. If policies to promote children's wellbeing are to be implemented, then policymakers need to know how children in general, and disadvantaged children in particular, understand and rate their own wellbeing.
To fill that knowledge gap, a team of researchers at Flinders University of South Australia, the University of New South Wales, and the Australian Council for Educational Research (ACER) are collaborating on a new child-centred study in which children's perspectives are being used to design and conduct Australia's first major nationally representative and internationally comparable survey of wellbeing among children aged eight to 14 years.
Understanding and supporting child wellbeing
The Australian Child Wellbeing Project aims to further our understanding of how children understand their own wellbeing and provide information that contributes to the development of effective services for children's healthy development. The projects pays particular attention to understanding the perspectives of six groups of children with specific experiences and needs that may have a bearing on their wellbeing: Aboriginal and Torres Strait Islander children, culturally and linguistically diverse children, children with disability, children in regional and remote Australia, economically disadvantaged children and children in out-of-home care.
The project is funded by the Australian Research Council through a Linkage Grant, and supported by Australian Government agencies including the Department of Education, Department of Social Services, the Australian Institute of Health and Welfare, and the Australian Bureau of Statistics (ABS).
The first major phase of the project commenced in late 2012 and involved in-depth group work and interviews with eight- to 14-year olds. These young people's perspectives have since been used in work led by ACER to design an online quantitative survey. The survey will be piloted online in 20 schools in New South Wales and Victoria during Term 1 2014, followed by a national online survey in Term 3 2014.
The main survey will involve a nationally representative sample of 18 000 students in Years 4, 6 and 8, drawn from a random sample of more than 460 primary and secondary schools across every state and territory. Children taking part in the project will answer questions via a confidential online survey. Further in-depth interviews with 80 students will then provide deeper insight on survey results, and on aspects of wellbeing which are more easily pursued in open conversations than in survey format, such as what 'community' means to different groups of young people.
The online survey will, for the first time, enable international comparisons on a number of aspects of wellbeing that will establish where Australian young people stand in comparison to young people in other high-income countries. Results from the national survey will feed into the final project report to be published in 2015.
Children's perspectives on wellbeing
In order to guide the development of a child-centred survey that can be meaningful not only to children in general, but also to young people at the margins of Australian society, a series of workshops were held in 2013.
Led by The Social Policy Research Centre at the University of New South Wales and Flinders University, the workshops involved 107 participants, 97 of whom were drawn from the specified target groups. The workshops involved ice-breaker games on tablet computers and brainstorm exercises, including the composition of pictures through which young people could communicate what they considered to be important in their lives.
The workshops asked what things children in each of the target groups think are important to 'having a good life'. The key themes identified in the workshops were consistent with other Australian and international research on young people's wellbeing in their middle years, while also allowing new themes to emerge. The findings of the workshops were reported in September 2013.
The report states that, among all groups, family was the most important domain to 'having a good life'; however, the definition of family varied somewhat among groups. Positive aspects of family described by children included love, support and having fun, while some children described negative aspects such as fighting, disparity of rules and bullying, including being bullied by friends.
Other domains frequently mentioned included friends, school, health, community, feeling good about yourself, and money and material goods, though these domains often meant different things to different groups of young people. Issues such as bullying, guidance and rules, stress, and learning were discussed as themes that could cut across a number of different domains such as family, friends, and school.
The findings from the workshop, described in further detail in the report, Understanding children's perspectives on wellbeing: The Australian Child Wellbeing Project: Phase One Report, by Jen Skattebol, Myra Hamilton, Grace Skrzypiec, Tammy Burnstock, Gerry Redmond, Bridget Jenkins and Kirk Dodd, have informed the development of Australia's first national survey of child wellbeing in the middle years.
Innovative survey design
In addition to taking on board the results of the workshops and existing research, the survey designers looked for scales and questions used in other national and international surveys to enable comparison with data obtained from those surveys. The proposed survey underwent rigorous scrutiny by the Project Steering Group as well as various government departments and the ABS.
In line with the project having children's perspective at its centre, the national survey is quite innovative in its design. For example, children answering the survey can select avatars and collect 'goodies' as they work through the questionnaire. Rather than providing only multiple choice or 'agree/disagree' type items, items are interactive, giving respondents a greater freedom to express, for example, the importance of various aspects for their wellbeing or how close or otherwise they feel to various people in their lives.
As children were given the chance to comment on all aspects of the questions, response scales and interactive design during interviews that preceded the field trial, the survey truly is designed 'by children, for children'. The aim is for children participating in the survey to have an enjoyable experience. After all, their wellbeing is the priority.
Find out more:
For further information about the Australian Child Wellbeing Project, visit <www.australianchildwellbeing.com.au>