The birth of ACER
Following his return from the war in 1919, Dr Kenneth Cunningham found that the war efforts had made new demands on the Australian economy and significantly altered the place and value of education and testing, triggering his significant interest in and contribution to education in Australia.
During the 1920s, amid substantial industrialisation and urbanisation taking place in Victoria, widespread testing of Victorian school children became an accepted practice; the value of education was beginning to be realised as industry increasingly called for skilled labour. This increased emphasis on education and its role in shaping an efficient and productive workforce created a need for new methods of testing, assessment and delivery of curriculum across primary and secondary schooling and gave rise to the emergence of a new organisation on the Australian educational landscape, the Australian Council for Educational Research (ACER).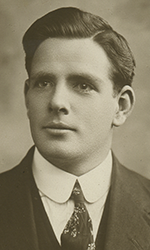 Upon returning home from service, many returned service men and women found it difficult to resume study after such a lengthy break. Ever the academic, and quite possibly due to his educational activities whilst serving, Cunningham found that he suffered very little in this regard, and almost immediately returned to his studies. Particularly fascinated by the emerging subject of Sociology, and housing high academic aspirations, Cunningham completed his bachelors and masters degrees, and his diploma of education, with first-class honours, returning to the employment of the Education Department as a teacher.
His tenure as a post-war classroom teacher was short-lived, as shortly after resuming his teaching duties he was offered a position as acting Master of Method (Primary) at the Melbourne Teachers' College, replacing a recently promoted lecturer. Students in experimental education, under Cunningham's tutelage, were given lectures on the significance of intelligence tests, memory processes, types of imagery and statistical methods. Cunningham also gave students practical demonstrations in testing, and expected them to conduct their own experiments. From his work at the Melbourne Teachers' College, Cunningham was also appointed to part-time lecturing positions at the University of Melbourne, demonstrating the respect the educational community were beginning to have for his academic credentials and qualifications.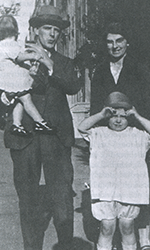 Continuing an upward rise through the education community, in 1923 Cunningham was appointed head of an educational psychology laboratory, conceived by Dr John Smyth. The emphasis of the work conducted by the laboratory was on intellectual deficiency and mental testing; training teachers to apply tests; and giving demonstrations in experimental work. Cunningham believed that testing and measurement of intelligence had a very practical application and could be administered to make teaching more effective, thus enabling a more calculated delivery of education that better served the needs of the child. As head of the laboratory, Cunningham's professional status increased and he came to be seen as something of a local expert on testing, educational psychology and individual differences.
In 1925, Cunningham was awarded a Macy Scholarship – an award made available for a prominent educator from outside the United States to attend the Teachers' College at Columbia University in New York. Accepting the scholarship, Cunningham studied at Columbia University until 1927, under the tutelage of John Dewey, Edward Lee Thorndike and Isaac Kandel, and completed his PhD in only 14 months – one of the shortest candidatures on record at Columbia. At the time, most American educational research focussed on educational surveys and curriculum construction, and Cunningham found that American education was being surveyed and examined in a myriad of different ways and directions, noting (quite clairvoyantly given his own future):
'It cannot be doubted that such surveys of Australian education will become far more common in the future. They will help to remove the present lack... of knowledge of Australian standards and achievements in education, a lack of which is due to our own failure to carry out and publish some studies';
and
'There is here a whole field of educational study which as yet has scarcely opened up in Australia, at least as forming part of organised educational study and research.'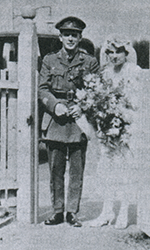 While at Columbia, Cunningham had mixed freely with the top echelon of America's progressive educational thinkers, and returned to Australia with a distinctly pro-American outlook, returning to his duties at the Melbourne Teachers' College in April 1927.
On 4 July of the same year, Frank Tate, Director of Education in Victoria, requested Cunningham's assistance on a lengthy application to the Carnegie Corporation for a grant to facilitate the 'Australian Institute of Educational Research' – with a particular emphasis on the advantages of a centralised system for the collection of research data. Tate believed that the new entity could model the pre-existing 'Council for Scientific and Industrial Research', which had a strong committee in each state, and an executive of three members to determine its policy.
The proposal was met favourably, with an assurance that once an organisation 'capable of administering funds and of directing scientific investigation' was founded the Carnegie Corporation would grant £50 000, payable in instalments from 1 January, 1930.
Over the next three years, Tate met with a committee comprised of himself, Henry Lovell and Alexander Mackie, along with various state representatives, securing their cooperation in the formation of the new entity. On 5 August, 1929 the delegates agreed on the creation of the role of 'executive officer' for the new institution.
Although the institution was to be formally constituted in February 1930, the existing stakeholders took immediate steps to appoint an executive officer. The position was widely advertised and attracted an impressive list of applicants. By the close of applications on 24 January, 1930 Cunningham was one of 10 aspirants for the position.
Through his academic achievements and work in education since returning from the war, Cunningham's application was strong, outlining his belief in the possibilities of educational research, and his determination, if appointed, to ensure that the new research organisation would perform the important functions in Australian education 'which appears to lie before it'.
The field was narrowed to three candidates before a preferential ballot identified Cunningham as the inaugural executive officer of what had by now come to be known as the Australian Council for Educational Research.
With Cunningham installed as the executive officer, ACER officially commenced work on 1 April, 1930, attracting considerable publicity from news outlets. On April 5, 1930 Cunningham published an article in the Herald entitled 'Education with its eyes open' – a title he also used on a 15-minute radio broadcast with ELO – and through which he expressed one of his earliest visions for the newly founded organisation:
'We must aim at an education which will use every possible means of critically testing its data, its methods, and its results; which will not stick like a limpet to the rock of tradition, but will move forward with its eyes open.'
That sentiment has echoed through the ongoing work of ACER and its mission to improve learning in education from the point of its inception to the present day.
References
Williams B. 1994. Education with its eyes open, Melbourne: ACER Press.
Turney C. 1983. Pioneers of Australian Education, Vol. 3. Sydney:, Sydney University Press.
Australian Dictionary of Biography, Volume 13. 1993. Canberra: Australian National University.