Dr K.S. Cunningham: early years
A pioneer of Australian education, Dr Kenneth Cunningham was the inaugural director of the Australian Council for Educational Research following its formation in 1929. A scholar, teacher, educator, researcher and author, Dr Cunningham contributed a great deal to the Australian educational landscape; a legacy that survives in the organisation today, and is honoured in the title of ACER's very own resource repository, the Cunningham Library.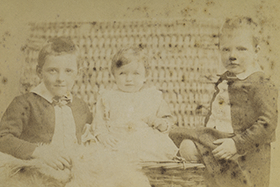 Kenneth Stewart Cunningham,
with siblings c. late 1890's
Born in Ballarat in 1890, Kenneth Stewart Cunningham was the second-oldest of the twelve children in his family. The son of Presbyterian minister, Cunningham taught himself to read at a young age by having his mother point out the words in church hymnals, before beginning his formal education at Goulburn Street School, Hobart in 1895.
Over the course of his primary school years, Cunningham attended some six different primary schools across Tasmania and Victoria. Prior to commencing secondary education, Cunningham's father raised doubts as to whether he was 'seriously-minded' enough to warrant further schooling. This passed however, and after spending six months at Ballarat College, Cunningham matriculated from St. Andrew's College in Bendigo in 1907, with the honour of being second dux.
Reluctant of his father's wishes for him to join the clergy, Cunningham was fascinated by physiology and initially decided to pursue a career in medicine, however he soon found that the financial burden of university was too great. Despite holding a job as a private tutor, and in a fortunate turn of events for Australian education, Cunningham was forced to pursue an alternate career path, applying for a position with the Victorian State Department of Education. Teacher shortages at the time allowed for Cunningham to be accepted as an adult entrant, and after a short course (less than a year) which included observation rounds and teaching lessons under observation, Cunningham took up his first educational appointment as a temporary assistant in charge of the school on Gunbower Island on the Murray River in 1909.
In a sign of things to come from Cunningham's life and legacy, it is reported that in his earliest years of work his sympathies for the less fortunate in Australian society came to the forefront, as did his penchant for research and obtaining knowledge. As a young teacher, Cunningham carted a tin trunk full of books around the countryside (being placed at a variety of schools over a five year period) and studied at length each evening. On the relieving staff at a rural school in 1911, he noted that many rural children were tired after long journeys to school and many chores at home – and that many school inspectors were unsympathetic towards this handicap, despite its obvious effects on learning.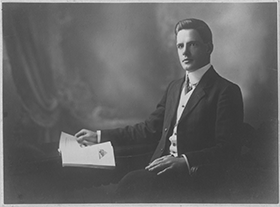 Kenneth Stewart Cunningham: A young man
in the years leading up to World War One
Cunningham moved on from his positions in regional areas to train further at the Melbourne Teacher's College in 1912, where he developed an interest in psychology and intelligence testing. On being exposed to the theories of the 'new education' movement and intelligence testing, he gained an increasing appetite for reading about overseas trends. He also came under the influence of the principal at the time, Dr. John Smyth, who permitted him to pursue secondary teaching studies at the University of Melbourne, where he completed his BA in 1914, before accepting a position at the Bell Street Fitzroy Special School for Feeble Minded Children. This school, the first of its kind in Australia, was a project of the Victorian Director of Education, Frank Tate, and was headed by inventive psychologist Stanley Porteous – both men with whom Cunningham would come to enjoy important personal relationships with, and who were integral to his later appointment as the first director of the Australian Council for Educational Research following the end of the First World War.
The school itself devoted a portion of its time to the testing and study of students, in particular a study of the correlation of the Porteous Maze Test and the Stanford Revision of Binet based on the study of 100 Victorian students, which would lead to Cunningham's first published work, which appeared in the Journal of Educational Psychology in November 1916.
The four years Cunningham spent as a college and university student combined with the eight months at the Bell Street School had been the most productive period of his life. As a high achieving, studious and systematic young man, he had made a rapid transition from partly qualified country school teacher into a promising young academic. In the shadows of World War One, as he prepared to don an army uniform for the first time, he had no way of knowing the profound effect war, tragedy and bearing witness to loss of life would have on his life, nor the way it would move through him to shape the landscape of Australian education.
References
Williams B., Education with its eyes open 1994, ACER Press, Camberwell, VIC
Turney C., Pioneers of Australian Education , Vol. 3 1983, Sydney University Press, Sydney NSW
Australian Dictionary of Biography, Volume 13, (MUP), 1993, Australian National University, Canberra ACT