The following accommodation options are located in close proximity to the Gold Coast Convention and Exhibition Centre where EPPC 2017 will be held.
Each of these hotels are offering EPPC 2017 delegates a range of discounts.
Please contact the hotels directly to make a booking.
Jupiters accommodation options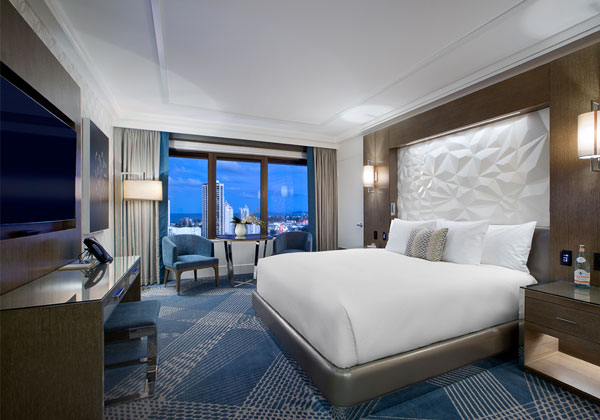 Dates & availability
Thursday 25th May 2017 - availability
Friday 26th May, 2017 - availability
Saturday 27th May, 2017 – limited availability
Sunday 28th May, 2017 – limited availability
Accommodation rates
Room/suite type
Room Only (inclusive of GST)
Superior Deluxe (single, double, twin)
$249.00
Corner king room with balcony
$324.00
*Executive Deluxe, single
$499.00
*Club Suite
$729.00 – 1 bedroom
$978.00 – 2 bedroom
*King Terrace Suite
$929.00
*Ocean Terrace Suite
$1,129 – 1 bedroom
$1,628.00 – 2 bedroom
Group breakfast rate
Buffet breakfast currently available for
$32.00
per person, per day. Prices are subject to change without notice. Opening hours are from 06:30am to 10:00am daily.
Accommodation room occupancy
Accommodation rooms at The Star Gold Coast are able to accommodate a maximum of either two (2) adults and two (2) children or three (3) adults. Please note at minimum one (1) adult must be staying in each accommodation room for the duration of the stay.
Accommodation booking procedure
We note that guests will be making their own accommodation bookings directly with our Reservations Department. Please contact Reservations direct on (07) 5592 8130 or 1800 074 344 to make accommodation arrangements. Guests should state that they are attending the
"Excellence in Professional Practice Conference 2017"
to be eligible for the above rates. Alternatively, guests can book via the website using a code provided.
Book via the website
Check-in/out time
Our check-in time is 2:00pm, and check-out is 11:00am. All guests arriving before 2:00pm will be accommodated as rooms become available. Our Concierge can arrange to store luggage for those guests arriving early when rooms are unavailable.
Surety
Upon check-in your guests will be requested to provide a credit card for pre-authorisation for incidental charges incurred during their stay. The $100.00 pre-authorisation will be released by their financial institution 7-10 business days after check-out. Alternatively, a $200.00 refundable cash or EFTPOS bond will be required.
Credit card surcharge
A credit card surcharge will apply for room accounts on check-in and check-out including the "credit" option on a debit card.
A 1% surcharge will apply to all Mastercard, Visa, American Express and Diners Club credit card transactions.
Room accounts include any items charged back such as restaurant charges.
Brand
As of 30th March, we will no longer be Jupiters Gold Coast and will instead be
The Star Gold Coast
. Once I have the new logo and spiel to send you for your website, I will. I have attached imagery of our new Superior Deluxe room (our entry level rooms) plus a general hotel photo for use on your website.
SOFITEL Broadbeach accommodation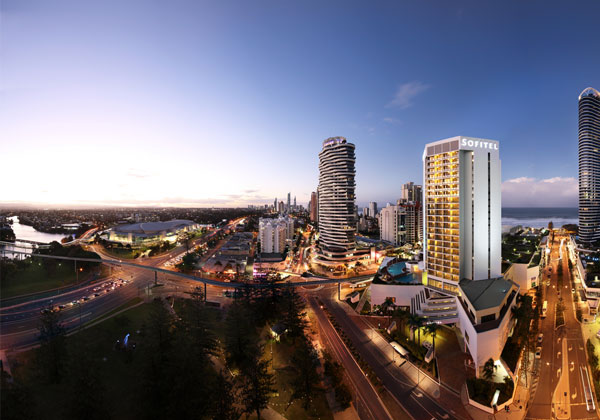 Sofitel Gold Coast is positioned in the centre of Broadbeach, only 200 metres from the beach and is just a short stroll to the Gold Coast Convention Centre. The hotel features 296 beautifully appointed guest rooms and 9 different function rooms. Hotel facilities include an award-winning lounge/bar/dining concept - room81 and all-day dining restaurant, Bistro On3 located on the hotel's pool deck level with two magnificent outdoor swimming pools.
Access to discount:
All guests are to call the hotel directly on 1800 074 465. Guests to quote the ACER Conference to get access to the 10% off rate of the day for their accommodation bookings. All bookings will need a valid credit card at the time on reservation. This offer is subject to availability.
Broadbeach Conference App
The Broadbeach Conference App was designed to make your stay in Broadbeach as a delegate of a major conference at the Gold Coast Convention and Exhibition Centre even more enjoyable.
Thanks to the Gold Coast Convention Centre and Broadbeach Alliance the app includes access to a variety of discounts and offers throughout the Broadbeach precinct, across a range of categories including shopping, accommodation, restaurants, cafes, indulgence, attractions, services and venues. Well-renowned Gold Coast attractions in the larger Gold Coast vicinity have also joined the app with unique offers for our conferencing delegates.
Simply download the Broadbeach Conference App to your smart phone or tablet to access the full list of offers and participating outlets. The app is accepted at all businesses that display the conference app sticker.