Teacher India
---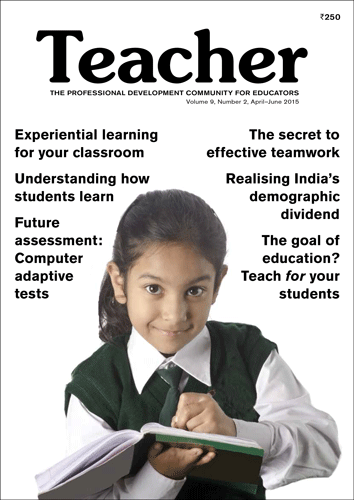 Teacher India, a quarterly print magazine, is a professional development community for educators across South and South East Asia, and the Middle East. Teacher publishes comment by leading educators for leading educators, with a focus on the latest in professional development; curriculum development; information technology and other educational resources; educational research; leadership and management; opinion; and news.
Teacher India welcomes contributions from school principals and other educational leaders and teachers. Teacher India also publishes occasional special issues with partner organisations such as the National Progressive Schools' Conference. Email Anannya Chakraborty.
Subscribers to Teacher India include school-based educators – teachers, principals and other members of school leadership teams – as well as teacher educators and other academics, key decision makers at the system level and policymakers.
Stay up to date with the latest developments in education
Direct to your door four times a year