PISA Australia
The Australian Government and all State and Territory governments contribute funding for Australia's participation in PISA, and provide representation, along with other members from the Australian Education Community, to the International Assessments National Advisory Committee. This committee advises the National Project Manager and the PGB representative on the content and methods of the assessment, and liaise with their own education communities to provide a two-way information interface - providing information about PISA to their constituents and information about or from their constituents back to the National Centre.
The PISA National Centre and project staff are located within the National Surveys Program at ACER.
PISA as part of the National Assessment Program
In Australia, PISA is included in the National Assessment Program. Together with the IEA's Trends in International Mathematics and Science Study (TIMSS), PISA provides data from internationally standardised tests that enables Australia to compare and monitor its performance with that of other countries. The other studies that are part of the National Assessment Program include the National Assessment Program – Literacy and Numeracy (NAPLAN) undertaken by all students in Years 3, 5, 7 and 9, the three-yearly assessments of samples of students in Science at Year 6, Civics and Citizenship at Years 6 and 10, and Information and Communications Technology at Years 6 and 10.
The results from these international and national assessments monitor the progress towards the goals outlined in the Educational Goals for Young Australians, which aims to provide equality and high quality schooling in Australia and support young Australians to become successful learners who acquire the necessary knowledge, understanding, skills and values for a productive and rewarding life.
PISA's focus on testing students who, at age 15, are nearing the end of the compulsory years of schooling is particularly appropriate for reporting against these goals. PISA enables reporting on comparable performance data every three years, with student outcomes able to be disaggregated by sex, Indigenous status, geographic location and indicators of socioeconomic background.
Who's involved?
Involvement in PISA internationally has grown - in the first assessment in 2000, just 32 countries participated, while 72 countries or economies participated in PISA 2015, including 35 OECD member countries and 37 partner countries or economies. A further 9 countries/economies will complete PISA 2009+, the same assessment carried out a year later. See the countries that have participated over the four cycles.
PISA assesses a representative sample of 15-year-old students attending an educational institution in each country. By carefully designing the sample to be representative of the target population, only a relatively small number of students need to be assessed in each cycle. Strict guidelines ensure that the sample requirements are met in each participating country.
In Australia, all 15-year-old students from all states and territories, and from all school systems, are eligible to participate in PISA. In 2015, as in previous years, a larger sample was taken than is required internationally. The purpose of this is
to allow for comparisons to be made between states, and to ensure that there is a sufficiently large sample of Australia's Indigenous students, so that valid and reliable separate analysis can be conducted, and
to allow the sample to become a starting cohort for the Longitudinal Surveys of Australian Youth (LSAY). These students are tracked, and contacted in future years to trace their progress through school and entry into further education and the work force. A large sample is needed to allow for attrition: over time a proportion of the original sample is not able to be traced. Find out more about the link between PISA and LSAY.
Latest news
Latest PISA results: Australia at the crossroad
Read full media release »
Recent reports
PISA 2015: A first look at Australia's results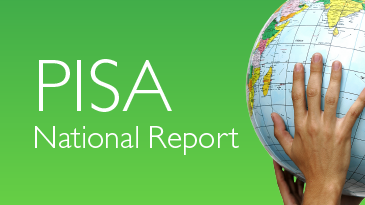 PISA 2015 Report