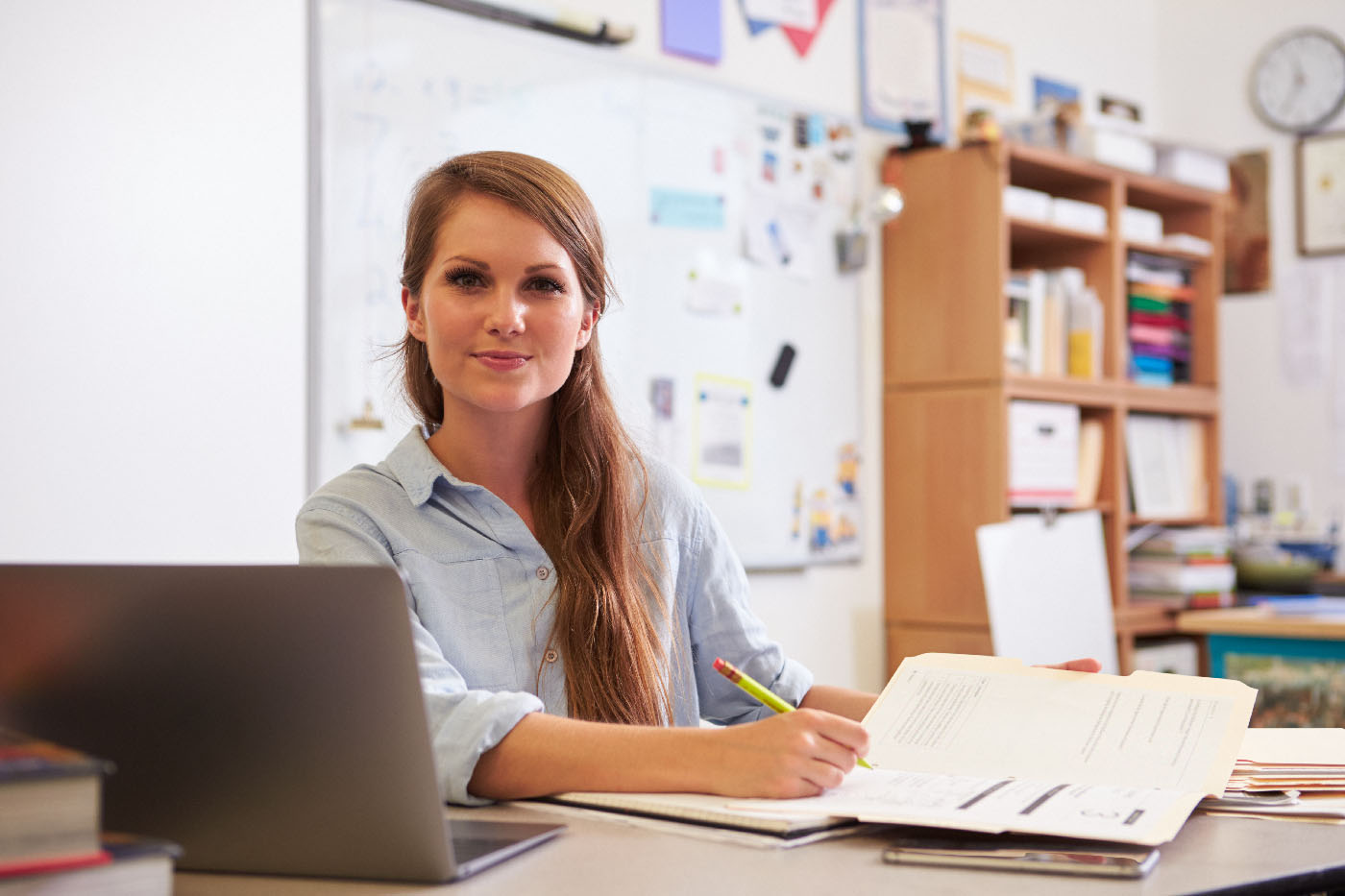 Image ©Shutterstock.com/Monkey Business Images
Report writing tips from our School Engagement team
Feature
8 Jun 2022
8 minute read
Report writing is a time when many of us struggle. There are late nights, it's a repetitive process and all must be done in conjunction with other planning for teaching and learning.
With Term 2 soon ending, I thought I would share some key tips I discovered in my report writing days.
The focus of any report provided for students and parents to read will often reflect:
the student's learning strengths,
the evidence collected from students' assessment results, and
the next steps for students that the parent(s) and the student can address for the remainder of the year.
Create a checklist
The start of a report writing cycle can sometimes be daunting. Looking over your 20-30 students, it can be too easy to forget vital details.
Create a checklist of critical items you want to address for your report cohort.
For example:
Overarching statement
Student achievement
Areas for improvement
Areas of progress
Evidence of judgements
Support at school
Support at home
Learning goals
Future learning focus areas
Moderate assessments with a colleague
Make the time to moderate students' work samples with colleagues. If you work with a team of teachers who teach within the same year level and have administered the same formal assessment tasks to students, it can be helpful to share the task of assessing/grading students' work samples. If you teach a year level(s) alone, it can be helpful to moderate with a member of your school's leadership team. Professional judgements can sometimes be impacted by unconscious bias and moderating with colleagues can help teachers make concise judgements on the knowledge, skills and understandings demonstrated by students within their work. Furthermore, the rich discussions had during moderation sessions are often a great source of professional learning and development for teachers.
Informal conversation with each student
Before you begin drafting your reports, it is a good idea to confirm your judgements via an informal conversation.
Take the time to have an informal conversation with each student about their learning and progress. Raise points you require clarification on, and confirm understanding and proficiency in content.
Student feedback/reflection
Have students provide feedback or a reflection. Ask students to focus on providing what they have seen as areas of strengths, areas for further development, what they have enjoyed, what they have seen as challenges, but importantly, where they have experienced personal and academic progress and growth. Where do students think they need to develop and build agency?
Prepare and communicate with parents
Communicate in advance with parents to prepare them for reports. No news or information contained within the reports should come as a great shock or surprise. Keep up constant streams of communication with parents via school apps, emails and informal drop-off and pick-up conversations.
Use your own voice where you can
General comments and comment banks can be a wonderful place to start and will be a consistent template. Using your own voice will provide a more personalised feel for parents when reading about how well you know their child. The trick to writing personal and engaging reports for parents is finding the perfect balance of information with comment banks and personal tone.
Be concise
Do not over-articulate your key statements. Communicate the essential information and keep it as simple as possible. Each sentence should raise a couple of different topics or ideas.
Use the first part to introduce the topic, concept, or idea, and the second part to unpack with links to the student. Follow this up with a statement that includes supporting evidence for the judgement.
Use plain language
Use plain or simple language in your report comments. Writing that is clear, concise, well-organised and follows other best practices appropriate to the subject, field and intended audience.
For example, instead of using complex and specific curricula focused language, try focussing on the skills, understandings or concepts.
You can find simple checklists and guides online to assist in plain language writing.
Do parents understand your report metrics?
How does your school report? Speak to school leadership and/or school councils, and determine if there needs to be any additional education around reporting metrics. For example, what does A – E really mean? Do parents understand that a B at the start of the year and a B at the end of the year does in fact mean the child is making progress?
How can you support and educate the wider school community to clearly understand report metrics you are using?
Performance and progress
Comments should focus on performance and the progress students are making. In writing report comments, we should recognise weaknesses, and underperformance, and comment on where the students need to improve and how a parent can support their child at home to improve in these highlighted areas. However, we should also recognise and celebrate strengths, successes and leaps of progress identified in learning. Use evidence to support these judgements and explain why you think the student has progressed. You can also explain teaching and learning strategies that are having a positive impact.
Use evidence
Teachers have so much data and evidence available to them, and we should use this to support the justification of their statements within a report. Make informal class observations, use a journal of notes or your data management tool and collect physical evidence (student work sample). These can be critical in supporting judgements come report writing time.
Peer review with a colleague
Find a colleague and peer review each other's reports. It is extremely easy to get so focused that you miss things or leave them out by mistake. Having a colleague review your comments will help immensely. It also provides an impartial review which can be critical in validating comments. You may also like to create sample reports before delving too deep and agree with staff on how you will approach report writing. As educators, we want to deliver a professional document that reflects consistency across our school.
Good luck with the remainder of Term 2, and with your report writing.
Further resources:
'Does the old school report have a future?' in Teacher.
'Teacher comments in school reports: What's effective?' in Teacher.