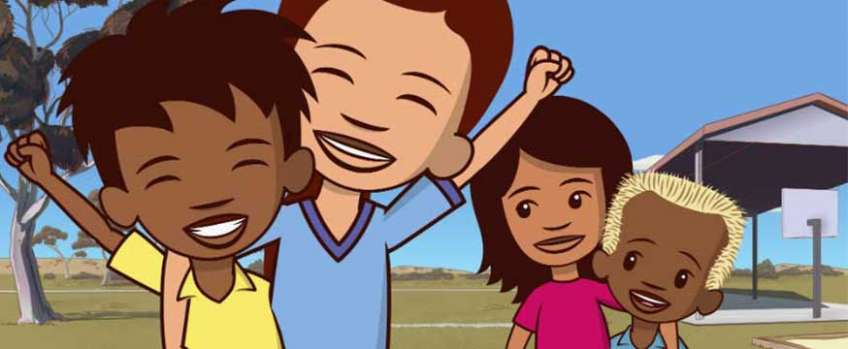 The Australian Broadcasting Corporation will televise Little J & Big Cuz on ABC ME (channel 23) during NAIDOC Week. Two episodes will be screened back-to-back at 9.30 am from Sunday 2 July 2017, which coincides with school holidays in all Australian states and territories except Tasmania and South Australia.
Taking its name from the National Aborigines and Islanders Day Observance Committee, NAIDOC Week is a time to celebrate Aboriginal and Torres Strait Islander history, culture and achievements, and is an opportunity to recognise the contributions that Indigenous Australians make to our country and our society. The theme for NAIDOC Week 2017 – Our Languages Matter – aims to emphasise and celebrate the importance, resilience and richness of Aboriginal and Torres Strait Islander languages.
In recognition of the theme, episodes of Little J & Big Cuz re-voiced in Aboriginal languages will also be televised during NAIDOC Week, at 4 pm weekdays on NITV (channel 34).
Created for children aged 4-6 years, Little J & Big Cuz is the first animated kids show to feature Aboriginal and Torres Strait Islander people and their culture. The series not only aims to support the successful transition from home to school of Aboriginal and Torres Strait Islander children but also helps create 'ready schools', following a two-way learning model and focusing on the children's strengths.
Little J & Big Cuz is a joint project of the Australian Council for Educational Research, Ned Lander Media, NITV, Screen Australia, Film Victoria, Screen Tasmania, the Australian Children's Television Foundation and SNAICC – National Voice for our Children.
Visit the Little J & Big Cuz website to watch, play and learn.