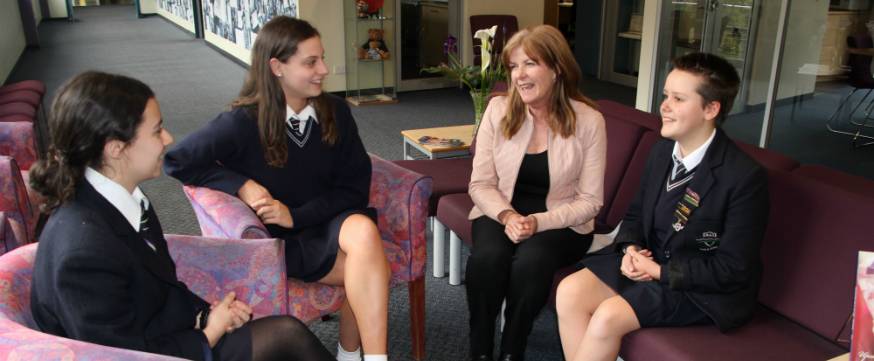 Back for round two: Hosting a Principal for a day
Research
1 Sep 2016
4 minute read
A successful first Principal for a Day event last year sees Melbourne Girls' College eager to participate again this September.
Melbourne Girls' College (MGC) participated in Principal for a Day (PFAD) for the first time in 2015.
MGC's principal for a day was Claire Lubienski, Head of Strategy and Practice, Technology Architecture and Strategy at National Australia Bank.
Ms Lubienski and MGC Principal, Karen Money, didn't know each other before they connected through PFAD. Following the program guidelines, they had a planning conversation before the day to develop a connection, and begin exploring what opportunities for development and synergies the relationship might offer.
'For Claire, it was about developing the pipeline for young women going into coding and programming careers,' Ms Money said.
'For me, it was about providing the widest number of opportunities in skills and learning for future focus careers. This work also aligned with our [science, technology, engineering, arts and mathematics] STEAM focus at MGC.'
Through NAB's Women In Technology program, which aims to lead change in the industry and demystify what it means to work in technology for women, Ms Lubienski and Ms Money organised for careers advisors from a group of schools to spend time in NAB's environment to gain knowledge on IT study and career options for girls in a contemporary workplace. Two pilot programs at NAB's workplace for 15 students and five staff have also been hosted by Ms Lubienski and her team to provide them experience with technical and soft skills and exposure to ICT in a contemporary corporate culture.
Ms Money and Ms Lubienski began their day with a 'getting to know you session', followed by a tour so that Ms Lubienski could see the school in action. A morning tea was held with student leaders and other students interested in meeting a woman with expertise in information and communications technology (ICT), including members of the school's 'Code like a Ninja' lunchtime club.
'I was appointed [principal] last year and am leading a number of change strategies,' Ms Money said.
'Claire led staff in a change-management professional learning session focused on what change throws up from an organisational perspective.'
The two women have maintained a close relationship since, meeting to strategize and work on developing programs, including implementing activities such as careers counsellors from a group of schools spending time in the NAB corporate environment to inform their own work, and a group of 16 young women completing a four-week program devised by Ms Lubienski and her team that allowed them to experience coding and ICT in a corporate culture.
This year, MGC will host Anna Burke, former Speaker of the House of Representatives as the school's PFAD. The school hosted a Senate inquiry into economic security for women in retirement earlier this year, and Ms Money is interested in using the opportunity to further explore what the future holds for women.
'More and more our work as principals has to be outward looking, and so this is another way of ensuring we make the community connections and partnerships we need for our students. Principal for a Day is a really valid tool for doing just that,' Karen said.
'Based on last year's experience, it's something I would certainly advocate other principals get involved in.'
Further information:
Learn more about ACER's Principal for a Day program.