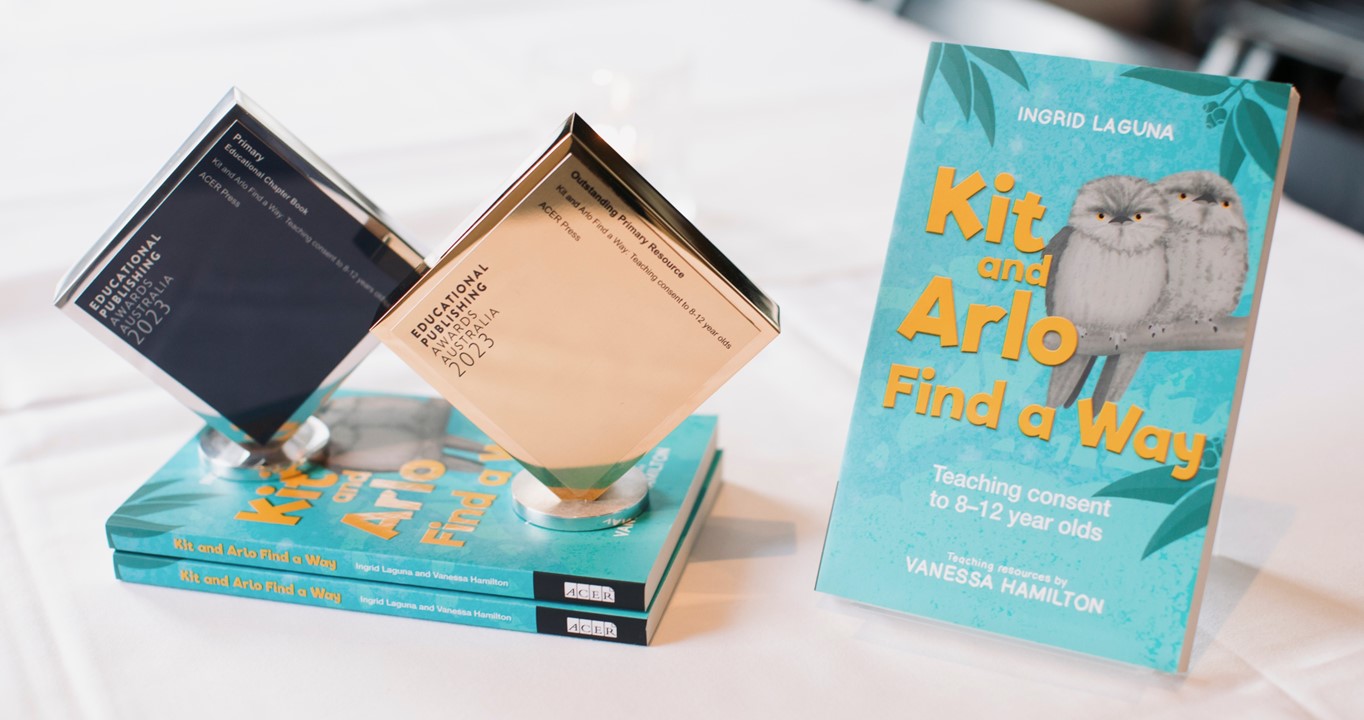 Developing the multi-award-winning consent education resource, Kit and Arlo Find a Way
Feature
4 Oct 2023
5 minute read
ACER has been recognised for its work creating age-appropriate, evidence-based resources for teaching consent to upper primary students.
Awarded 'Outstanding Primary Resource' and 'Best Educational Chapter Book' at the 2023 Educational Publishing Awards Australia (EPAA) in September, Kit and Arlo Find a Way: Teaching consent to 8-12 year-olds (ACER Press) is a children's novel supported by evidence-based teaching activities, videos, webinars, podcasts, resource links and lesson plans.
EPAA judges commented, 'This resource advocates for the partnership between students/teachers/parents as an integral component and offers schools an opportunity to have transparent conversations regarding a subject matter that may be challenging to implement in the curriculum … An outstanding resource, a worthy winner.'
Authors Ingrid Laguna and Vanessa Hamilton, as well as ACER Press publisher Elisa Webb shared their thoughts on how this book came about, the process of its creation and the importance of age-appropriate conversations around consent.
How it started
Ingrid and Vanessa had already been working on an early concept for Kit and Arlo when Elisa approached them. Impressed by Vanessa's passion during a session on consent at her children's school, Elisa recognised an opportunity.
'We understood the potential impact the work could have on improving the emotional and social wellbeing of primary-aged children, and the flow-on effects of improving understandings of consent for teachers, schools and families,' Elisa said.
The creative process
As a storyteller, Ingrid's role was to weave the critical themes of consent, as they relate to children, into an engaging and relatable chapter book for 8 to 12-year-old readers.
'My job was to create interesting and well-rounded complex characters and show them learning and changing as the narrative moves along,' Ingrid explained.
'Once I understood the principles of consent that needed to be conveyed throughout the story, and Vanessa and I had agreed on scenarios that would embody these, it was a matter of coming up with a story arc that would keep the reader dying to know what happens next.'
Vanessa adds, 'the teachable moments in Kit and Arlo are childhood examples that have been intentionally created in order to scaffold knowledge in an age-appropriate way'.
Talking about consent
Age-appropriate consent education can feel daunting to teachers and parents.
'As a teacher myself, I'm very aware of how ill-equipped many teachers feel themselves to be, through no fault of their own, to teach consent,' Ingrid said.
Having taught consent in schools for children aged 5 to 18, Vanessa knew it was possible to embed these skills and empower children with tools that could later be drawn upon when needed.
'Writing this resource was one of the most challenging things I have ever done,' Vanessa said. 'Supporting teachers with resources and providing them with training to deliver the content was one of my most rewarding experiences, especially when I know it is the evidence-based, best-practice approach to improving the health, safety and wellbeing of children.'
The teacher resources that accompany Kit and Arlo are differentiated for older and younger readers so that topics can be discussed at different levels of complexity.
Together, the resources and the story in Kit and Arlo offer children in grades 3 to 6 the tools to understand self-respect and respect for others around them, to deal with disappointment, to have the courage to change their minds and many other concepts, all of which form the building blocks for healthy and happy friendships and relationships as they get older.
And the highlight for Elisa that rises above the rest?
'I have to say, I love that Kit has featured as a dress-up character for Book Week. That to me is the highest praise a child can give, and it means the story has been embraced by the people who matter most.'
Visit our shop to purchase Kit and Arlo Find a Way or to find out more about this important, award-winning resource.