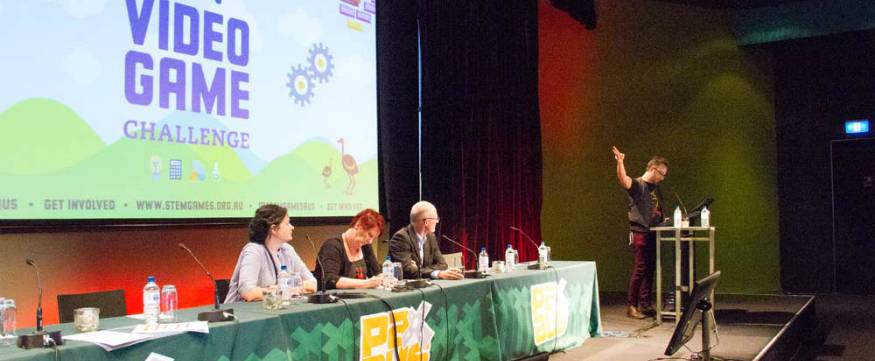 Experts advocate video games for learning
Research
26 Mar 2015
7 minute read
Academics, policy makers and industry experts agree that students can learn not just by playing video games, but also by creating them.
Experts advocate video games for learning
Late last year video game experts and enthusiasts gathered at PAX Australia, one of the largest video gaming events in the world, to delve into the future of game-based learning and showcase the winners of the first-ever Australian STEM Video Game Challenge.
Coordinated by the Australian Council for Educational Research (ACER) and supported by PwC, government, universities, corporate partners and game developers, the Australian STEM Video Game Challenge aims to increase interest and participation in the science, technology, engineering and mathematics (STEM) disciplines by inviting school students to create an original educational video game.
Panellists Dr Jeffrey Brand, Associate Dean and Head of the School of Communication and Media Studies at Bond University; Dr Bronwyn Stuckey, post-doctoral research fellow of the Arizona State University Centre for Games and Impact; and Siobhan Reddy, Studio Director of game development studio Media Molecule, discussed the place of video games in education.
The benefits of games
A bi-annual survey conducted by Dr Brand with the Interactive Games and Entertainment Association revealed that more than 95 per cent of Australian homes with children under the age of 18 have game devices, and 94 per cent of parents reported that their children learn about technology from playing games. Other strongly reported results included learning mathematics and learning to plan and strategise, as well as learning about science, work, life, society and language.
But the evidence in support of games for learning is more comprehensive that just parental feedback.
According to Dr Brand, the systematic literature reviews that have been conducted in this space are 'absolutely unequivocal' in their support for the place of games in learning, with affective and motivational outcomes among the most commonly reported benefits.
'Games motivate us,' Dr Brand said, 'And if we're motivated, we're going to learn.'
Other positive outcomes from playing video games in education highlighted by Dr Brand include behaviour change, knowledge acquisition, motor skills, perceptual and cognitive skills, physiological outcomes such as paying attention, and social skills.
Games in the classroom
Dr Stuckey explained that video games have an obvious place in education, because the development of students' literacy – the ability to interpret media – is a significant goal in all education, and games are just another media.
'Good teachers have used games in the classroom for a long time,' Dr Stuckey said, noting that board games and card games have been a feature in classrooms for decades.
'But somewhere along the line teachers have missed that digital leap that kids have made, and they're playing catch up at the moment.'
Ms Reddy, the Studio Director of Media Molecule, the company behind the multi-award winning game Little Big Planet, agrees that many teachers face a steep learning curve in introducing cutting-edge games into the classroom.
'If you haven't played games since you were eight and you're now in your thirties, there's a lot to catch up on,' Ms Reddy said.
For Dr Stuckey, choosing the right game is an important factor in successfully integrating video games into the curriculum.
'Teachers want to find the "e-d-u" game to use in their classroom, and unfortunately most of them suck because they hit you over the head with the goal of the learning right from the very beginning, and all the fun and challenge that games represent is sucked out of it,' she said.
Dr Stuckey noted that research by the Joan Ganz Cooney Centre shows that teachers' own game playing behaviour is very closely related to the games they introduce into their classroom.
'So we really need to get all teachers playing games of all kinds,' she said.
Dr Stuckey pointed to the hugely popular Minecraft as a 'game changer' for the integration of video games in education. She explained that, in schools she has worked with, teachers brought it into the classroom because students were 'hammering down the door' to get it in.
'Teachers could see that they could actually build their curriculum inside Minecraft and, even better than that, students could build their curriculum inside it,' Dr Stuckey said. 'That fits with what's happening in a greater movement in education at the moment, and that's the "maker movement" – wanting children to be designers, not consumers, of education.'
From playing games to making games
In professional game designer Reddy's experience, while games give us a chance to go to other places and experience other worlds and people, in making games you learn continuously.
'Every day I go to work I learn about something. It may be that I'm learning more about physics. It might be that I'm learning more about how to evoke an emotional response. It might be that I'm learning about a new art movement that I've never heard of before,' Ms Reddy said.
Making games is not just for adults. Ms Reddy said she is always amazed by what the youngest people in communities are actually doing.
'If I ever see something amazing I always think, "It's probably some 12-year-old somewhere in the world that made this", and they're...probably seven.'
Many free game development platforms provide simple point-and-click or drag-and-drop methods for building video games, such as Gamestar Mechanic and Gamemaker: Studio. Platforms like Stencyl and MIT Scratch are designed to introduce young or novice game designers to the concepts of programming and can be used as a stepping stone to a more sophisticated platform such as Unity, and the more advanced world of computer programming.
'Getting coding into schools is really, really important because it is the language of the future,' Ms Reddy said.
This sentiment was echoed by Australia's Minister for Communications, Malcolm Turnbull. Speaking at an Early Childhood Australia event in January, Mr Turnbull described coding as a 'vital language' that will soon be as important as the ability to read and write.
Australian STEM Video Game Challenge
The Australian STEM Video Game Challenge is one initiative bringing game design into the classroom.
The Challenge not only introduces game design but also addresses the growing disengagement of students from STEM learning – particularly girls and those from disadvantaged backgrounds – at a time when the STEM disciplines are among the most critical for success in the 21st-century workforce.
More than 550 students from across Australia registered for the inaugural Australian STEM Video Game Challenge in 2014, a quarter of them girls.
ACER Foundation Director Deirdre Jackson said the winning entries show that students can be much more than consumers of video games.
'The Australian STEM Video Game Challenge provides students, wherever they are across Australia, with a real-world opportunity to apply their skills and knowledge in STEM, programming and game making to create games that are interactive, stimulating and meaningful,' Ms Jackson said.
Winners in the Australian STEM Video Game Challenge each received an HP Pavilion laptop as well as $1000 to donate to their nominated school or not-for-profit organisation. The PwC People's Choice Award winners also received a six-month mentoring package with access to members of PwC's Digital Change team.
Registrations for the 2015 Australian STEM Video Game Challenge open on 20 April.
Further information:
Find out more about the Australian STEM Video Game Challenge, including how you can become involved as a participant, mentor or sponsor.