Little J & Big Cuz – supporting successful transitions to school
Research
4 Apr 2019
6 minute read
An ACER study reveals how an animated TV series supports Indigenous children's transition to school by improving pedagogical approaches and bolstering pride and identity in Indigenous children.
Little J & Big Cuz is an animated television series that was first commissioned as a school readiness initiative to support Indigenous children and their transition to school. It is the first contemporary children's animation series to be screened in Australia that has Indigenous lead characters and presents some Indigenous perspectives on living and learning.
ACER has prepared case studies, a literature review, and a final report for the Dusseldorp Forum, a partner in the Little J & Big Cuz initiative, to identify potential social and behavioural changes in individuals, schools and communities that could result from this school readiness initiative.
The case studies revealed that using Little J & Big Cuz in education settings supported learners' emotional development and wellbeing, assisted language development and presented educators with many teachable moments.
The case studies road-tested the television series in six sites in regional, remote and urban early childhood and primary school settings in South Australia, the Northern Territory and Queensland. They investigated the ways in which Little J & Big Cuz had been or could be incorporated into each site's education programs and reviewed the effects of the television series and supporting teacher resources on the children.
Educators working at the case study sites found that one of the main strengths of Little J & Big Cuz was its support of socio-emotional development and wellbeing. One educator commented that the children's reaction to the characters in the stories opened up opportunities for the children to learn how to label different emotions. Some case study sites used Little J & Big Cuz as a means of incorporating social emotional learning into their curriculum. They found a strong connection between the themes raised in various episodes and aspects of their social emotional learning program, such as developing resilience, feelings, relationships and problem-solving.
The case studies also showed that the language and lifestyle shown in the series resonated with the children and educators. The children heard all the main characters use phrases and expressions that were normal for them and identified with the way people spoke. 'They talk like my mum' was a comment made by one child about the character of Nanna and how there were differences between 'at home' language and language at school. One case study site reported that the series supported oral language development and helped teach phonics, new words and sounds. This was very beneficial to several Indigenous students whose 'at home' language is either Creole or their clan's language – the structure and pronunciation are very different to Standard Australian English.
The report shows how watching episodes of Little J & Big Cuz gave educators the opportunity to ask children open-ended questions to encourage the children to discuss the stories and make meaning from what they had seen.
Little J & Big Cuz was also supported by interactive teacher and family resource materials, which are available online. These materials were designed for use in classrooms and family homes to foster discussion aimed at enhancing understandings of Indigenous life experiences and to encourage enjoyment in attending school through becoming part of the school community.
Research shows that the series and teaching resources were well received by the children involved in the study. Educators found the teaching resources were a valuable strength of the series, and provided engaging oral language teaching opportunities through resources the students could relate to.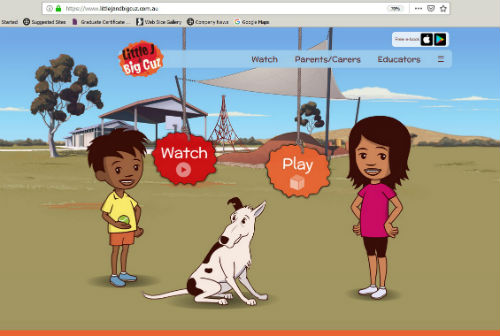 The interactive website resources were a strength of the series.
The Final Report also provides background to the production of Season 1 and analysis of statistics on viewing data and audience responses.
The reports were commissioned by Dusseldorp Forum. This independent foundation has a 25-year history of working to improve the educational and life opportunities of children and young people throughout Australia. It was established in 1989 on the retirement of GJ (Dick) Dusseldorp, the founder of the Lend Lease Group of Companies.
Season 1 of Little J & Big Cuz was first aired in 2017 and episodes are available on SBS and ABC iView. Production of Season 2 is now underway.
Further reading:
Read the full report Little J & Big Cuz: A school readiness initiative: Final report and case studies by Kathryn Moyle (2019).
Episodes and education resources are available on the Little J & Big Cuz website.