Maintaining the quality of GP registrar training in Australia
Research
8 Nov 2018
4 minute read
An ACER survey of the experiences of Australian General Practice registrars is helping improve postgraduate training provision. Rebecca Taylor reports.
The postgraduate training experiences of GP registrars enrolled in the Australian General Practice Training program are assessed in the annual National Registrar Survey (AGPT NRS), and the most recent survey revealed high levels of satisfaction with training provision.
In May 2017, the Australian Council for Educational Research (ACER) was engaged by the Department of Health to review and revise the AGPT NRS instrument to ensure its continued relevance and effectiveness. The survey is administered by ACER and more than 1700 registrars – roughly 40 per cent of those surveyed – responded to the 2017 survey. Eighty-nine per cent reported overall satisfaction with the training and education received during Semester 1 of 2017, which represented an increase on the previous year. Eighty-eight per cent indicated satisfaction with their Regional Training Organisation (RTO) and 97 per cent were satisfied with their clinical work and with the level of workplace responsibility they were given. Only four per cent reported being very dissatisfied with their training – a decrease from 10 per cent in 2016.
Key findings are illustrated in this infographic.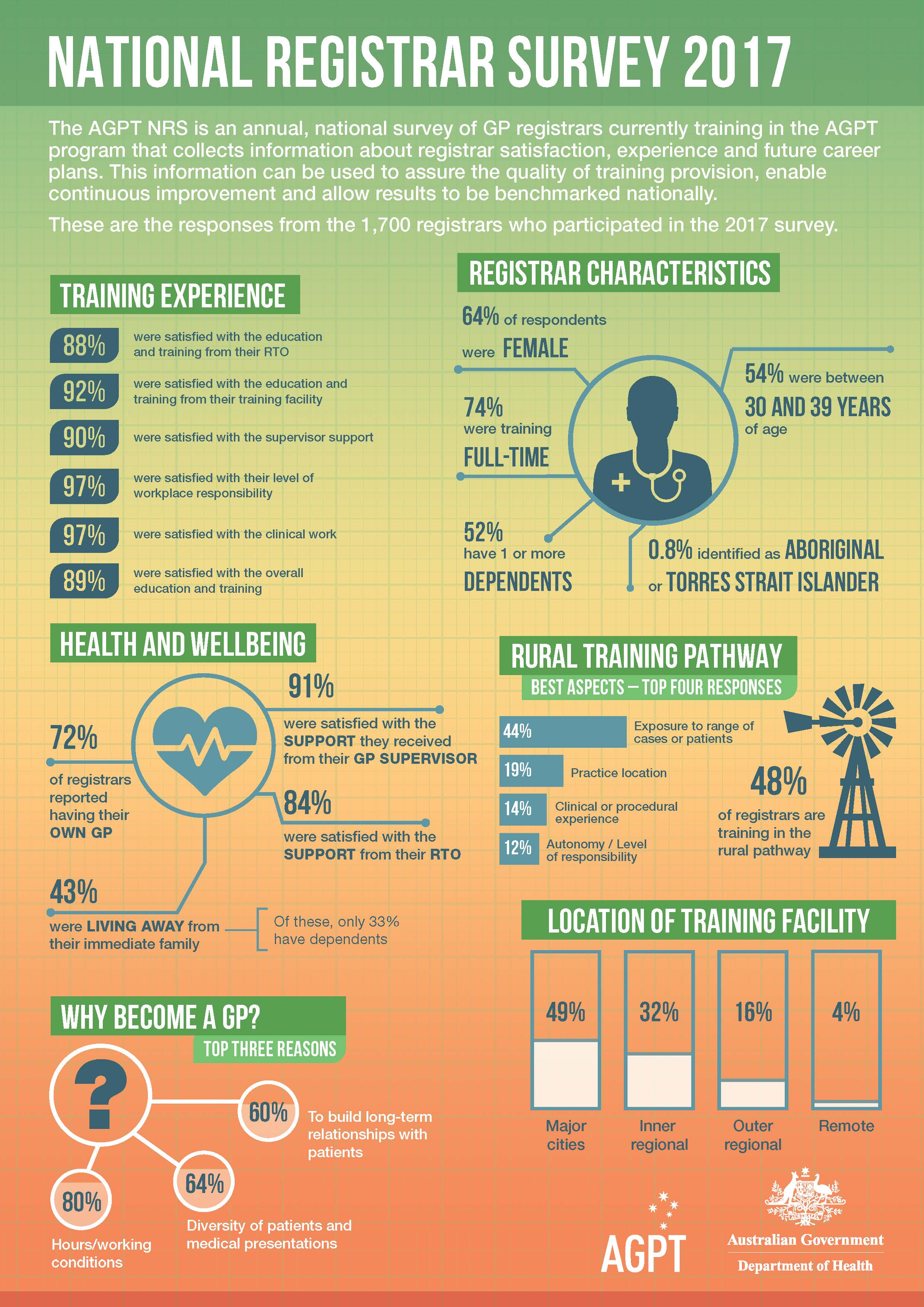 The Department of Health uses the results of the AGPT NRS to monitor satisfaction with the vocational training delivered by its RTOs, and to ensure that training continues to be educationally relevant and fit for purpose, and that it meets the specialist medical training standards determined by the Australian Medical Council.
Who are Australia's trainee GPs?
As well as measuring satisfaction levels, the survey collects information about GP registrars' demographics, training contexts and other aspects of their training experience. Nearly two-thirds of respondents were female and more than half were aged 30-39 years. Around half were born in Australia – with eight per cent from India, four per cent from Malaysia and three per cent from each of the UK, China, Sri Lanka and Myanmar – but just under three-quarters of respondents received their medical degrees in Australia.
Slightly more than 40 per cent of registrars reported relocating to undertake training – 48 per cent of male respondents and 39 per cent of female respondents – and 60 per cent of these practitioners were in regional or remote areas. Over 90 per cent of registrars have had an orientation to Aboriginal and Torres Strait Islander health and received training in Aboriginal and Torres Strait Islander cultural safety; just under 50 per cent of registrars training in remote or very remote areas occupy an Aboriginal health training post, compared with five to 15 per cent of registrars in all other regions.
Registrars were also asked about their future career plans. Most registrars planned to still be working as a GP in five years' time, with just under half planning to work part-time. The 42 per cent of registrars who moved to their current location to undertake training were asked about their plans to remain in their current location or relocate after completing the AGPT program. Around a third of registrars said they plan to stay in their current location, a quarter plan to relocate after completing their training and 41 per cent are unsure. The proportion of those intending to stay in their current location was similar, regardless of whether they were training in city, regional or remote areas.
ACER has completed administration of the 2018 survey, with results to be reported at a later date.