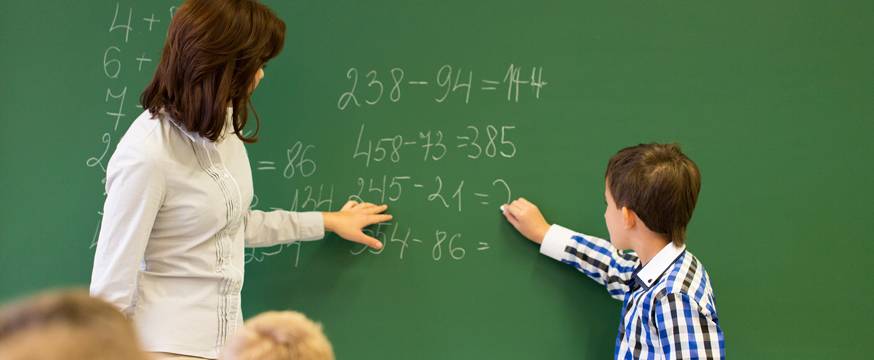 Maths literacy a concern for all – not just maths teachers
Research
5 Aug 2016
3 minute read
What happens outside the maths class is just as important in improving maths literacy as what happens in maths class.
Maths literacy a concern for all – not just maths teachers
Achievement in mathematics has declined over the past 10 years, while engagement in science, technology, engineering and mathematics (STEM) subjects has also been declining.
To address that, ACER's Research Conference 2016 unpacks some of the challenges and possible solutions in promoting improved STEM learning in our schools.
'There is no doubt that our achievement level in mathematics is slipping,' said Dr Sue Thomson, Director of Educational Monitoring and Research at ACER.
'At the recent Global Education and Skills Forum in Dubai, Andreas Schleicher, the Director for Education and Skills at the Organisation for Economic Co-operation and Development, commented on Australia's declining performance in the Programme for International Student Assessment (PISA),' Dr Thomson said.
'He warned that the previous ranking of Australia as a high-equity and high-quality country was in jeopardy.'
According to PISA results, the performance of Australian 15-year-old students in mathematical literacy has declined over the past decade.
'The results show both a decrease in the proportion of high-achieving students and an increase in the proportion of low-achieving students,' Dr Thomson said.
The problem doesn't stop there. While Australian students studying maths are being outperformed by their international peers, many students are choosing to forgo maths altogether.
According to Professor Merrilyn Goos from the University of Queensland, 'secondary school students are increasingly opting out of mathematics subjects that provide the knowledge base for tertiary degrees, thus closing down opportunities for employment and further study'.
Professor Goos, who will speak at ACER's Research Conference 2016, proposes a range of factors contribute to student participation, engagement and performance in maths.
'Preliminary analysis suggests there are both whole-school factors and maths classroom factors influencing students' decisions to persist with higher-level mathematics beyond Year 10,' she said.
This means that it is not just what happens within the maths classroom walls that affects participation in maths subjects, and hence maths literacy.
'Whole-school factors that seem to matter are pastoral care and subject selection guidance, and early identification of mathematical capability and flexible placement of students in class groups that extend their capabilities, Professor Goos said.
'While mathematics teachers have an important role to play in encouraging aspirational mathematics subject choices, teachers of all subjects are responsible for developing their students' subject-specific numeracies,' she said.
Further information:
Dr Sue Thomson and Professor Merrilyn Goos will be speaking at Research Conference 2016, which addresses the theme 'Improving STEM Learning: What will it take?' from 7 to 9 August at the Brisbane Convention and Exhibition Centre.