Understanding the impact of 'Australian-made skills'
Research
24 Jan 2018
4 minute read
International recipients of Australian Government scholarships develop practical and transferable skills and expertise that allow them to make a difference in their chosen fields, new ACER research shows.
Understanding the impact of 'Australian-made skills'
Results from the first year of research by the Australia Awards Global Tracer Facility led by the Australian Council for Educational Research (ACER) show that the vast majority of students who receive Australian Government scholarships to study at Australian institutions return to their home countries with 'Australian-made skills' that strengthen capacity and build expertise.
The Australian Government Department of Foreign Affairs and Trade engaged ACER to establish the Global Tracer Facility to monitor and evaluate the development and diplomacy outcomes of the Australian Government's Australia Awards. The Facility is the first of its kind in the world, exploring outcomes of alumni from the 1950s through to the 2010s from all corners of the globe.
In its first year, more than 1500 alumni from 27 countries, who studied in Australia from 2006 to 2010, were surveyed. The survey data provides a valuable quantitative insight into alumni use of knowledge and skills, development of networks and contribution to cooperation with Australia.
The survey revealed that, on return to their home country following completion of their award:
Most alumni (98 per cent) have passed on their skills and knowledge to others in their country.
Most alumni (97 per cent) have introduced improved practices and innovations in their work.
More than 40 per cent of alumni have maintained frequent contact with fellow alumni
Around one quarter of alumni have maintained frequent contact with Australian students or alumni.
More than half of alumni have at some time had a professional link with an Australian organisation.
Most alumni (96 per cent) have provided advice to people in their home country about pursuing opportunities in Australia.
A further summary of the survey results has been created as an infographic.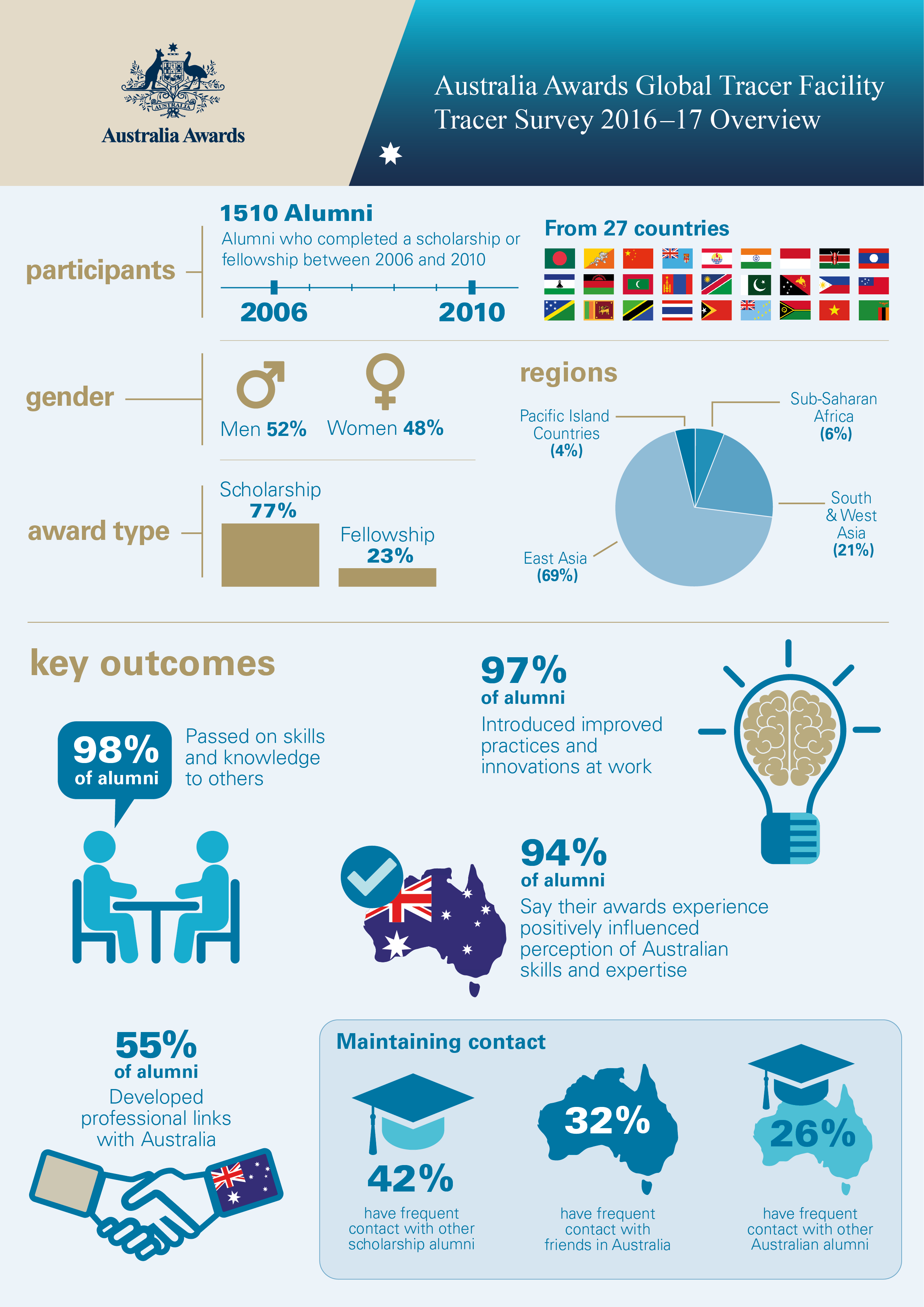 The Facility also undertook in-depth interviews with a number of alumni from Fiji, Kenya, Nepal and Sri Lanka, who studied in Australia between 1952 and 1996. This qualitative opportunity to dig deeper into the results highlighted that many alumni saw their Australian study experience as transformational, allowing them to view the world differently and embrace new ways of thinking and new technology—which they shared with colleagues on their return.
The case studies offer rich examples of the numerous ways Australian-educated alumni returned home with practical and transferable skills and expertise, allowing them to make a difference in their chosen fields, often as high-level change-makers in academia or government.
In Fiji for example, alumni have made huge impacts on education through initiatives such as the National Early Childhood Curriculum and the first National Special Education Policy. In Sri Lanka, three out of seven alumni interviewed went on to set up postgraduate engineering programs. The Nepal case study reveals that alumni returned home to undertake projects and policy development in areas such as women's health, water conservation and aviation regulation; while in Kenya, alumni went on to use their 'Australian-made' expertise to work on large international projects in areas such as food security and climate change.
The first year findings underscore the significance of Australia's growing global alumni, who are integral to continuing deep two-way connections across the world.
ACER's work on the Global Tracer Facility continues throughout 2018 as the focus of the research turns to alumni who studied in Australia between 1996 and 2005.
Find out more:
To read the full reports from Year 1 of the Australia Awards Global Tracer Facility or for further information about the Facility, including how to register your interest in participating in the upcoming research, visit www.australiaawardstracerfacility.org