Fellowships help address key regional challenges by improving stakeholder engagement
Research
7 Jun 2022
6 minute read
ACER has examined the use of Australia Awards fellowships to broaden and sustain engagement among the South Pacific region's five central banks and other key economic and financial stakeholders.
The findings show how Australia Awards fellowships contributed to organisational change by helping equip partners with a common purpose to achieve their development goals.
Since 2016, the Australian Department of Foreign Affairs and Trade (DFAT) has commissioned the Australian Council for Educational Research (ACER) to evaluate the development contributions and diplomacy outcomes of Australia's investment in the Australia Awards and preceding Australian Government scholarships and fellowships.
Australia Awards fellowships were a competitive grants program introduced in 2006 to strengthen and deepen partnerships between Australian organisations and counterparts in developing countries through short-term study and professional development activities in priority areas. The fellowships were paused in 2018, and little is known of the long-term impact of this award modality in building and sustaining institutional linkages and partnerships.
The latest Australia Awards Global Tracer Facility case study investigates the long-term impact of the professional networks and partnerships developed by two fellowships designed to build research capacity among economists and researchers working in central bank policy formulation within the Pacific. The fellowships were hosted by Griffith University in 2015 and 2018 and led to the establishment of the South Pacific Centre for Central Banking (SPCCB) within the Pacific Research Hub of the Griffith Asia Institute at Griffith University.
The SPCCB was established in 2016 to build a platform for research and collaboration among five South Pacific central banks: the Reserve Bank of Fiji (RBF), Reserve Bank of Vanuatu (RBV), Central Bank of Solomon Islands (CBSI), Bank of Papua New Guinea (BPNG) and Central Bank of Timor-Leste (BCTL). This demand-driven partnership has resulted in formal MOUs with RBF, RBV, CBSI, BPNG, BCTL individually and as a regional-level agreement; numerous research publications; and a wide range of engagement activities including forums, seminars, symposia, conferences and training workshops.
In recent months SPCCB has evolved and changed to meet the geopolitical and development challenges in the region. Griffith University and its partners have broadened the centre's scope to promote greater collaboration among institutions outside the banking sector. SPCCB is now known as the Pacific Islands Centre for Development Policy and Research (PICDPR) and aims to support capacity development for research and policy in Pacific Island economies.
Contributions to development and cooperation
The SPCCB partnership has helped strengthen the institutional capacity of the central banks in the Pacific through research collaboration and guidance by leading financial and economic experts in policy orientated research activities.
The partnership is equipping central bank economists and researchers with valuable skills to independently formulate evidenced-based policy in response to the challenges of climate change, the impact of the COVID-19 pandemic and the lingering economic impact of the Global Financial Crisis.
The centre is strengthening the institutional capacity of the Pacific central banks to use research to advance the United Nations' Sustainable Development Goals (SDGs) through evidence-based policy formulation and public dialogue. The platform focuses on partnering (SDG 17) to strengthen institutional capacity (SDG 16) towards achieving SDGs with gender equality (SDG 5), decent work and economic development (SDG 8), reduced inequalities (SDG 10), and climate action (SDG 13) in the region. These activities support the Australian Government's commitment to promoting economic prosperity as part of its Pacific Step-up agenda and the Griffith Asia Institute's research focus to tackle 'global challenges around sustainable development and partnerships'.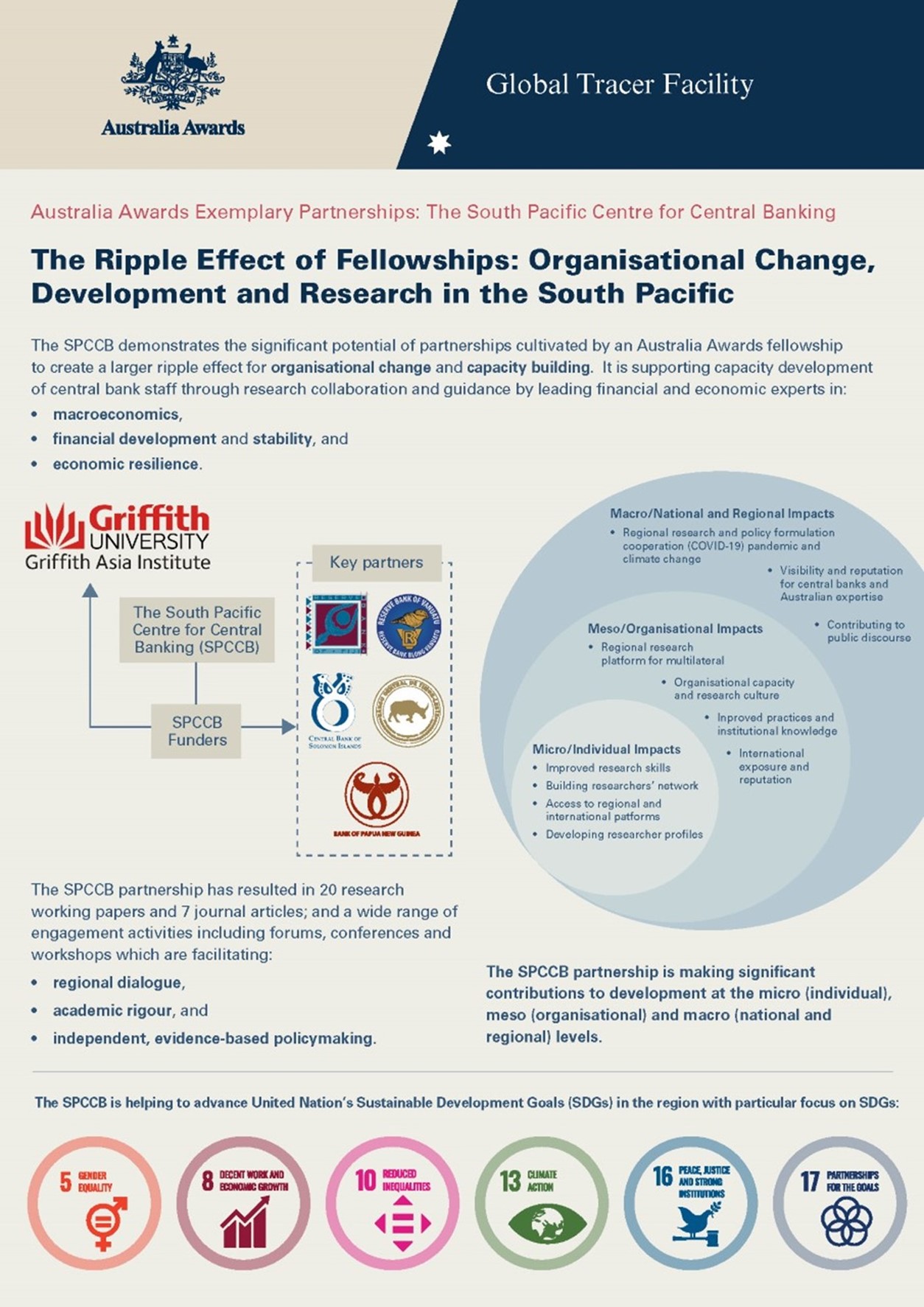 Implications of the study
This analysis of partnership outcomes is a new approach by the Australia Awards Global Tracer Facility in its data collection and exploration of the long-term program outcomes of the Australia Awards. The case study demonstrates how the Australia Awards fellowships have contributed to building a dynamic partnership with longevity that is addressing development challenges in partner countries.
Analysis of the enabling and challenging factors to the centre's partnership development highlighted several opportunities to strengthen outcomes for future Australia Awards fellowships. These include:
embedding long-term strategic partnering values in fellowship application criteria and program logic
demonstrating a strategic partnership alliance in the proposal
employing a hybrid model of partnership engagement, mixing face-to-face and online training and engagement
incentivising strategic long-term partnering for further funding
aligning fellowship outcomes to the global monitoring and evaluation framework.
Find out more:
The Australian Awards Global Tracer Facility is managed by the Australian Council for Educational Research (ACER) on behalf of the Australian Department of Foreign Affairs and Trade (DFAT).
To read the full report by Jo Doyle and Amanda Haddow visit the Australia Awards Global Tracer Facility webpage