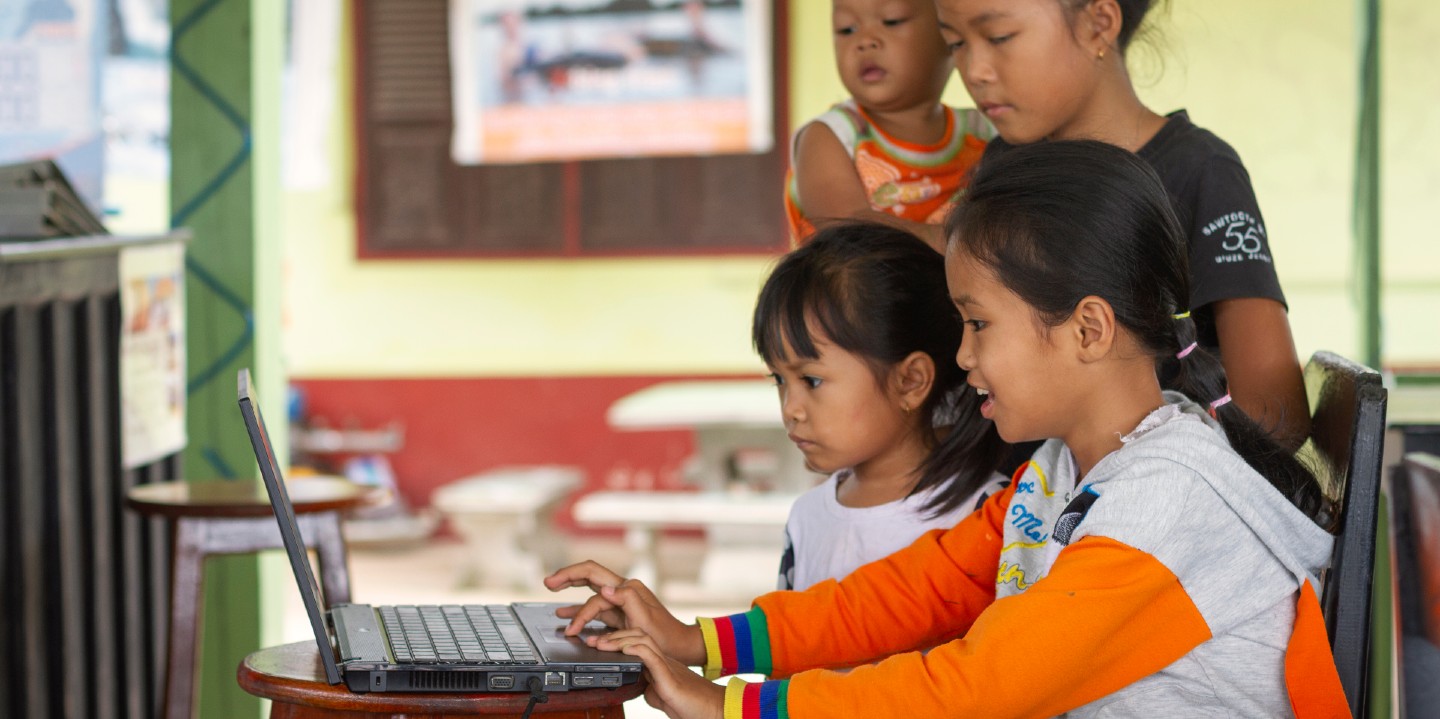 (c) Shutterstock / Daniel Requena Lambert
Lockdowns in Laos drive push for remote and blended learning
Research
12 May 2021
6 minute read
A new partnership will equip teacher trainers and lecturers in Laos with the skills to deliver remote education.
The announcement of a lockdown in the Laos capital of Vientiane on 22 April is a timely reminder of the unpredictable nature of the COVID-19 pandemic. It also demonstrates the need for remote education approaches to minimise learning disruptions caused by snap lockdowns and school closures.
Children's education in Laos has been impacted by the pandemic, with teachers lacking sufficient training to deliver remote learning. In 2020, most schools across the country were closed for up to two-and-a-half months, with limited remote education solutions available. Educational resources designed for the Ministry of Education and Sports' (MoES) TV and radio channels were developed, but there is little evidence about their effectiveness and student engagement. There is also unreliable access to broadcast and digital technologies, especially for those living in remote areas.
To address challenges in educational continuity, the Australian Strategic Partnerships in Remote Education (ASPIRE) initiative matches Australian experience and expertise in remote education with partners in the Indo-Pacific region. Through ASPIRE, a new partnership between Monash College and the Department of Teacher Education (DTE), MoES in Lao PDR has been established to deliver teacher education in remote learning. Together, Monash College and DTE aim to build an education system in Laos that is more resilient to future learning disruptions, by upskilling teacher trainers and pedagogical advisors to develop and deliver remote and online learning.
Remote education has been included in the DTE's five-year development plan, demonstrating the important role it plays in building a stronger, more resilient education system in Laos. As an established educational provider, Monash College brings its extensive experience working with a range of online learning platforms and eLearning tools to the partnership. With expertise in quality learning, content and resource design specifically tailored to blended and online delivery, Monash College is well-positioned to support the DTE to strengthen remote education in Laos.
The new partnership builds on Australia's longstanding history with the MoES to improve primary learning outcomes in Laos. The Australian Government is currently supporting MoES to roll out the national curriculum reform and primary teaching curriculum, and ensuring materials are inclusive of all children. The Australian Embassy in Laos and Basic Education Quality and Access in Lao PDR (BEQUAL) are supporting the project.
Through a train-the-trainer model, lecturers at the eight Teacher Training Colleges (TTC) and pedagogical advisers across Laos will learn how to train teachers in the theory and practice of online pedagogy and upskill them in the use of technology in an online learning platform. This will ensure that teachers can utilise the curriculum being developed, implement student-centric approaches and maximise student wellbeing during educational disruptions.
Lecturers and pedagogical advisors will participate in a series of online workshops delivered by subject matter experts from Monash College. This will include an initial preparation workshop where they will receive an introduction to a learning management system. The second collaborative learning workshop will enable participants to identify the types, purpose and use a range of eLearning pedagogies relevant to the Laos context and to implement a range of inclusive pedagogies for engaging and supporting learners.
Inclusion and access for the most vulnerable students will be addressed through activities that reflect upon the learning needs of all children, regardless of gender, sexuality, class, culture or disability. The workshops will use a blended approach that involves a combination of live lessons and self-paced activities.
Resources and activities will be designed to support the introduction of ideas and approaches related to online and remote teaching, and to enable ongoing reflection and access to the learning management system. The project design also considers access to resources in an offline mode through the learning management system, future adaptation of resources by the TTC lecturers and opportunities for peer-to-peer collaboration and discussion.
Drawing on each other's experience and commitment to quality education, this partnership between DTE and Monash College has the potential to positively impact the future of learning in Laos. By integrating effective remote education with more traditional learning approaches, the country will be better equipped to handle future school disruptions and, ultimately, to support children's continued access to quality teaching and learning.
ASPIRE is managed by the Australian Council for Educational Research on behalf of the Australian Government's Department of Foreign Affairs and Trade (DFAT). It supports remote education projects that aim to improve educational continuity, access and equity, in particular for disadvantaged students. ASPIRE supports and contributes to DFAT's Partnerships for Recovery: Australia's COVID-19 Development Response.
Further reading
Read more about the ASPIRE initiative.
Read DFAT's Partnerships for Recovery: Australia's COVID-19 Development Response.
Find out more about ACER's education and development work.