Providing transparency around quality in clinical radiology examinations
Research
12 Dec 2018
3 minute read
ACER is working with the Royal Australian and New Zealand College of Radiologists to ensure that examinations align with principles of high-quality assessment. Jacob Pearce and Daniel Urbach report.
In order to register as a radiologist in Australia or New Zealand, doctors must complete a comprehensive five-year specialty training program that includes multiple examinations in Clinical Radiology. The Royal Australian and New Zealand College of Radiologists (RANZCR) is the professional body responsible for setting the standards for training and assessment. In 2015, the College engaged the Australian Council for Educational Research (ACER) to review its examinations to ensure that processes were robust, fair and consistent across years and between candidates.
After working with RANZCR to reform their examination processes, ACER has produced a document to outline what now goes on 'behind the exams'. The Process of High-Quality Assessment: The RANZCR Clinical Radiology Examination Cycle details all stages of Clinical Radiology written examination processes, from conceptualisation through to reporting, using a robust cycle developed by ACER.
The report serves as a guide for candidates about to undertake their exams. It provides a transparent lens into the processes employed to ensure that the exams are fair, with the hope that candidates can feel confident going in. It will also assist the College in developing any new exams it might later consider by detailing what a 'successful' examination process looks like from start to finish.
Quality management in action
Underpinning the College's examinations are two principles of quality management: quality control and quality assurance. ACER assessment experts work with the RANZCR examination panels to ensure that appropriate processes are followed, documented and reviewed. This helps to ensure the examination processes are consistent, transparent, fair and ultimately defensible.
These principles inform every stage of the examination process, as demonstrated in this process map.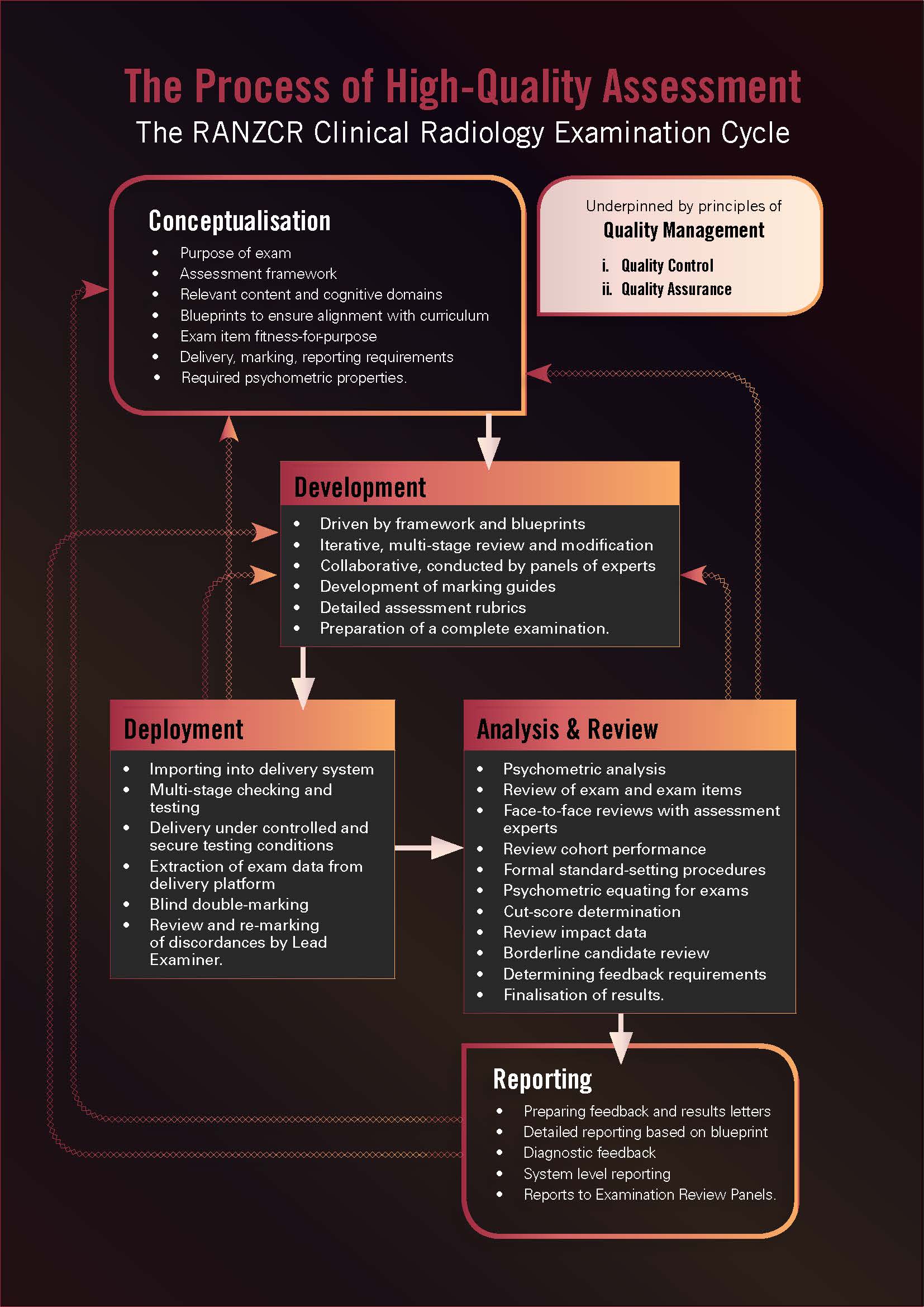 By describing assessment best practice, the report gives trainees confidence that the examinations they take will be fair, transparent and consistent. Candidates can also have confidence that RANZCR is committed to best-practice in assessment and is continually striving to improve its assessment methodologies.