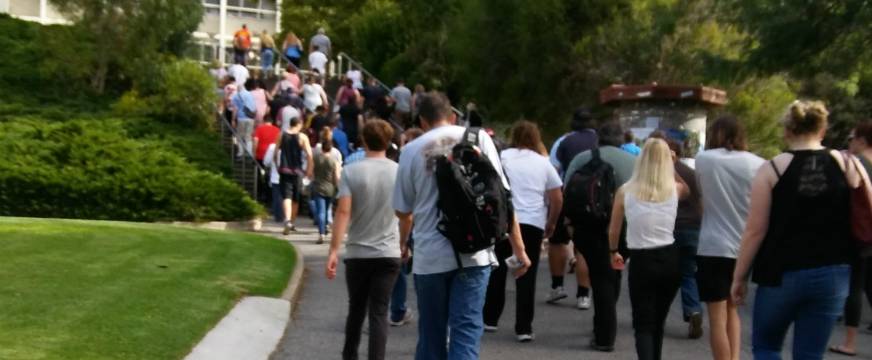 Raising university aspirations and awareness among disadvantaged students
Research
21 Sep 2017
3 minute read
Outreach activities in South Australia are helping to normalise university study and increase its accessibility to under-represented groups. Katherine Dix reports.
It is well established that education is transformative in the way it delivers benefits at individual, local and global levels; however, disadvantage prevents many individuals from gaining access to those opportunities. Data from the National Centre for Student Equity in Higher Education (NCSEHE) show that the undergraduate enrolment share for low socioeconomic status (SES) students in 2014 was only 18 per cent, despite making up 25 per cent of the Australian population.
Since the release of the 2008 Bradley Review of Higher Education, widening participation in higher education has been a policy focus of the Australian Government. A target was set to increase participation of students from low SES backgrounds in undergraduate degrees to 20 per cent by 2020, with The Higher Education Participation Partnership Program (HEPPP) established to provide the university sector with Commonwealth funding to help achieve this goal.
Flinders University's Student Access Unit (SAU) receives funding through HEPPP to run 15 access (pre-entry) programs and five participation (transition and enrolled) programs. The university last year engaged ACER to undertake an independent evaluation of three of its HEPPP-funded programs to better understand the facilitators and barriers around efficient and effective implementation.
The three programs selected as the focus of the evaluation provide a continuum of experience for students from disadvantaged backgrounds, from the pre-entry phase River Journey and Enrichment Program to the participation phase Transition Experience. The aim of this three-pronged approach is to facilitate a pathways experience for students from primary school to university.
The ACER evaluation involved the use of qualitative and quantitative data from surveys, observation, interviews and focus groups conducted with Flinders University staff, school staff, students and their parents.
Findings from the evaluation show overwhelming support from participants for the three programs. The impact of the programs lies mainly in raising students' awareness and aspirations about their future pathways, due to the dedicated and passionate efforts of student ambassadors, and particularly through campus visits.
The findings suggest that the River Journey campus visit and Enrichment Program succeed in changing students' pre-conceived views about who could attend university and has increased their aspirations to attend university. The impact of the Transition Experience on awareness, attitudes and aspirations is less apparent, largely because its purpose is to support students who have already achieved their aspiration of university enrolment.
While the programs have already achieved much in terms of reaching and inspiring students to consider their future pathway opportunities in ways they had not previously imagined, the evaluation also identified recommendations for improvement.
Taking account of the evaluation findings and recommendations, the continuation of the three programs of the Flinders University Student Access Unit will further assist South Australian school students in disadvantaged communities to reflect on their futures, consider key decisions, and gain entry to university if they choose to do so.