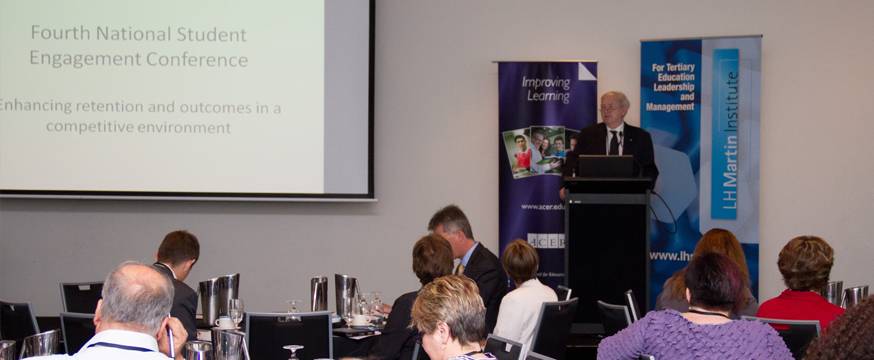 Student engagement key to standards and productivity
Research
23 Nov 2012
3 minute read
Demand-driven funding arrangements in Australia's higher education sector have given more weight to student decisions and behaviours, making student engagement a vital part of institutions' competitiveness, a national conference heard in October.
Representatives from 12 Australian higher education institutions and seven stakeholder organisations presented at the fourth National Student Engagement Conference, where they discussed challenges around student engagement and shared strategic insights to further improve the quality of Australian higher education.
Opening the conference, Emeritus Professor Alan Robson, LH Martin Institute Board Chair, said that the quality of the student experience is the defining difference between institutions.
ACER Higher Education Research Director, Associate Professor Hamish Coates, said new regulatory and competitive contexts emerging in Australia suggest a major key to enduring prosperity lies in taking better leadership of student engagement.
Associate Professor Coates' presentation focused on trends in student engagement and outcomes measurement. He said that, over the last 30 years, there has been a shift from a period where little data was collected, to one where satisfaction or 'happiness' was measured, to the current focus on measuring effectiveness.
Professor Richard James from the University of Melbourne said that 'engaged moments' happen for different students in different places at different times, and that engagement levels are unlikely to be static; rather they have peaks and troughs. He said that the diversification of the student body means there is no one-size-fits-all approach to improving engagement. He noted that, in light of the increase in the number of students with an Australian Tertiary Admission Rank lower than 60 entering university, the problem institutions face is not one of low socio-economic status, but one of low preparedness for study.
Professor Sally Kift from James Cook University then discussed the importance of successfully transitioning first year students into university study. Noting that student engagement varies more within institutions than it does between them, she said that the curriculum should be intentionally designed to support students and foster engagement.
During her presentation on widening participation, Professor Kerri-Lee Krause from the University of Western Sydney said it is vital that governance and policy are enablers, not inhibitors, of student engagement. Echoing sentiments expressed earlier by Professor Leo Goedegebuure from the LH Martin Institute, who warned against institutions substantially increasing enrolments without also increasing staffing levels, Professor Krause told delegates, 'If you're going to embark on a growth agenda you need to be pretty sure you've got the resources to support that growth.'
The issue of inclusive practice was touched on by several speakers, including Dr Nadine Zacharias from Deakin University, who said it was time to change the ways universities 'do business' in order to ensure accessibility, inclusion and engagement for all students. In their presentation on Indigenous students' engagement with university, Dr Christine Asmar from the University of Melbourne and Dr Susan Page from Macquarie University highlighted research that calls for a whole-of-university approach to Aboriginal and Torres Strait Islander student success, involving both faculties and student services working with Indigenous centres.
Find out more:
The fourth National Student Engagement Conference, on the theme Enhancing retention and outcomes in a competitive environment, was jointly hosted by ACER and the LH Martin Institute in Melbourne on 30 and 31 October 2012.