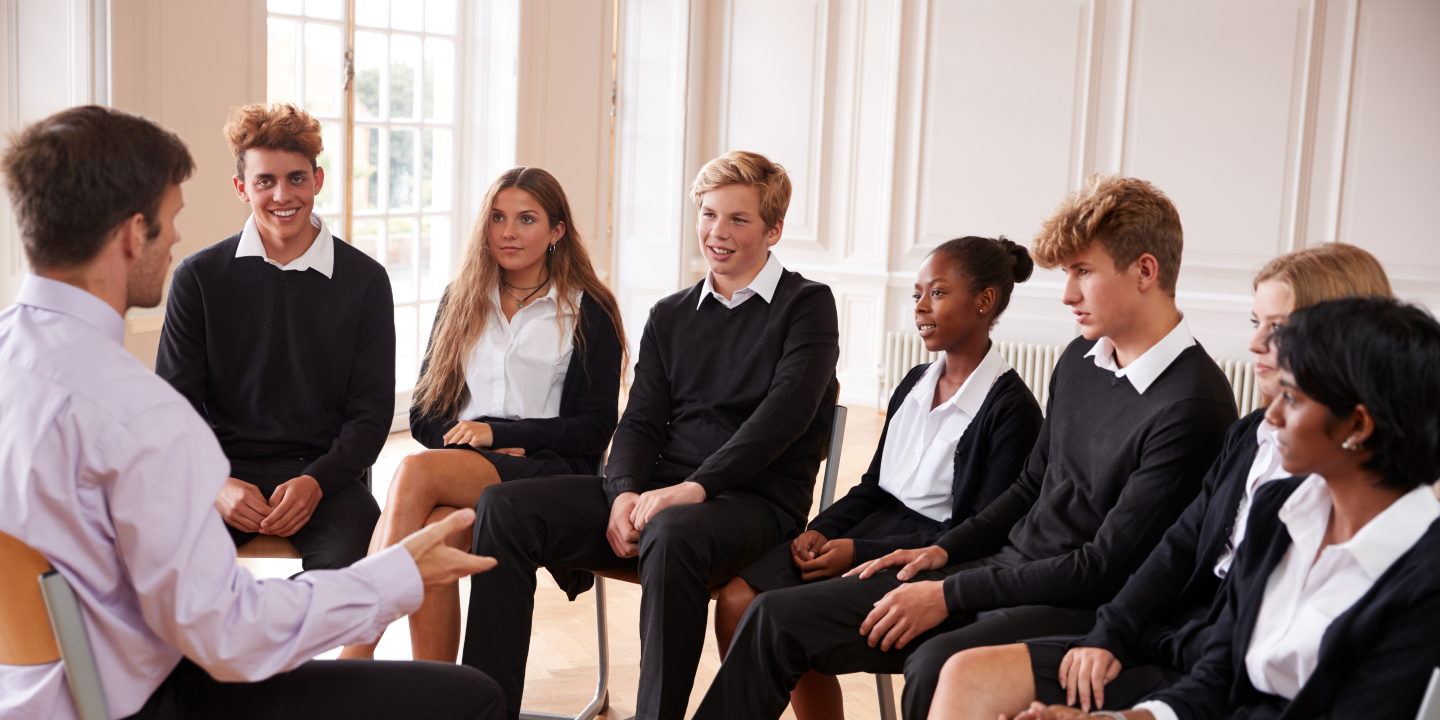 Image ©Shutterstock.com/Monkey Business Images
Student wellbeing programs improve academic outcomes
Research
9 Oct 2020
7 minute read
A systematic review and meta-analysis of 78 high-quality evaluations of school-based wellbeing programs reveals both academic and non-academic benefits, with students in the interventions up to four months ahead in their learning, compared to their control group peers.
Schools play a vital role in promoting student wellbeing. However, evidence about the impact of school-based wellbeing programs on both students' wellbeing and on academic outcomes is not always clear. To address this, the Evidence for Learning (E4L) and VicHealth commissioned the Australian Council for Educational Research (ACER) to conduct a systematic review and meta-analysis of the existing evidence around the impact of wellbeing interventions on student outcomes.
ACER examined 78 studies of wellbeing interventions delivered in primary or secondary schools. 'Wellbeing' was defined in its broadest terms. More than three-quarters of the studies examined interventions to improve mental wellbeing, 18 per cent focused on physical wellbeing and five per cent focused on preventing harm from substance use.
The systematic review provides the most robust evidence to date that attempts to broadly quantify the positive impact that wellbeing interventions have on not only student wellbeing outcomes but also student academic achievement, testing the widely-held belief that 'happy kids are better learners'.
Student outcomes
ACER constructed an impact map of the estimated effects of the interventions on student academic and wellbeing outcomes. While all interventions types examined in the meta-analysis had positive impacts on academic and wellbeing outcomes, the most effective were those that:
foster school belonging and engagement
provide mentoring
build social‑emotional skills.
Compared to similar students in control groups engaged in their usual activities, students in school-based wellbeing programs had small to moderate positive impacts on wellbeing-related measures, such as social-emotional adjustment, behavioural adjustment and cognitive adjustment.
Participation in a school-based wellbeing program, on average, had a small to moderate positive effect on general academic performance equivalent to three months of additional learning. Numeracy achievement gains were equivalent to two months of additional learning, while literacy achievement gains were equivalent to one month.
Belonging and engagement interventions were more effective for promoting academic achievement than wellbeing outcomes, delivering a learning gain equivalent to four months' additional learning. Programs that supported social-emotional skills were more effective for promoting student wellbeing and were associated with better literacy outcomes, while those that encouraged physical activity, exercise and relaxation were associated with better numeracy outcomes.
Success factors
The review found a number of success factors for effective wellbeing interventions, beyond the importance of a systemic whole-school approach. Programs with the best evidence of their impact on student outcomes tend to be:
shorter programs of up to one school term (fits in a crowded curriculum)
delivered over a number of regular sessions (builds student capacity)
explicitly taught by a trained classroom teacher (builds teacher capacity)
universal interventions that raise awareness (builds the whole community)
delivered to groups of students ranging from 11 to classroom size
differentiated for the developmental stage of the student.
The findings highlight the importance of teacher professional learning and emphasise teachers' essential role and capacity to influence student wellbeing outcomes.
Limitations
The systematic review presents the best evidence but not necessarily the best school-based wellbeing programs.
While more than 200 wellbeing programs and interventions are available for Australian schools to implement, only one Australian program had sufficient evidence of its impact on both academic and non-academic outcomes to be included in this systematic review. The majority of the studies included in ACER's review were conducted in the United States (51 studies), with the remaining 27 studies coming from 16 different countries.
More high-quality program evaluations are needed across Australia in order to identify programs that show promise or validate those that are widely used. Demonstrating evidence of impact is important not only for improving program quality, but also to ensure that the limited funding available is invested in ways that deliver the best outcomes for students. ■
Read the full article:
Student health & wellbeing. A systematic review of intervention research examining effective student wellbeing in schools and their academic outcomes by Katherine Dix, Syeda Kashfee Ahmed, Toby Carslake, Shani Sniedze-Gregory, Elizabeth O'Grady and Jennifer Trevitt (ACER) for Evidence for Learning, Social Ventures Australia 2020.