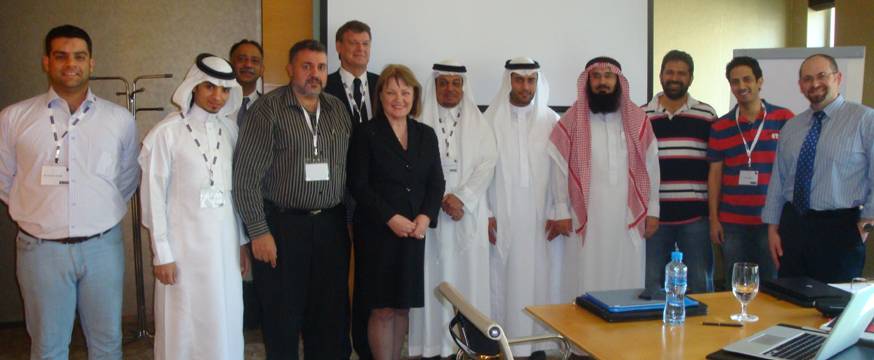 Building capability in Saudi Arabia
Research
27 Mar 2013
2 minute read
During October 2012 staff from ACER travelled to the Middle East to present a workshop to staff at Saudi Arabia's Imam Muhammad bin Saud Islamic University (Imam University) on the creation of a centre for evaluation and assessment.
The Imam University Centre for Measurement and Evaluation (ICME) will specialise in providing sophisticated
assessment, evaluation and reporting services to the university and the greater region.
The representatives from ACER conducting the workshop were Higher Education General Manager Marita MacMahon Ball, Systemwide Testing Research Director Chris Freeman, Software Development Manager Alisdair Daws and ACER Dubai Manager Alan Egbert.
The workshop began with an overview of how ACER, as one of Australia's foremost centres of educational
evaluation and assessment, approaches quality assurance and develops the kinds of infrastructure that are necessary for its operation.
This was followed by a thorough examination of all aspects of test administration, including candidate
registration, test delivery, supervision and security, and marking. The eight Imam University staff participating in the workshop were given a tour of the scanning unit in the United Arab Emirates where ACER sends local test papers for secure marking using fast and accurate Optical Mark Recognition technology.
The workshop also included a review of the psychometric processes involved in test analysis and reporting. Data from the pilot of the Cognitive Skills Test at Imam University were used as an example for analysis. The test, which measures the growth in students' problem solving and critical thinking skills over the course of their undergraduate studies, was jointly conducted by ACER and Imam University in 2010 and is being administered for a second time in February 2013.
Imam University was established in 1974 and now has more than 1300 academic staff and 25 000 students
based at 10 campuses, encompassing a wide spectrum of learning areas from Shari'ah, Computer Science and Arabic Language, to Economics, Science and Medicine.
Once established, the new centre for measurement and evaluation will have an important influence on the
educational process that takes place within the University and will also potentially improve and invigorate
higher education throughout the Kingdom of Saudi Arabia.