Teacher survey results published today
ACER news
29 Oct 2021
2 minute read
Results of a recent survey of Australian educators were released today to coincide with World Teachers' Day.
The NEiTA-ACE Teachers Report Card 2021 is a joint initiative of the NEiTA Foundation and the Australian College of Educators (ACE) and reports on the results of a survey of 571 teachers undertaken in mid-2021.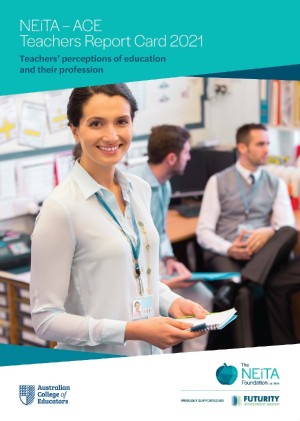 The survey asked teachers about their experiences of a range of issues including workload, wellbeing, resourcing and the impact of COVID-19.
The report found that 84 per cent of teachers who responded to the survey had considered leaving the profession 'occasionally', 'fairly often' or 'most of the time' in the previous 12 months. Eighty-two per cent of respondents said they struggled with work-life balance, 75 per cent reported feeling stressed by their work and 37 per cent said they took little or no satisfaction from their work – up from 9 per cent from 2017, when the survey was last conducted.
Additionally, 70 per cent of respondents reported spending more time providing emotional support to students during the pandemic.
ACE Managing Director Helen Jentz said the findings were concerning.
'Significant proportions of the teachers we spoke to still find their profession rewarding and feel confident in their teaching abilities, which is really heartening,' Ms Jentz said. 'But the pandemic served to exacerbate pre-existing problems like increased workloads and greater administrative burdens.
'Given the well-documented predictions of looming teacher shortages, it's alarming to hear that our teaching workforce is stressed, overworked and considering other career options.' ■
Further reading
Find out more about the NEiTA-ACE Teachers Report Card 2021 in Teacher.