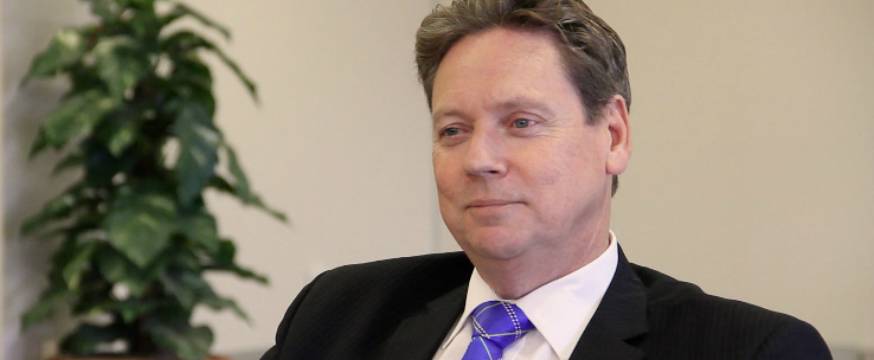 ACER chief receives top honour
Research
26 Jan 2014
5 minute read
One of Australia's leading educators, Professor Geoff Masters, has been appointed an Officer of the Order of Australia in this year's Australia Day Honours.
Professor Masters, who has been head of the Australian Council for Educational Research (ACER) for the past 15 years, received the honour for his 'distinguished service to education research, to the formulation of a national curriculum and performance reporting mechanisms, and to improved educational outcomes for young people'.
The Order of Australia represents the highest level of recognition accorded by our nation for outstanding achievement and service.
Emeritus Professor Paige Porter, Chair of the ACER Board, said she was immensely proud of Professor Masters' exceptional achievement. 'I congratulate Professor Masters on his appointment as an Officer of the Order of Australia. It is fitting recognition for his steadfast advocacy for the greater use of research in educational policy making and the wider adoption of evidence-based practices in classroom teaching,' Professor Porter said.
Professor Masters completed an award-winning doctorate in educational measurement at the University of Chicago in the early 1980s and for the past three decades has undertaken numerous reviews for governments and led research to develop better measures of the performances of students, educational institutions and school systems.
He has been President of the Australian College of Educators; Chair of the Technical Advisory Committee for the International Association for the Evaluation of Educational Achievement; Chair of the Technical Advisory Group for the OECD's Programme for International Student Assessment; a member of the Business Council of Australia's Education, Skills and Innovation Taskforce; a member of the Australian National Commission for UNESCO and Chair of the Commission's Education Network; a member of the International Baccalaureate Research Committee; and was the founding President of the Asia-Pacific Educational Research Association.
Professor Masters has written extensively on the need to reform assessment; developed and published the National School Improvement Tool; and played a key role in developing Australia's first Science of Learning Research Centre – a partnership of ACER, the Queensland Brain Institute and the University of Melbourne. Research Developments spoke with Professor Masters to discuss this recent work.
[rd]: Congratulations on being appointed an Officer of the Order of Australia.
GM: Thank you, I feel both humbled and honoured. Individual careers are made possible by the sacrifices of families and the support of colleagues over many years. I view this as shared recognition.
[rd]: Your 2013 Australian Education Review, Reforming Educational Assessment: Imperatives, principles and challenges, calls for a reconceptualisation of assessment and reporting in schools to focus on the progress that students make, regardless of their starting points. What place does assessment reform have, given the current work on the Australian Curriculum, and the review of this?
GM: A coherent, sequenced, shared school curriculum and assessment to identify the progress of individual students go hand in hand. The reform of assessment thinking and practice has the potential to lead and drive improvements in teaching and learning, but assessment to establish where individuals are in their learning is largely pointless if teachers intend to deliver exactly the same content to all students in a class regardless of their current levels of achievement.
[rd]: The National School Improvement Tool, which you developed with the Queensland Department of Education, Training and Employment, was endorsed by education ministers in 2012 for use in Australian schools. How does the National School Improvement Tool assist schools to identify and cultivate highly effective practices that promote better teaching and learning in classrooms?
GM: Direct measures of student outcomes are essential to all school improvement efforts. However, 'school improvement' fundamentally means improving what a school does. The National School Improvement Tool provides evidence about a school's day-to-day work to complement, and possibly shed light on, measures of student outcomes. It measures the inputs as well as the outputs, in order to identify opportunities for improvement.
[rd]: The Science of Learning Research Centre is investigating effective learning practices in the light of current knowledge about basic learning processes and factors that influence successful learning. Is this research likely to change the way teachers teach?
GM: Advances in our understanding of human learning are challenging long-held assumptions about education. It was once believed that individuals differed significantly in their capacity to learn; however, neuroscience has shown that brain plasticity enables almost all individuals to learn throughout the lifespan. Improved understanding of learning processes will lead to more effective teaching practices, which in turn will create better educational outcomes for young people.
Find out more:
The selected works of Professor Geoff Masters are available to view at < works.bepress.com/geoff_masters >