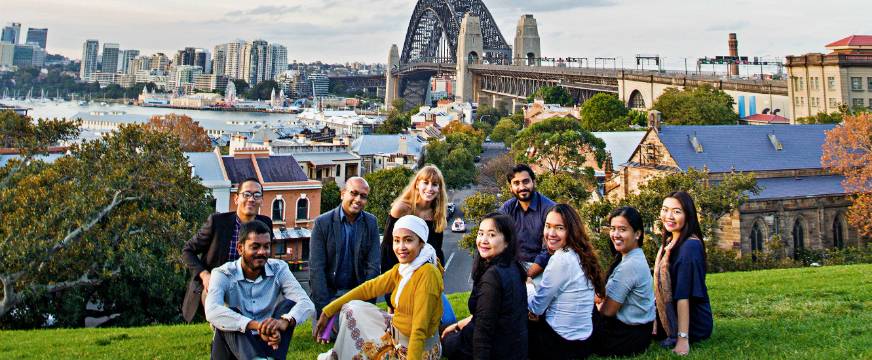 Australia Awards Global Tracer Facility
Research
16 Apr 2019
8 minute read
The Australian Council for Educational Research is leading a world first initiative to measure the long-term outcomes of Australian Government scholarships.
The Australia Awards Global Tracer Facility is a research-based project funded by the Australian Department of Foreign Affairs and Trade (DFAT) to evaluate the development contributions and diplomacy outcomes of Australia's investment in Australia Awards and other Australian Government scholarships and fellowships.
Developed and managed by the Australian Council for Educational Research (ACER), the Facility collects, analyses and disseminates data from alumni of these scholarships to evaluate the ongoing impact and benefit that Australian higher education programs may be yielding around the world.
Each year since 2016, ACER has conducted an annual survey of at least 1000 alumni from a particular group spanning a range of graduation years and from approximately 20 different countries. ACER also conducts a number of case studies each year to provide in-depth information to enrich understanding of alumni experiences that can inform Australia Awards management, programming, policy and strategic direction.
The following articles summarise this work.

Case Study: Exemplary Partnerships – The South Pacific Centre for Central Banking (June 2022)
Fellowships help address key regional challenges by improving stakeholder engagement
ACER has examined the use of Australia Awards fellowships to broaden and sustain engagement among the South Pacific region's five central banks and other key economic and financial stakeholders.
Case Study: Australia Awards Leadership Program (April 2022)
Using social network analysis to explore peer connections among alumni leaders
Social network analysis shows one of the key objectives of the Australia Awards Leadership Program – helping alumni build connections with their fellow alumni – has been achieved.
Case Study: Pacific Scholarships alumni survey (March 2022)
Cultivating development in the Pacific
New research explores the long-term outcomes of Australian Government scholarships offered to people from the Pacific to study at Pacific Island institutions.
Case Study: Insights into short course capacity building (January 2022)
Success factors for short course development
A new case study shows short professional development programs that share a set of characteristics can have long-term impact on individual and organisational capacity for sustainable development.
2020 Global Tracer Survey report (August 2021)
Australia Awards' biggest development contribution areas revealed
A new report demonstrates the flow-on impact of development scholarships by charting Australia Awards alumni outcomes against the Sustainable Development Goals.
Case Study: Alumni contributions to COVID-19 response (June 2021)
Fighting a pandemic with Australian-made skills
New research shows Australia Awards alumni have made significant contributions to the COVID-19 response during the first 12 months of the pandemic.
Case Study: Globally mobile alumni (April 2021)
Exploring the global mobility of Australia Awards alumni
A new case study explores the extent to which alumni of Australian development scholarships move away from their home countries after completing their award, and their subsequent contributions and outcomes.
Case Study: Kiribati (February 2021)
Mapping alumni networks in Kiribati
ACER and Swinburne University have used social network analysis tools to examine the interactions between Australia Awards alumni from Kiribati.
Case Study: Philippines (December 2020)
Supporting peace and inclusive development in the Philippines
Australia Awards alumni from the Philippines have contributed to national and international humanitarian and emergency response programming, indigenous rights and political representation, and improved professional practices within media organisations, the local government sector and the education sector.
Years 1-4 Global Impact report (October 2020)
Australian higher education supporting sustainable development
New research from the Australia Awards Global Tracer Facility shows the alumni of Australian Government development scholarships and fellowships have contributed to all 17 areas targeted by the United Nations Sustainable Development Goals (SDGs).
Case Study: Bangladesh (September 2020)
Economic growth and fiscal reform in Bangladesh
Research shows Australia Awards alumni from Bangladesh are making an organisational and societal-level impact towards improving the country's future, including for vulnerable groups such as refugees and older persons.
Case Study: Timor-Leste (August 2020)
Contributing to the disability sector in Timor-Leste
Australia Awards alumni from Timor-Leste are having an impact in the disability sector, at both policy and community levels, recent research finds.
Case Study: Samoa (July 2020)
Building contemporary Samoa with Australian know-how
Australia Awards alumni from Samoa have been able to draw on their scholarships to make notable contributions to the ongoing development of their country's infrastructure.
Case Study: Costa Rica (June 2020)
Sustainable agriculture and environmental conservation in Costa Rica
In a relatively short period, Australia Awards alumni have been able to draw on the skills and knowledge from their study in Australia to contribute to sustainable development in Costa Rica and internationally.
Case Study: Cambodia (May 2020)
Rebuilding Cambodia's public health sector with Australian education and investment
Recipients of Australian Government scholarships are helping combat maternal and infant mortality and HIV in Cambodia, research shows.
Case Study: Papua New Guinea (April 2020)
Australia Awards alumni integral to PNG's emerging technology sector
The Australian Government considers supporting a stable and prosperous PNG as one of its most important foreign policy objectives. Australia Awards alumni are supporting that goal, research finds.
Year 3 survey results (April 2020)
Fostering international cooperation and development
Research confirms the Australia Awards are improving work practices and supporting gender equality and inclusiveness in alumni's home countries.
Case Study: Pakistan (September 2019)
Australia Awards support equality, inclusion and effective leadership in Pakistan
Alumni of Australian development scholarships are making a lasting contribution to Pakistan's efforts to become a country upheld by governance, effective leadership and improved access to opportunities for women.
Case Study: Mozambique (August 2019)
Australian Government scholarships assist poverty reduction and zero hunger goals in Mozambique
Research demonstrates that Australia Awards alumni from Mozambique have made significant contributions to food production, disaster risk reduction and emergency response activities.
Case Study: Vietnam (August 2019)
Australia Awards Vietnam alumnae in the right place at the right time
New research into Vietnamese women who completed Australian development scholarships in the banking and finance sector provides some of the strongest evidence to date of alumnae making positive contributions to economic and public diplomacy outcomes.
Case Study: Indonesia (December 2018)
Australia Awards alumni help rebuild education sector in post-tsunami Indonesia
A new case study from the Australia Awards Global Tracer Facility finds alumni are helping to replace schools, teachers and education systems destroyed in Indonesia's tsunami-ravaged regions.
Case Study: Solomon Islands (November 2018)
Australia Awards alumni improve health outcomes in Solomon Islands, report finds
Research reveals Australia Awards scholarships are supporting emerging leaders in the health sector in Solomon Islands to improve health outcomes in local communities.
Case Study: China (November 2018)
Australia Awards alumni lead change in Chinese health and environment policy
A report from the Australia Awards Global Tracer Facility finds alumni are contributing to improvements in water management, environmental sustainability and public health initiatives in China.
Case Study: Vanuatu (October 2018)
Strengthening law and justice in Vanuatu
Early findings from the second year of the Australia Awards Global Tracer Facility's research into the ongoing impact of the Awards reveal benefits for communities in Vanuatu and Australia.
Case Study: Mongolia (October 2018)
Australian Alumni kicking financial goals in Mongolia
A new case study by ACER researchers has found that Australia Awards alumni from the financial sector in Mongolia are actively contributing to the country's development goals.
Year 2 case studies overview (October 2018)
Tracing Australia's contribution to international development
For over 60 years the Australian Government has invested in generations of global leaders, providing opportunities for study, research and professional development in Australia. ACER is evaluating the long-term outcomes of this investment.
Year 1 survey results (January 2018)
Understanding the impact of 'Australian-made skills'
International recipients of Australian Government scholarships develop practical and transferable skills and expertise that allow them to make a difference in their chosen fields, new ACER research shows.
Year 1 project update (May 2017)
More than 1500 alumni participate in Tracer Facility fieldwork
Daniel Edwards reports on the progress of the Australia Awards Global Tracer Facility as the research program finalises fieldwork in first year and launches its website.
Project announcement (October 2016)
Tracing the steps of high achievers
ACER is gathering information about the lives and experiences of international recipients of Australian Government scholarships to evaluate public diplomacy outcomes and contribution to development around the world.
For further information visit the Australia Awards Global Tracer Facility website.