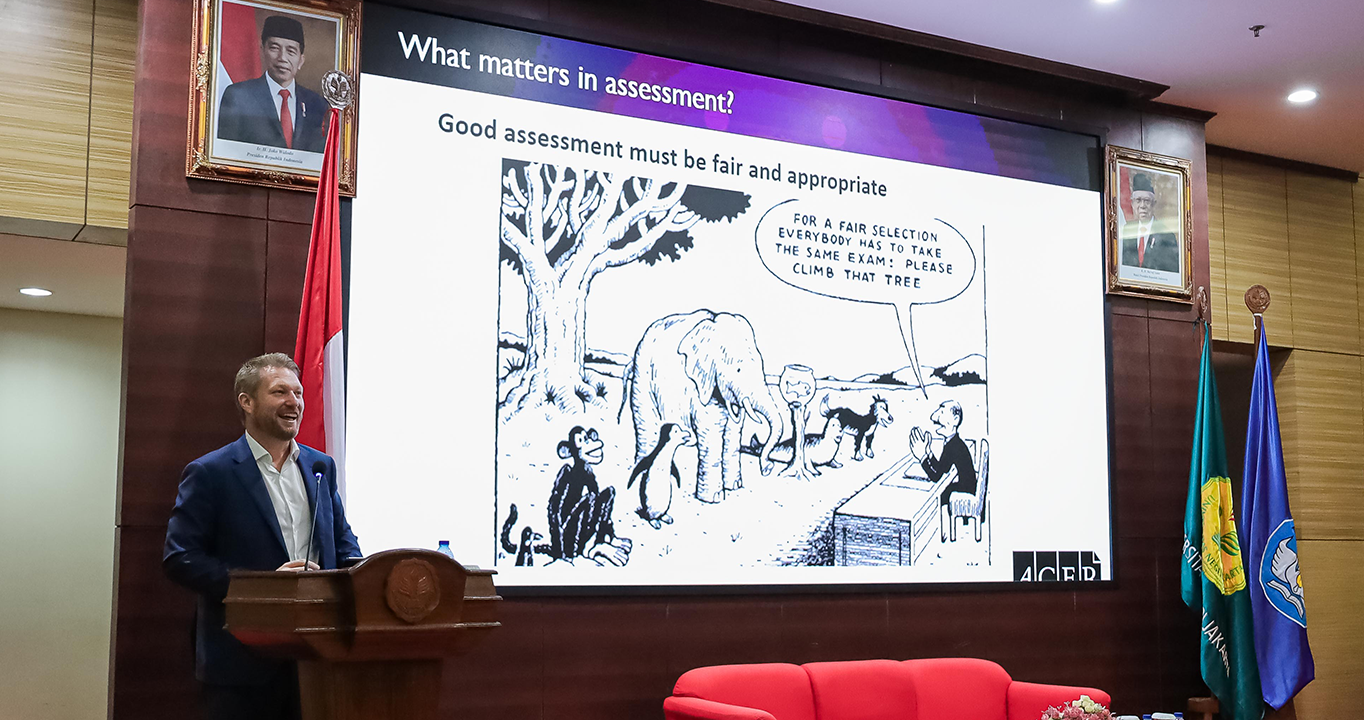 Wednesday, 23 Aug 2023
ACER's Director of School and Early Childhood Education Services, Dr Jarrod Hingston, profiled how ACER's research and expertise has driven the development of the Progressive Achievement approach to measuring and improving students' learning progress.
ACER Indonesia had the pleasure of hosting a visit by Dr Hingston, which coincided with the launch of ACER's PAT Mathmatica Progressive Achievement suite.
During his lecture, Dr Hingston described how ACER's Progressive Achievement approach is underpinned by research-based psychometric scales and learning progressions that measure and describe the learning journeys of students in mathematics, reading and other learning areas.
The lectures were held at ACER Indonesia's partner universities Jakarta State University (UNJ) and the Indonesian International Islamic University (UIII). With their specialisation in teacher education, both UNJ and UIII hold a strong interest in student assessment. Their faculty, students and graduates who are now teaching in schools engaged in good discussions during the question-and-answer section of the lectures.
Dr Hingston opened the session by sharing background on ACER's experience in developing evidence-gathering assessment tools that are underpinned by ACER's research and measurement expertise.
'ACER develops assessment tools that measure students' academic achievement against a long-term continuum, not just the students' current grade level,' Dr Hingston noted. 'Levels of achievement are also described so that teachers can understand their students' learning progress and next steps in learning.'
Throughout his presentation Dr Hingston conveyed the 3 key objectives of the Progressive Achievement approach:
Supporting teachers to identify where every student has reached in his or her learning on a described learning map.
Providing teachers with evidence of every student's next steps in learning and how teaching can be targeted towards the needs of the individual student
Measuring the learning growth of every student through subsequent Progressive Achievement assessments, using numerical scores that are also linked to descriptions of learning progress.
Dr Hingston said a good assessment must be fair and appropriate and based on a clear and well-defined construct. A 'construct' defines the way we look at a particular learning area and how we value it or describe what ability looks like in that learning area. It enables educators to measure what a student can and cannot do.
'So often students sit assessments that only tell us how our students compare with other students as opposed to defining what they need to learn next,' Dr Hingston explained, noting educational measurement is about gaining evidence to understand things that can help our students' learning, and not giving a test for the test itself.
ACER's approach to assessment is distinctive of, if not unique to, the organisation's work. It is predicated on the belief that assessment can support all learners to make good progress in their learning. At the heart of ACER's approach is the intention to gain a substantive understanding of where learners are in an area of learning at a particular point in time. This usually means establishing what they know, understand, and can do. Regardless of whether an assessment focuses on the performances of individual learners or groups of learners, its fundamental purpose—understanding where learners are in their learning—is the same.
Dr Hingston closed his session by highlighting how powerful a reliable student assessment can be for understanding what is actually happening with students. 'Are they progressing well or slowly? Have they got the help they require or do we need to try something different in their learning?' Schools can benefit a lot by regularly asking these kinds of questions as a reflection.
ACER Indonesia thanks Prof Muchlas Suseno, the Head Committee of the Studium Generale session and Dr Totok Bintoro, the Vice-Rector for Planning and Collaboration of UNJ, and Dr Bambang Sumintono, the Head of PhD Program of the Faculty of Education, and Prof Nina Nurmila, the Dean of the Faculty of Education of UIII for their warm and enthusiastic welcome to Dr Hingston and the team.
Watch Dr Hingston's general lecture session on YouTube.
If you have any questions or queries, please contact the team at pat.indonesia@acer.org.
---