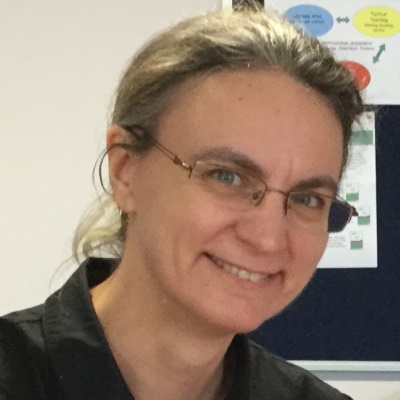 Dr Sandra Nissen
Lowood State High School, QLD
Workshop: Teaching impact cycles and teacher collaboration: Facilitating change in classroom practice
When teachers attend professional development workshops, it can be a challenge to transfer that learning into action in the classroom. Ongoing support and teacher collaboration can make a difference to facilitating change to teacher practice.
Teaching impact cycles are being implemented as a strategy to facilitate intentional, collaborative discussions between teachers and inspire changes to teacher practice in the classroom. The teaching impact cycles are based on action research processes, agile sprints and data cycles. The structures for the collaborative discussions were developed following a review of protocols that work for looking at student work and inspiring intentional conversations.
Reading comprehension is an area of strategic focus at Lowood State High School. To support subject area teachers to use reading comprehension activities in their classes, all teachers are provided with professional development. While we use the teaching impact cycles to support the implementation of reading comprehension activities, they could also be applied to other forms of pedagogical change.
Teaching impact cycles occur for 20 minutes during staff meeting time, at approximately three-week intervals (three meetings per term). Teachers meet in groups of three, a protocol is used to facilitate the conversations. In the first meeting, teachers use diagnostic data to identify a focus student whose results they are aiming to improve. Following analysis of upcoming assessment tasks and achievement standards, an appropriate reading comprehension activity is selected and tried with the whole class. In the second and third meetings, teachers describe the implementation of the activity in class and have the opportunity to gather advice from their colleagues. Teachers also analyse samples of student work collaboratively, to gauge the impact of the teaching on student performance.
This will be an interactive and active workshop. The process of establishing the teaching impact cycles will be described. Our ongoing research into what changes to teacher practice are occurring will be outlined. You will have the opportunity to try out and review two of our protocols (one for sharing practice and one for looking at student work). You will come away with knowledge about an approach that aims to support teachers to enact their professional learning in their classrooms, and all the resources necessary to be able adapt and use the protocols in your next meeting, or conversation with colleagues.
Workshop
Communities of practice
Secondary
---
Presenter(s)
Dr Sandra Nissen is passionate about supporting teachers and school leaders in their professional development. She has explored this passion in a variety of settings including P–12 schools, sessional tutoring and within state and nationally based organisations. Sandra is currently working as a Master Teacher engaging in school-based research, coaching teachers and school leaders. She is also an international online coach supporting teachers, school leaders, and policy leaders from around the world in leadership, using data for change and pedagogy. Sandra aims to presents interactive workshops where participants and presenter participate together in a joint learning experience.