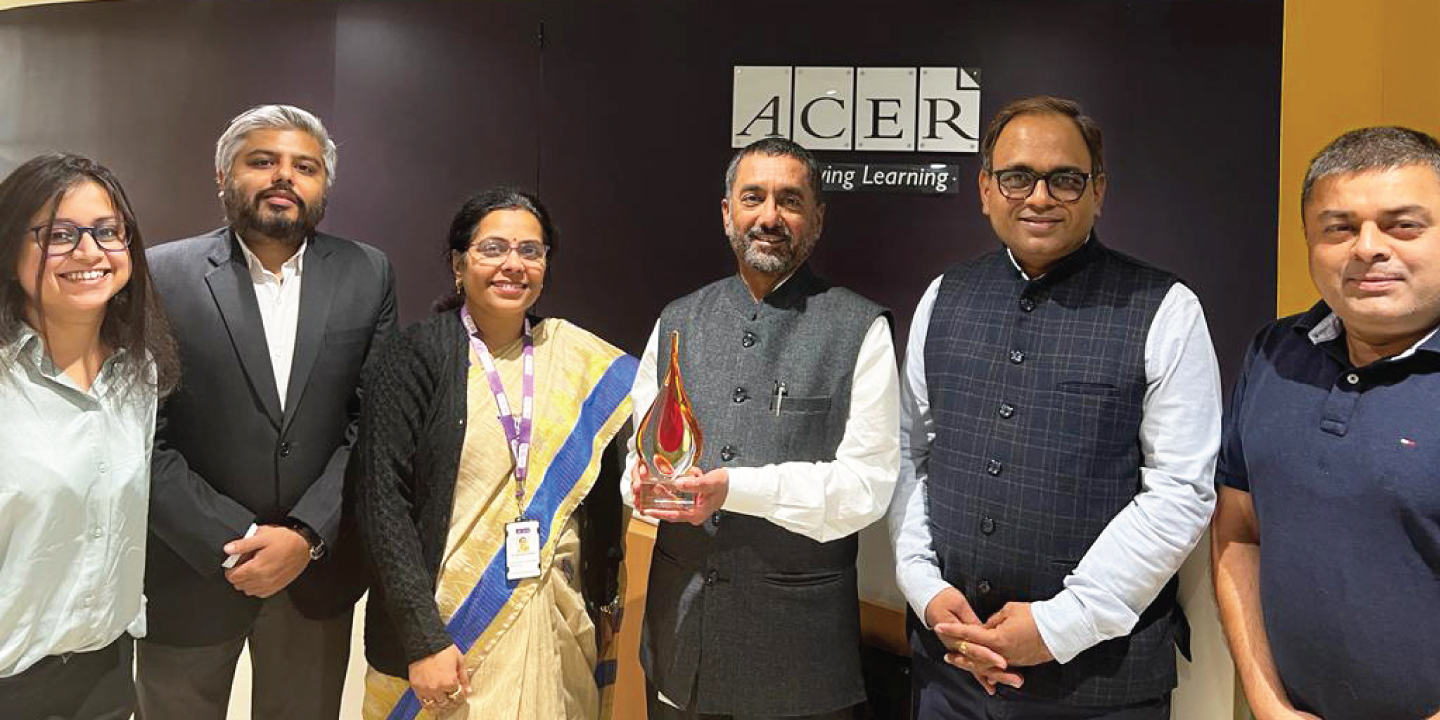 The ACER India team that was present at the IABCA award ceremony. - ©ACER India
ACER India wins the 2023 IABCA Award for Excellence in Partnerships
Media release
17 Feb 2023
3 minute read
ACER India won the IABCA Award 2023 in the Excellence in Partnerships category. The IABCA Awards recognise organisations and individuals that have strengthened partnerships between India and Australia.
The Australian Council for Educational Research (India) was recently awarded the India Australia Business & Community Alliance (IABCA) Award in the Excellence in Partnerships category. ACER was recognised for its partnership with the Government of the National Capital Territory of Delhi to support the newly established Delhi Board of School Education (DBSE). The awards are made by an independent not-for-profit based in Australia and supported by the Australian High Commission.
DBSE aims to provide students with world-class curriculum, pedagogies, and assessments that emphasise the development of competencies, shifting away from rote-based learning systems. Based on its global experience and expertise in supporting educational reform for more than ninety years, the state government commissioned ACER to provide technical assistance to DBSE.
In his acceptance speech, Amit Kaushik, CEO, ACER India thanked members of the ACER team and DBSE colleagues for their hard work and dedication. He particularly noted the vision of the Delhi government that seeks to create an education system focused on equipping learners with essential skills needed for work and life in the future.
'We're delighted to have had our efforts recognised by IABCA, acknowledging the collaboration between the Delhi government and ACER. We look forward to continuing to work closely with our colleagues at DBSE to provide world-class, high-quality education to the children of Delhi.'
Working in close partnership with government teachers, heads of schools, State Council of Educational Research and Training (SCERT), and the District Institutes of Education and Training (DIETs) in Delhi, ACER is providing technical support in curriculum, assessments, exam administration, evaluation, and capacity building of teachers and heads of schools.
DBSE plans to affiliate more than 1000 government schools in Delhi over time. More than 40,000 teachers will be trained in pedagogies and assessment.
About IABCA:
Established in 2014, IABCA now stands as the leading Alliance that builds awareness and understanding between the peoples and institutions of Australia and India. For more information, visit: https://www.iabca.com.au/about-us
About ACER India:
ACER India is an independent, not‑for‑profit research organisation. It uses its global expertise to support countries in South Asia in their mission to improve learning by creating and promoting research‑based knowledge, products and services. For more information, visit: https://www.acer.org/in