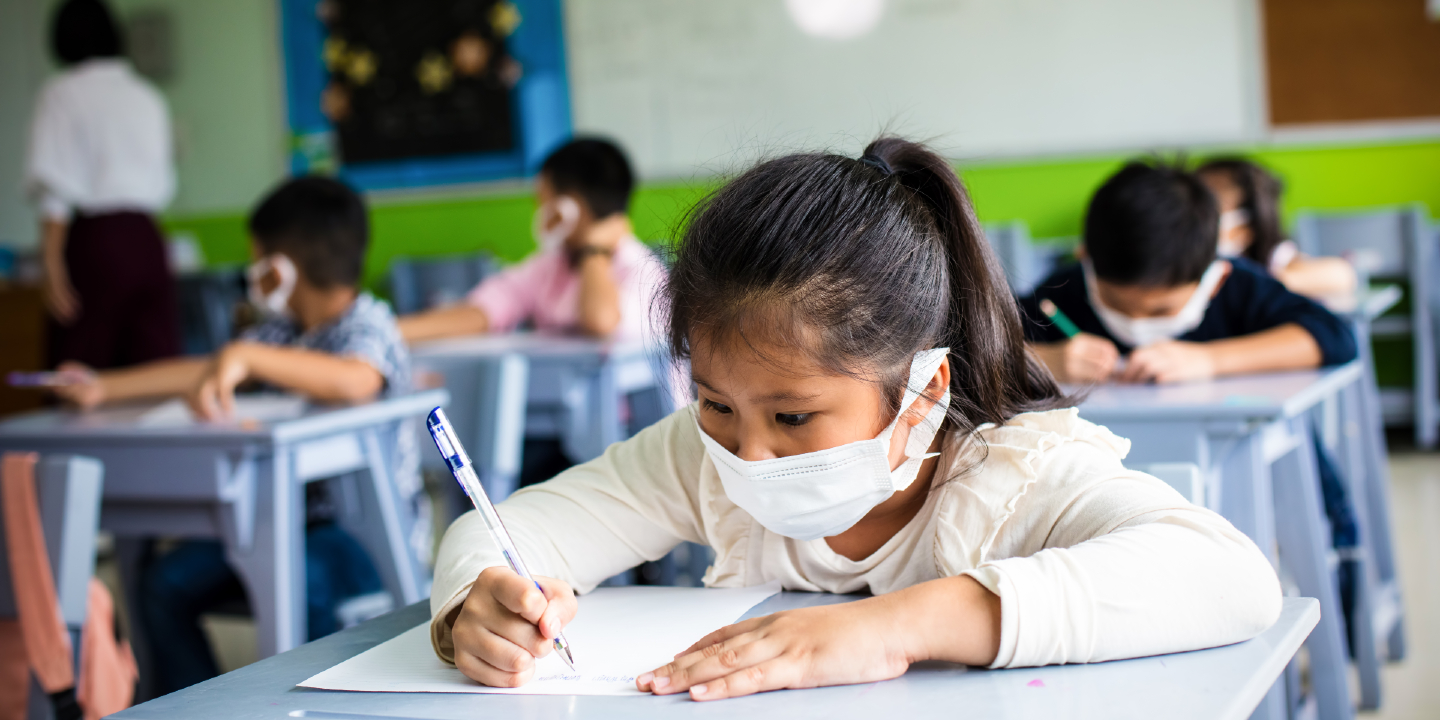 Image ©Shutterstock.com/narai chal
A new policy tool to help build resilient education systems
Research
15 Nov 2021
7 minute read
A new Education in Emergencies Policy Monitoring Tool developed by the GEM Centre will support education policymakers to prioritise their activities at national, regional and local levels to build resilient education systems.
The COVID-19 pandemic impacted the education of over 1.5 billion children and youth globally, highlighting the vulnerabilities and inequalities of national education systems. In response to increasing concern from education stakeholders, the GEM Centre – a strategic partnership between the Australian Council for Educational Research (ACER) and the Australian Government's Department of Foreign Affairs and Trade (DFAT) – embarked on a rapid review of education in emergencies (EiE) literature to help inform future policy responses.
'The COVID-19 emergency provided the motivation for this research, but learnings from past EiE situations also informed the understandings of the impacts and implications of the pandemic. These learnings have been combined with literature about the impacts of the COVID-19 pandemic on education to inform policymakers about how to build resilient education systems,' explains Dr Pina Tarricone, ACER Principal Research Fellow.
'To support policymakers, this review includes an EiE Policy Monitoring Framework and an EiE Policy Monitoring Tool. Frameworks and tools like these are central to the GEM Centre's approach to improving learning for students around the world,' continues Dr Tarricone.
The EiE Policy Monitoring Framework is underpinned by an emergency management cycle that identifies Preparedness, Response and Recovery phases. These phases have been informed by the Minimum Standards for Education: Preparedness, Response, Recovery developed by the Inter-agency Network for Education in Emergencies.
Unique to the EiE Policy Monitoring Framework are three factors – Systems, Teaching and Learning, and Agents – that are integral to each emergency management phase. These three factors have been identified to assist policymakers with managing national, state or local education systems and school-level planning. The importance of these three factors for building resilient education systems is supported by the broader literature of the rapid review.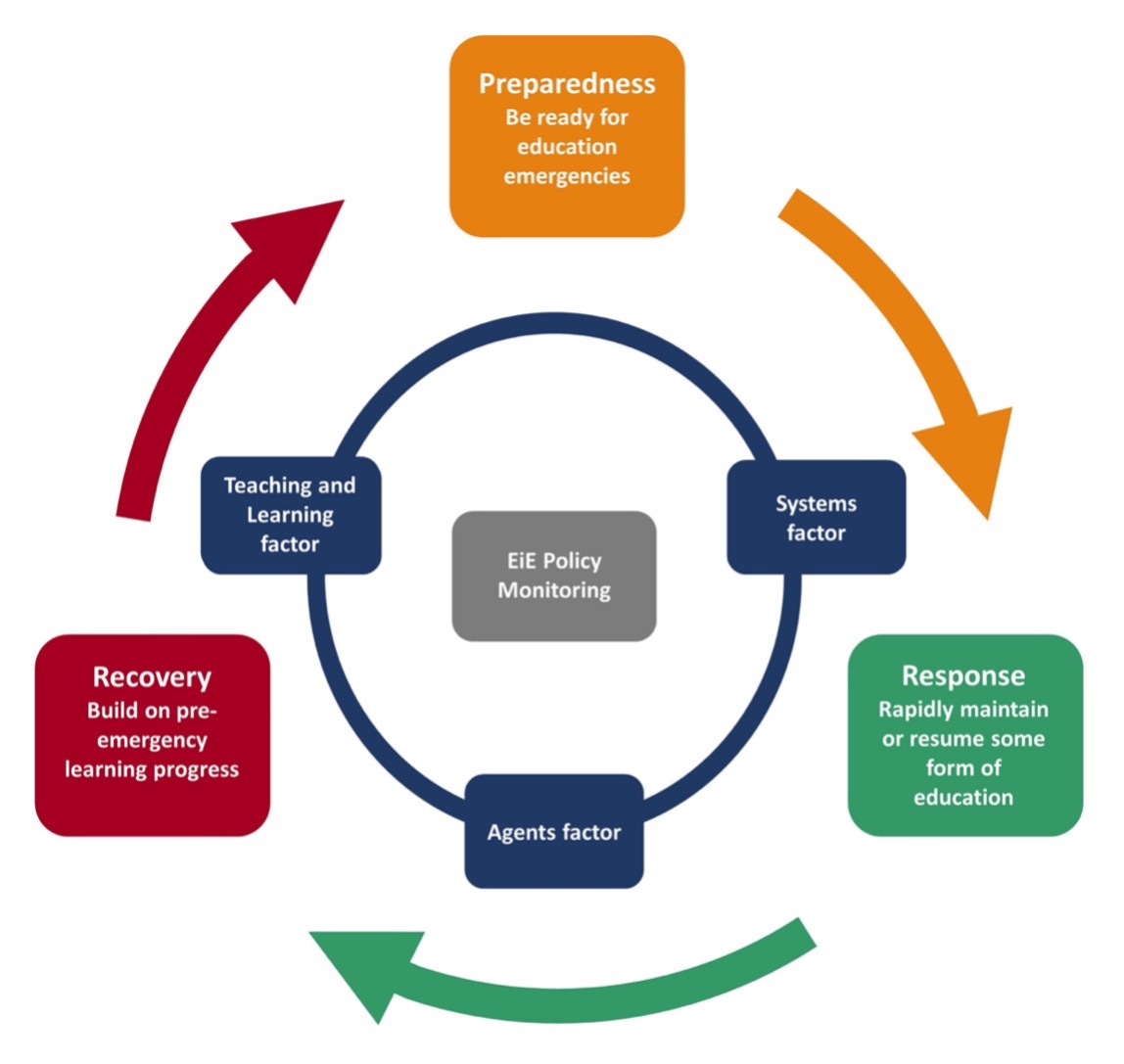 The EiE Policy Monitoring Tool was developed based on this framework. The value of the tool lies in its tiered description of 44 lower-level policy issues that correspond with 15 broader policy considerations under the three factors (Systems, Teaching and Learning, and Agents). Examples of policy considerations include 'planning for education in emergencies', 'communicating between and with education stakeholders', 'constructing robust ICT infrastructure', 'applying multiple teaching modalities', 'engaging the community' and 'developing teacher capacity'.
The tool allows users to identify policy considerations and issues that are of concern to their education system. By allocating a risk rating of low, medium, high or very high, policymakers can see 'at a glance' those policy considerations and issues that need further work across the preparedness, response and recovery phases.
Given the ongoing and evolving nature of the COVID-19 pandemic, each education system is currently operating in different phases of the emergency management cycle and will need to strengthen diverse policy considerations and issues to develop greater resilience. Policymakers can adapt the tool by removing or adding considerations and issues based on their context and the emergency phase that their education system is in.
'Supporting policymakers to navigate the challenges of continuing education during the COVID-19 pandemic is at the core of the work of the GEM Centre,' says Dr Tarricone. 'Our strategic partnership with DFAT ensures we can support governments and partners in the Indo-Pacific, and around the world, to make evidence-based decisions relevant to their context to help build resilient education systems.'
Read the full report:
Building resilient education systems: A rapid review of the education in emergencies literature, by Pina Tarricone, Kemran Mestan and Ian Teo.
About the GEM Centre:
The Global Education Monitoring (GEM) Centre is a long-term, strategic partnership between ACER and DFAT. Our goal through the GEM Centre is to improve learning outcomes for all by ensuring that education policies, practices and investments are influenced by high-quality data. Find out more about the GEM Centre.