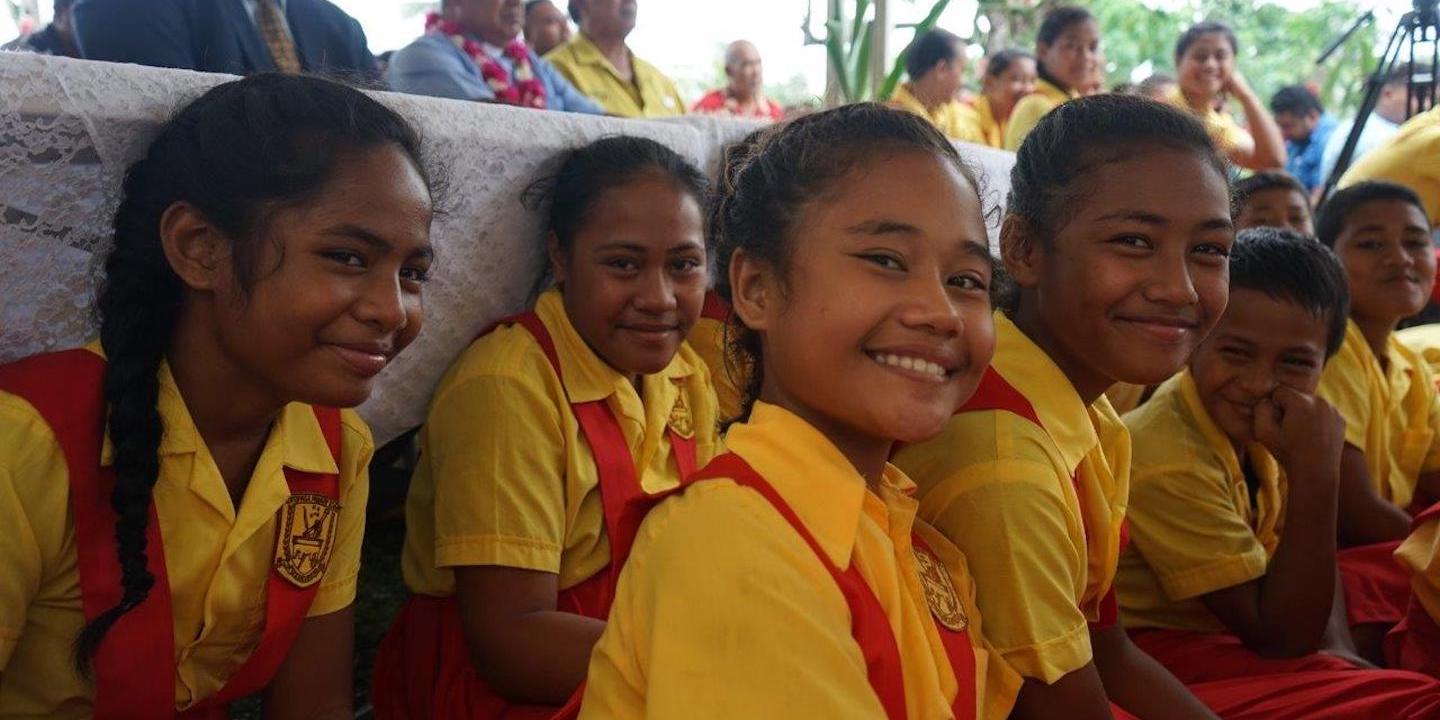 (c) The Australian Government's Department of Foreign Affairs and Trade
Building capacity in remote education in the Pacific
Research
4 Jun 2021
6 minute read
A new Australian initiative is helping Pacific Island countries improve capacity in remote education as a result of COVID-19 disruptions.
The COVID-19 pandemic has exposed the vulnerabilities of education systems worldwide. To build resilient education systems that can rapidly respond to periods of lockdown and school closures, effective and robust remote education approaches that enable educational continuity are desperately needed.
A series of workshops on climate change is set to build the capacity of teachers and teacher trainers in remote education in Fiji, Kiribati, Tuvalu and Samoa. While the impact of COVID-19 has been limited in the Pacific, there is a constant threat of sudden school closures due to the risk of natural disasters which plague the region – as seen recently in Fiji.
Over four months, participants will take part in the Climate Connection Series, train-the-trainer workshops facilitated by the ANU Australian National Centre for the Public Awareness of Science (CPAS). Through Science Circus Pacific, CPAS has been running successful science, technology, engineering and maths (STEM) education programs across the Pacific for over two years, building on decades of experience working with partners in developing contexts. As a result of COVID-19, all of its activities are now delivered remotely, presenting an opportunity to create a range of approaches to enable learning continuity and promote student engagement during periods of educational disruption.
CPAS is partnering with government institutions, universities and non-governmental organisations in the four Pacific Island countries to deliver the workshop series. In Samoa, CPAS is partnering with Imagine Samoa, Brown Girl Woke and 350 Samoa. The Fijian partners are the University of Fiji, Graduate Women Fiji and the University of the South Pacific. In Tuvalu, CPAS is collaborating with the Ministry of Education, while in Kiribati, they are partnering with the Kiribati Education Improvement Program and the Kiribati Teachers College. Activities will be tailored to the individual needs and contexts of these partners, focusing on remote teaching methodologies.
The series is made possible by the Australian Strategic Partnerships in Remote Education (ASPIRE) initiative which connects Australian experience and expertise in remote education with partners in the Indo-Pacific region. The partners were brought together through ASPIRE and will receive a small grant to complete the project.
ASPIRE is managed by the Australian Council for Educational Research, on behalf of the Australian Government's Department of Foreign Affairs and Trade (DFAT). It supports remote education projects that aim to improve educational continuity, access and equity, in particular for disadvantaged students.
Workshop participants will explore the causes and impacts of a changing climate and how to bring these lessons into the classroom or an informal learning setting through the use of video-based instruction, digital platforms or home-based learning approaches. They will learn methods for engaging diverse audiences with hands-on activities and experiments centred on empowerment and action.
Teachers participating in the workshops will learn the skills required to develop their own locally relevant content and be supported to produce short videos for social media, online teaching and TV. These videos – aimed at teachers, parents and students – will showcase an activity from the workshop or other climate content. Participants will receive support to run a workshop in their local community, enabling them to use the skills and knowledge in remote education they acquired through the training. They will also form networks with like-minded teachers, swapping stories across the region, sharing approaches to online learning and climate change education, and taking part in online competitions.
Ultimately, the Climate Connection series will enable teachers, teacher trainers and practitioners to understand the importance of remote and blended learning approaches and feel confident to introduce them into their daily teaching practice. Not only does this series have the potential to improve student learning and engagement, it will help to build resilient education systems in the Pacific capable of responding to unavoidable disruptions.
Further reading
Read more about the ASPIRE initiative.
Read DFAT's Partnerships for Recovery: Australia's COVID-19 Development Response.
Find out more about ACER's education and development work.