Game design fosters real learning
Research
1 Nov 2017
7 minute read
The 2017 Australian STEM Video Game Challenge, which encourages students as young as 10 years old to design and build a video game, turns classroom learning into a reality.
Game design fosters real learning
Six winning teams in the 2017 Australian STEM Video Game Challenge were recognised at an awards ceremony at PAX Australia in Melbourne in late October. Presenting the awards, Stephanie 'Hex' Bendixsen (presenter of Seven's screenPLAY and former presenter of ABC's Good Game) commended not only the winners, but all students who created a playable game.
'I play a lot of games, but I can't make them, so I'm super impressed by you guys,' Hex said at the awards.
Academy of Interactive Entertainment (AIE) Chairman and CEO John De Margheriti said he hoped participants in this year's Challenge would be among the next generation of game developers and 3D artists.
'The students behind the winning games in this year's Challenge have demonstrated remarkable levels of creativity and technical skill that stand them in good stead for future careers in the interactive entertainment industry,' Mr De Margheriti said.
'All entrants should be proud that they have created an original video game using new and emerging technology. They've used skills and knowledge vital not only to games development but the future of our creative digital industries.'
Engaging in STEM
The Challenge promotes engaging and interactive learning to increase interest and participation in the science, technology, engineering and mathematics (STEM) disciplines by inviting school students in Years 5 to 12 to create an original video game. This year, students were asked to address the theme 'reaction'. The Challenge is coordinated by ACER and supported by major partner, AIE, and innovation partners, Big Ant Studios, Google and PAX Australia, as well as government, universities, corporate partners and game developers.
ACER Foundation Director Lisa Norris said research shows that gaming and game design for learning are increasingly being embraced.
'The Interactive Games and Entertainment Association's Digital Australia 2018 survey found that 50 per cent of parents reported that their children have used games as part of their school curriculum, compared to 35 per cent in the 2016 survey,' Ms Norris said.
'We have seen a great reaction to this year's Australian STEM Video Game Challenge theme. The Challenge provides a great opportunity for upper primary and secondary students to engage in relevant, hands-on, inquiry-driven learning spanning the STEM disciplines in a fun, exciting and challenging way.'
And the winners are…
Years 5-8 Scratch – Marcus Carr, Bert Lee, Jayden Shi and Eric Shin, Chatswood Public School, NSW, for Asteroid Smash!
Years 5-8 Gamemaker – Jaxson Brown, Australind Senior High School, WA, for Cube Runner
Years 5-8 Open – Michael Ostapenko, home school, QLD, for Reaction
Years 9-12 Gamemaker – Jett-Lee Wetherald, Mason Brennan and John Saxon, Maroochydore State High School, QLD, for Shards of Azothornia: The First Shard
Years 9-12 Unity3D/Unreal Engine – Kye Ziebarth, Fabian Scheffler and Kenji McAuliffe, Churchlands Senior High School, WA for Goldberg
Years 9-12 Open – Jacob Thomas, Dylan Kalms-Taylor, Caleb Jeanes and Chloe Godfrey, Kalianna School, Bendigo, VIC, for Gizma's Adventure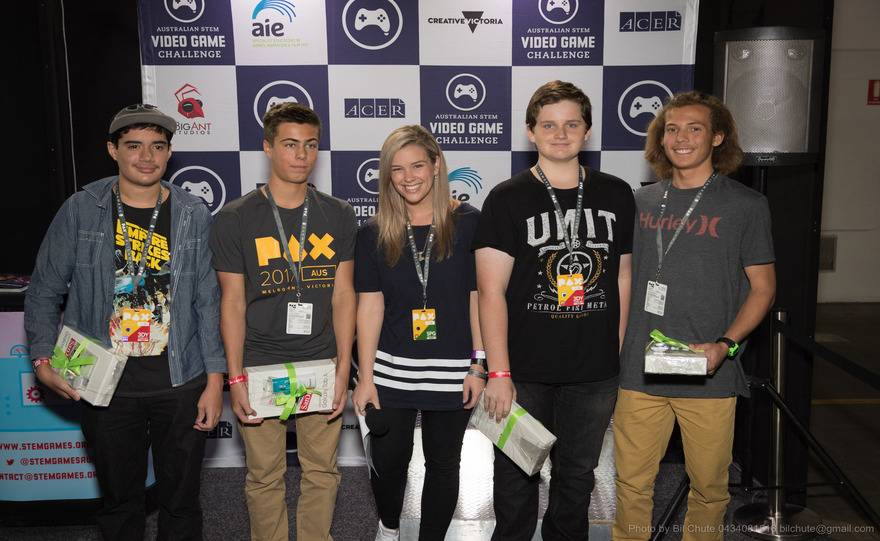 Teachers and industry experts impressed
According to Maroochydore State High's Peter Cook, the Challenge drives real-world learning through its emphasis on the game design document, project management skills and technical skills.
'Everything builds up to this, because the Challenge really matches our curriculum,' Cook said. 'The Challenge gives the students a focus and makes their learning real. It turns classroom learning into reality. They love it,' Mr Cook said.
Kalianna teacher and team mentor, Seamus Curtain-Magee, said the Challenge promotes powerful learning. 'Every team that makes it through the judging rounds by creating a playable game is a winner,' said Mr Curtain-Magee. 'Creating a playable game is powerful in itself, as a way of learning by doing, but games are also a great way to enable learning, whether that's about emotions or physics. The team also learned a lot through the process of testing and de-bugging.'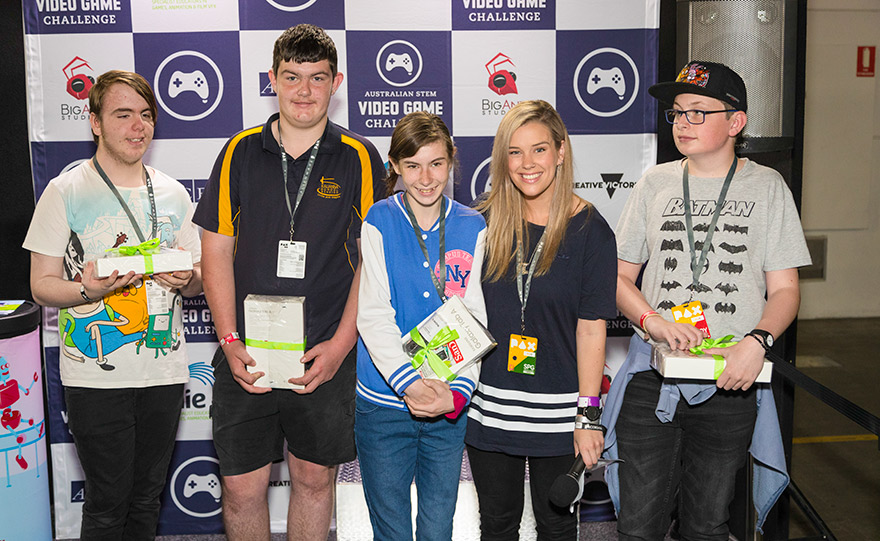 Speaking at a post-awards panel, Jennifer MacLean, Executive Director of the International Game Developers Association, shared her thoughts about the Challenge and the value of games and game development for learning.
'Game development is powerful learning,' Ms MacLean said. 'It teaches three critical skills: communication, conflict resolution skills and, most importantly, resilience. Students value the lessons they learn because they want their game to work.'
Not only that, added fellow panellist Neil Boyd, Director of Business Development and Marketing at AIE, games are in themselves about learning. 'Students have to decide what they want a player to learn,' Mr Boyd said. 'The Challenge develops their thinking about the player's learning journey and the game narrative for that.'
According to panellist and Challenge judge, Greg Askew, a business systems and logistics analyst, the game development document (GDD) is a crucial component of the Challenge. 'A well-written GDD helps teams to break things down before they get into coding and making the game,' Mr Askew said.
'It shows the thought process and the teamwork that goes into planning and making a game. It also gets students to ask key questions that a business analyst, systems analyst and project manager would ask, and that's really interesting because these are all transferable skills.'
For fellow panellist and Challenge judge, Ross Symons, Founder and Chief Executive of Big Ant Studios, the GDD is a living document that can help teams to better design and make their game.
'A good GDD helps to put parameters around the game and can help students to control "scope creep",' Mr Symons said. 'It also describes the problems that always turn up and how the team evaluated and dealt with them. The planning and documentation that you see in a good GDD is hugely useful in helping the students to see their learning.'
Panel chair, Dr Chad Habel, Senior Lecturer in the Faculty of Arts at the University of Adelaide and Director of Game Truck Australia, commended every team that submitted a playable game for the Challenge.
'There are thousands of gamers here at PAX but only a handful of game developers, Dr Habel said. 'What is fantastic about the Challenge is that every team receiving an award has experienced failure in the process of developing their game, as every game developer does, but also that all the teams have created a playable game and learned a huge amount in the process.'
Further information:
Read more about the winners and the winning games at www.stemgames.org.au
Registrations for the 2018 Australian STEM Video Game Challenge open on 26 March 2018. For more information, visit www.stemgames.org.au
Pictured, from top, Australian STEM Video Game Challenge gameplay; Maroochydore State High School winners with Stephanie 'Hex' Bendixsen; and Kalianna School, Bendigo, winners with Stephanie 'Hex' Bendixsen at PAX Australia in Melbourne.