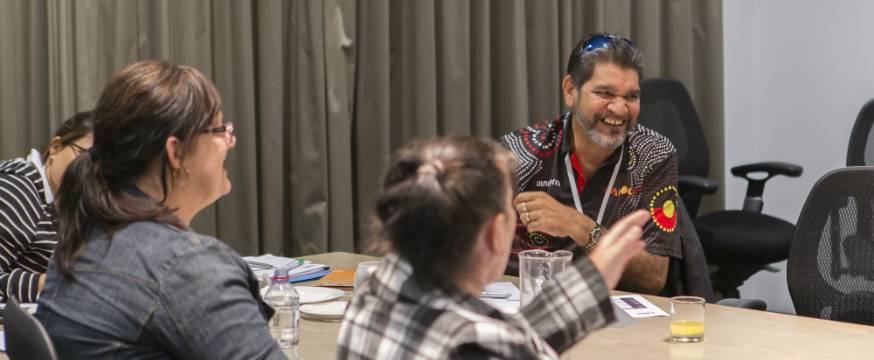 Indigenous research: learning together
Research
11 Nov 2015
4 minute read
A new program to develop Indigenous educational research capacity is supporting research being undertaken about, with and by Indigenous education researchers.
Eleven Indigenous early career researchers met with researchers at the Australian Council for Educational Research (ACER) in Melbourne in April for two days of intensive face-to-face workshops about educational research.
The workshop component of the ACER Indigenous Visiting Fellows program is focused on consolidating and developing the educational research skills of Indigenous early career researchers, as well as teachers and community leaders. The workshops also enabled participants to network with fellow researchers.
The Indigenous Visiting Fellows program, an initiative of the ACER Foundation, aims to develop Indigenous educational research capacity, with a view to increasing the participation of Indigenous researchers in local and national research projects as opportunities arise.
Participants at the two-day workshop investigated research techniques used in educational research, including quantitative data, qualitative research, interviewing, ethics, literature reviews, and research and community engagement methods to source sound evidence in Indigenous education.
Participants in the Indigenous Visiting Fellows program will be matched with senior ACER research staff as the first step in a mentoring program to foster long-term research capabilities and networks for Indigenous education research.
Melissa Kirby, a Senior Education Officer in the New South Wales Department of Education and Communities who descends from the Ngemba people of New South Wales, said the program provides increased opportunities to identify and design research that informs strategies for improved outcomes for Indigenous students.
'The benefit of bringing together a group of Indigenous educators with current research interests and capabilities is vital for research to begin from the centre, the needs of Indigenous people, which involves identifying the research questions that are critical to us, and the research methods that will enable us to obtain data that really informs improvement,' Ms Kirby said.
'It is also a great step in building a network of Indigenous researchers, not just locally, but globally.'
According to Alisha Britten, a Senior Mentor and Support Worker at JobCo who descends from the Yorta Yorta people of Victoria, the work of Indigenous educators with students and adults in itself generates numerous research questions.
'The Indigenous Visiting Fellows program is a good fit for me in my work as a way to build skills and networks to pursue research questions in Indigenous education and training, and educational transitions,' Ms Britten said. 'In building research capacity, it also has the potential to inform and influence educational policies and strategies.'
According to ACER Foundation Director Deirdre Jackson, one of the key goals of the ACER Indigenous Visiting Fellows program is to bring together Indigenous early career researchers in a network with fellow educational researchers and mentors.
'As Indigenous early career researchers further develop their educational research skills, we think they will be better placed to participate in local and national research projects,' Ms Jackson said.
Tony Dreise, a Principal Research Fellow at ACER who descends from the Guumilroi people of north-west New South Wales and south-west Queensland, said the fundamental purpose of the program was to grow capacity in Indigenous educational research through collaboration.
'Indigenous researchers have a wealth of knowledge to share with ACER about the key challenges and opportunities in Indigenous education and research. And ACER has a wealth of knowledge to share with them about educational research in general and Indigenous educational research in particular,' Mr Dreise said.
'By providing ongoing mentor support we also aim to engage early career researchers themselves to grow into the mentor role as they develop their research experience, networks and capabilities.'
George Hayden, an Associate Lecturer at the Centre for Aboriginal Studies at Curtin University who descends from the Njaki Njaki people of Western Australia, said mentoring was a significant attraction of the program.
'Mentoring is an important way to sustain research capacity as a two-way process that enables dialogue and support between Indigenous and non-Indigenous researchers,' Mr Hayden said.
'Having worked in education for 10 years with five years of involvement in educational research, it is crucial that we obtain strong evidence about the effectiveness of programs that really make a difference.'
Mr Dreise, who facilitated the two-day intensive face-to-face workshop, said ongoing mentoring was crucial in sustaining research capacity.
'The aim is to bring researchers together in order to learn with and from each other and grow the capabilities of Indigenous educational research in Australia.'
Further information:
The Indigenous Visiting Fellows program initiative is funded by an Innovation Grant from the ACER Foundation.