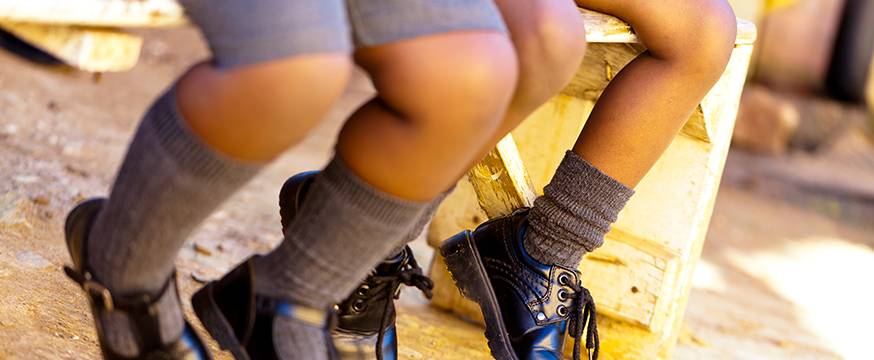 My space: Improving transition to school for Indigenous children
Research
18 May 2016
5 minute read
Starting primary school can be daunting for Aboriginal children, but educators can improve their transition outcomes by recognising what they bring with them to school, says Jacynta Krakouer.
My space: Improving transition to school for Indigenous children
In Australia, Aboriginal children are frequently expected to adapt to a foreign educational system in which school expectations can differ markedly from those in their home environment. The gap between home and school expectations affects their school readiness and transition to school.
A recent research project undertaken by ACER to critically analyse the current discourse concerning Indigenous school readiness and transition aims to help children start school positively and productively.
From deficits to strengths
One of the key observations from the project is that the educational experiences of Aboriginal Australians are often framed from a deficit perspective, whereby the 'failure' of Indigenous children to engage with the mainstream educational system is seen as the 'problem'.
An alternative and more useful approach to Indigenous early childhood education discourse is to account for the strengths of Aboriginal children starting school.
Many of the strengths that Aboriginal children bring to their primary schooling stem from Aboriginal child-rearing practices. Research undertaken in Canada, for example, found that Aboriginal parents taught culturally valued knowledge to their children in early childhood, such as traditional language, understanding their relationship to the land, and their position within their family and community. This yields cognitive strengths among Indigenous children not recognised across mainstream school-readiness indicators.
The importance of relationships to land, family and community are similarly valued in Australian Aboriginal and Torres Strait Islander cultures. Arguably, when culturally specific strengths are affirmed at school, it is likely children would be judged to be more 'school ready', supporting positive school outcomes such as improved student–teacher relationships, positive conceptions of school, and improved self-confidence and self-efficacy.
Fitting in or fitting together?
Despite the value to schools in recognising the culturally specific strengths of Indigenous children, teachers, principals and other educators often privilege other aspects of school readiness, such as cognitive skills, literacy skills, social skills and 'fitting in' with school cultural expectations, essentially overlooking the useful strengths that Indigenous children may bring to the classroom.
As a consequence, the cultural mismatch that often exists between home and schooling expectations for Aboriginal children is often cited in the Indigenous early childhood education literature as a barrier to meeting school-readiness indicators. But whose barrier? And who needs to do the overcoming?
School readiness
There is an inherent assumption within the Indigenous early childhood education literature that school readiness includes the capacity or preparedness of Indigenous children to adapt to, and fit in with, the Western, non-Indigenous school system.
Of course it is unlikely that all Indigenous children will be able to attend Indigenous-specific schools and those who attend Western, non-Indigenous schools do need to understand and adapt to mainstream schooling culture. But the failure of some mainstream educational systems to adapt to the needs of Aboriginal children also needs to be acknowledged if they are to experience a successful transition to school.
Indeed, schools and educators play a crucial role in smoothing the transition to school for Indigenous children by expanding their understanding of Indigenous child-rearing practices and norms.
Culturally appropriate approaches may include understanding the importance of trusting relationships in Indigenous communities, getting to know the student, or providing opportunities for hands-on learning outdoors where Indigenous children may feel more comfortable.
Research shows that schools that prepare for Indigenous children tend to have better outcomes than schools that simply prepare Indigenous children for school. In other words, school readiness is not just about children being ready for schools, but schools being ready for the students they enrol.
While many approaches towards improving school readiness for Indigenous children focus on building skills in the individual and family, such as improving early literacy skills, recent research undertaken with Maori children in New Zealand found that the crucial factor for enhancing early school outcomes is the relationships children form with their peers and teachers. This is not to say that building early literacy skills is not important but that this is more effective if it follows efforts to build relationships.
Research undertaken by the Secretariat of National Aboriginal and Islander Child Care affirmed these findings, stating that a key feature of successful transition programs for Aboriginal children is the quality of student–teacher and teacher–parent relationships formed in the early phases of school. The importance of ensuring that schools and teachers are well equipped – or in fact 'ready' themselves – for Indigenous learners cannot be ignored.
Ultimately, the onus cannot simply be on Aboriginal parents and communities to prepare their children for school. This is because transitioning to school is a holistic, relational process that occurs over a period of time before and after the very first school day.
Effective transitions to primary school for Aboriginal youngsters require not only children to be ready, but schools and educators to be ready as well.
Further information:

This article is based on the paper, Literature review relating to the current context and discourse surrounding Indigenous early childhood education, school readiness and transition programs to primary school, available from the ACER research repository.