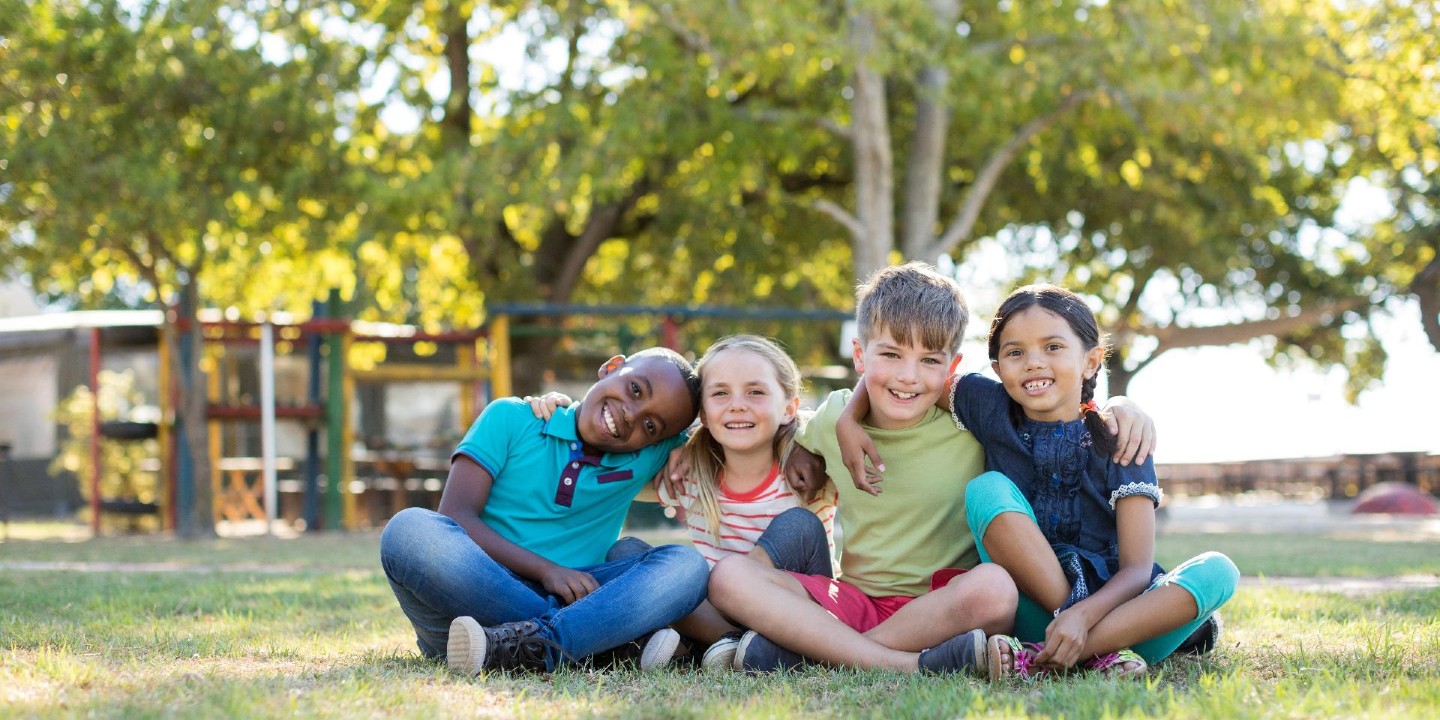 Students in IB programs display higher wellbeing than peers
Feature
25 Sep 2020
3 minute read
A study by the Australian Council for Educational Research (ACER) for the International Baccalaureate Organization (IBO) found that students in the IB Primary Years Programme (IB PYP) demonstrated consistently higher levels of wellbeing than those educated outside the program.
The IB PYP is an educational framework for students aged 3-12 years focused on whole child development through an inquiry-driven approach. The IBO administers IB programmes around the globe and commissioned ACER to investigate the impact of the IB PYP on the wellbeing and other social-emotional learning outcomes of participants. The study analysed data from PYP and similar non-PYP schools and surveyed teachers and students in a representative sample of 56 PYP schools around Australia.
The final report concluded that the higher levels of wellbeing displayed by PYP students compared with their non-PYP peers conferred an advantage equivalent to around three months of additional development. Within this, the PYP had a bigger impact on decreasing negative feelings and behaviours and a smaller impact on increasing students' positive views. For example, 96 per cent of PYP students agreed with the positive statement 'I am a happy person' compared with 94 per cent of non-PYP students and, on 'I get along well with my teachers', the difference was even smaller: 94 per cent of PYP students agreed compared with 93 per cent of non-PYP students. By comparison, 57 per cent of PYP students agreed with the negative statement 'I could do a lot better in my schoolwork' compared with 68 per cent of non-PYP peers. Twenty-one per cent of PYP students agreed that 'I lose my temper a lot' compared with 27 per cent of non-PYP students.
Researchers found that many elements of the IB approach, such as the curriculum, supporting documentation and programmatic factors like the learner profile, were helpful elements towards promoting wellbeing.
Based upon survey responses, the researchers developed a tool called the PYP Index to broadly measure each school's implementation of the PYP and to accurately compare data across schools. This enabled exploration of the relationship between implementation quality and wellbeing levels by comparing schools grouped by how well they implemented the principles and practices of the PYP, whilst controlling for confounding factors like socio-economic status.
High-performing PYP schools displayed a more positive school climate (Cohen's d effect size: ES +1.54) and higher levels of teacher collaboration (ES +0.91) as well as positive classroom culture (ES +0.46), when compared to schools categorised as low-implementing. Students in high-performing schools were found to be more challenged to think globally and spent more time acquiring skills like learning to manage emotions and make friends. As the graph comparing average responses shows, these school-level and classroom-level factors were found to support student wellbeing (ES +0.12) and the development of social, emotional and learning skills (ES +0.15) more, if students were in high-performing PYP schools.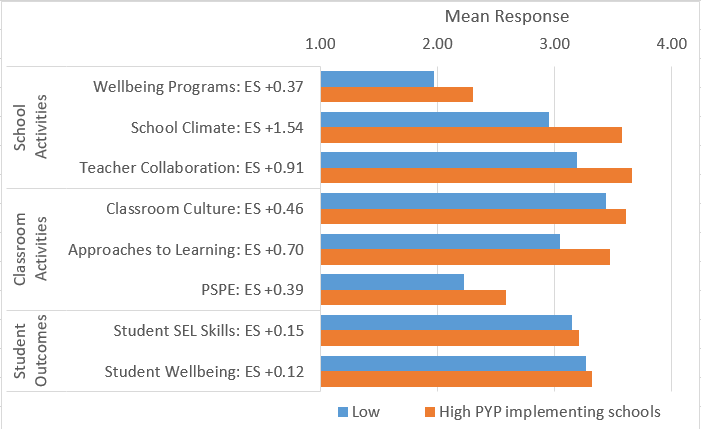 Read the summary report or the full report.