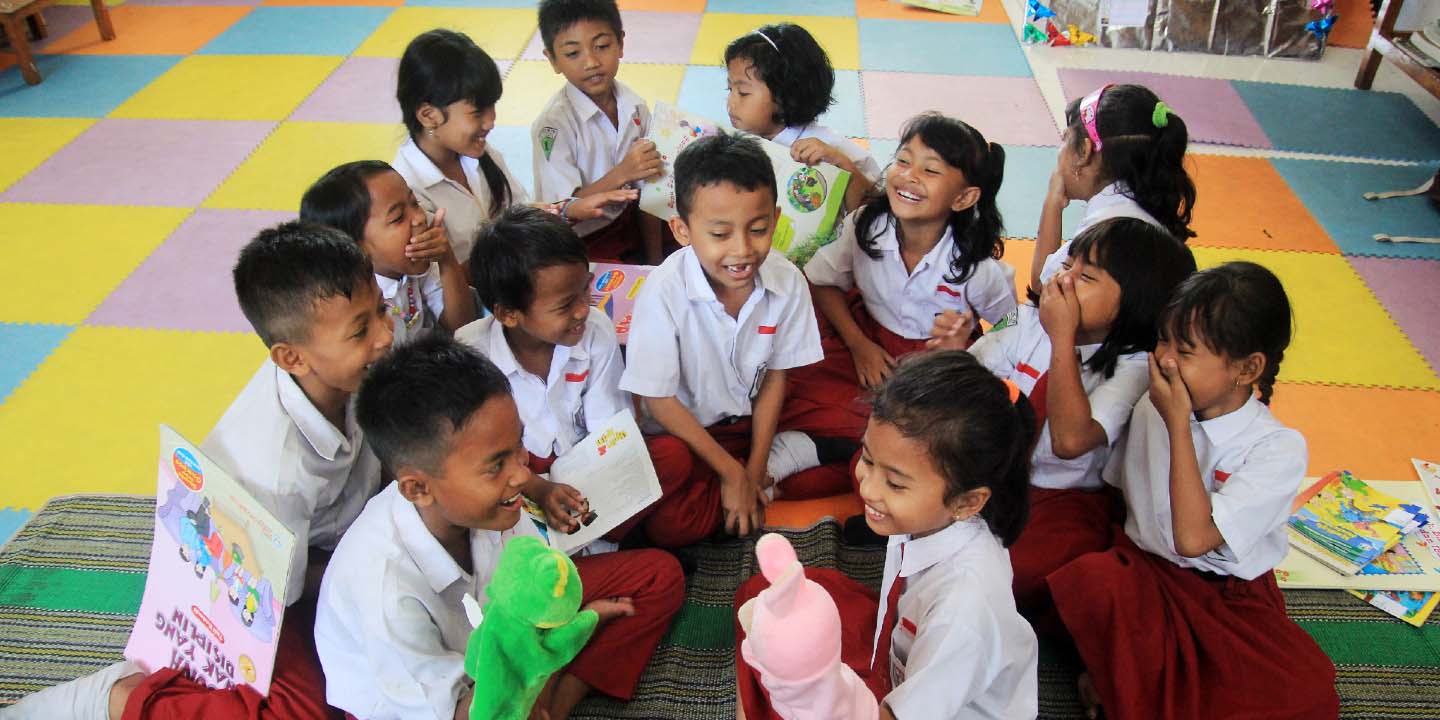 Image ©Shutterstock.com/spotters_studio
Aligning 21st century skills with curriculum, pedagogy and assessment
Research
25 Jun 2021
7 minute read
Summary

:
Online course supports countries to develop strategic plans to integrate 21 century skills into their education systems.
In today's knowledge-based society, 21st century skills are considered important for success. As such, the integration of these skills into education systems has become a key interest area for policymakers around the world.
Prominent examples of 21st century skills include critical thinking, creative thinking, and collaboration. Successful integration of these skills requires alignment at a system level, encompassing curricula, assessment and pedagogy, as well as approaches tailored to national contexts.
To support education systems to build an aligned and sustainable approach to 21st century skills integration, ACER, with assistance from the Global Education Monitoring (GEM) Centre, recently partnered with UNESCO Bangkok to deliver an online course for the Network on Education Quality Monitoring in the Asia-Pacific (NEQMAP). The overall objective of the three-week course was to support countries to develop strategic plans to integrate 21st century skills into their education systems.
The initiative was co-funded by the GEM Centre, which drives improvements in learning by supporting the monitoring of education worldwide. The GEM Centre is a long-term strategic partnership between ACER and the Australian Government's Department of Foreign Affairs and Trade (DFAT). As a member of NEQMAP, the GEM Centre makes valuable contributions to the network's capacity building, knowledge sharing and research.
In order for 21st century skills to be integrated into education systems, the GEM Centre emphasises an aligned approach where these skills are defined and operationalised into curriculum, assessment and pedagogy. Initiatives like this are a strategic priority for the GEM Centre, as they support education stakeholders to understand how to embed and enhance relevant skills in academic learning areas. While different countries may have their own frameworks or priorities surrounding 21st century skills, a consistent approach to integration can be achieved through a shared understanding from all stakeholders within an education system.
Representatives from 16 countries and from the Pacific Community's Education Quality and Assessment Programme for the Pacific Community (EQAP) participated in the online course. To ensure relevance, participants from each country were required to enrol as a Core Strategy team and to include representatives from assessment, curriculum, and pedagogy divisions. These teams were central to the design and implementation of support structures and development of a coherent approach. Upon completion of the course, all countries developed and presented a strategic plan.
During the course, the Core Strategy team from each country developed an understanding of ACER's 21 century skills alignment model, the sub-components of which are not intended to be prescriptive or used in a specific sequence. The participants were guided through activities to address each of the sub-components, in turn, reflecting on current practices and discussing considerations for future plans. As a team, participants developed a strategic plan to prioritise these sub-components and worked to identify key issues related to their implementation.
ACER's 21st century skills alignment model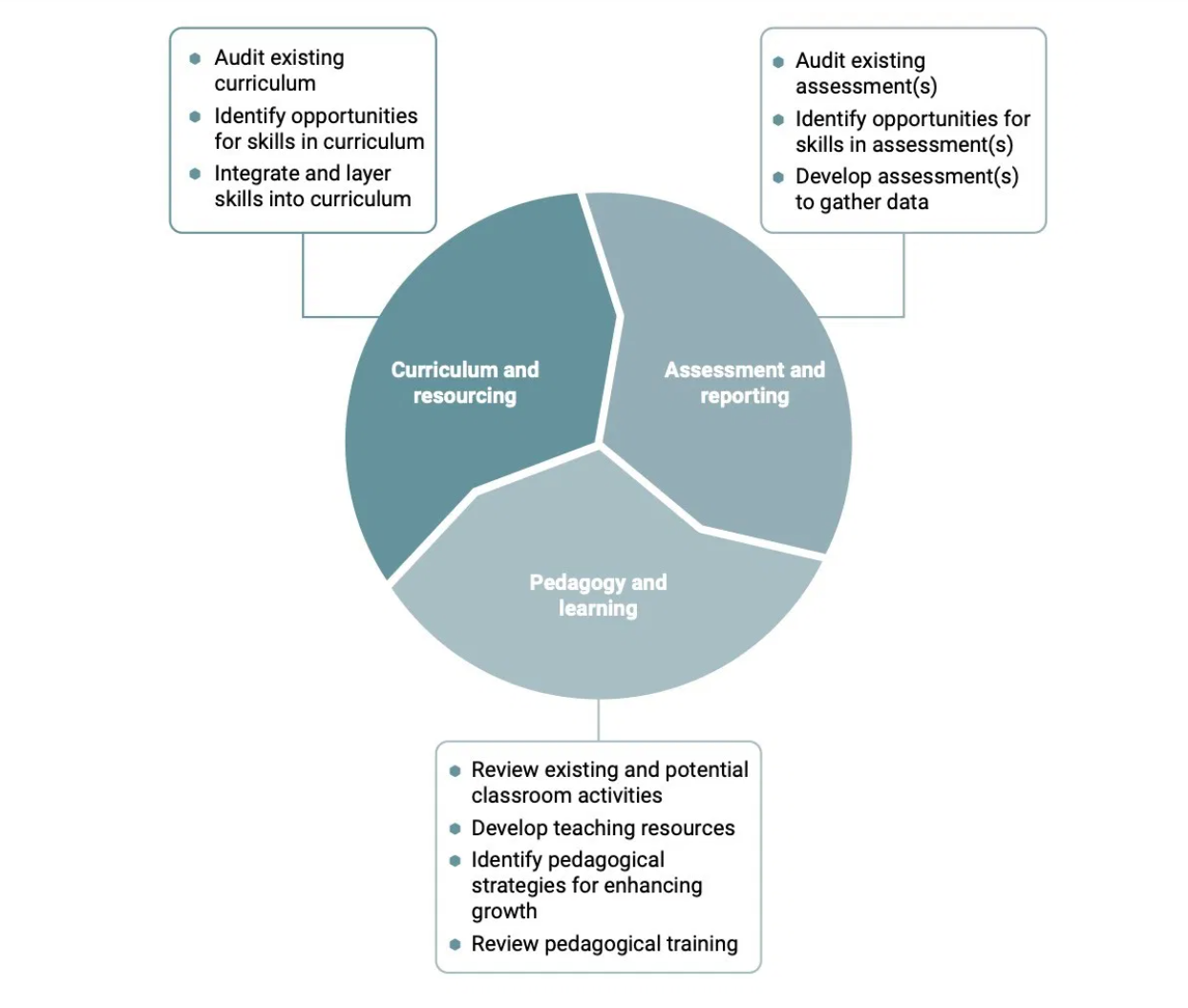 The course was designed for country representatives from assessment, curriculum, and pedagogy divisions to understand the sub-components to 21st century skills alignment. Throughout the course, participants conducted a needs-analysis, focusing on the steps currently being met and those that require more attention. Increasing the understanding of specific skill definitions and reviewing their documentation at the country-level was also an important feature of the course. Despite presenting a variety of 21 century skills frameworks, education systems generally prioritised a common set of skills.
ACER's skill development frameworks for collaboration, creative thinking, and critical thinking were described and reflected on in relation to existing participant understandings. Participants reported that these kinds of detailed definition documents were lacking within their systems and most requested more support in understanding, identifying and monitoring growth in these skills.
Throughout the course, participants were provided with resources to assist in the development of their plans and opportunities to build their capacity to implement them. They were presented with eight modules including both synchronous and asynchronous content and activities hosted on Moodle, the online learning platform. Each module consisted of pre-recorded video content and team and/or individual activities. The course also included three live sessions, enabling participants to ask questions and share reflections in real-time. The course concluded with a webinar, where each Core Strategy Team presented their team's strategic plan and reflections on the course.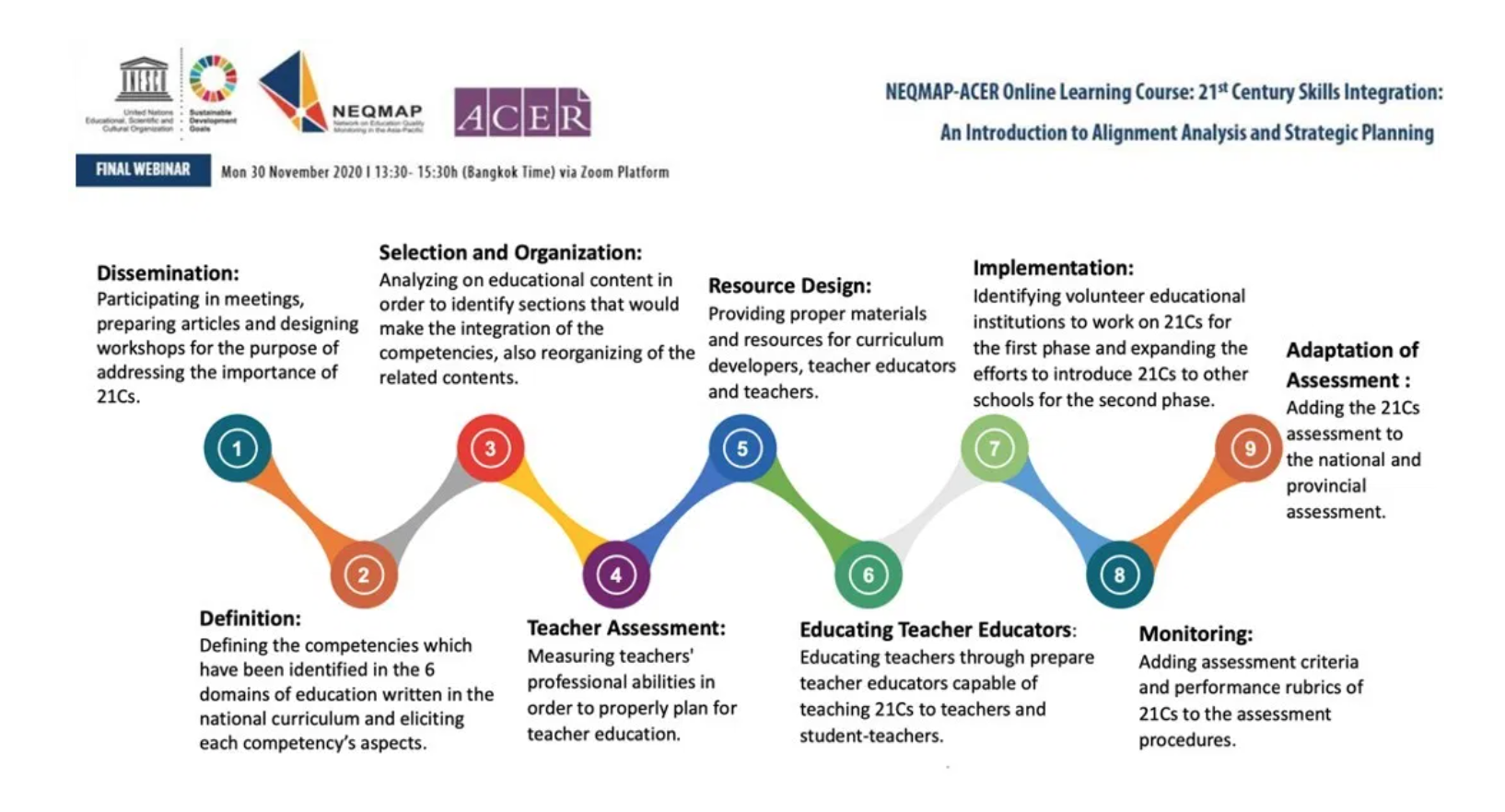 Additional work is required by the Core Strategy teams to expand the suite of frameworks, ensure they are appropriately contextualised within countries, and map them against curriculum-based learning outcomes. ACER's learning progressions can serve as an appropriate foundational resource to build the understanding and capacity of learners and teachers.
Several countries expressed an interest in follow up courses or more detailed training to further deepen their knowledge and skills gained in this course. More in-depth training or support needs included the implementation of strategic plans, development of additional skills frameworks, with detailed definitions and training for teachers and other stakeholders. Participants also requested research into best practices for pedagogical strategies to enhance 21st century skills.
The course provided valuable insights into the different needs and priorities of countries around the world and ultimately, the additional work needed to strategically integrate 21st century skills into education systems.
Further reading:
For more details about the course, read the full report.
Find out more about the GEM Centre.
Read more about ACER's learning progressions.