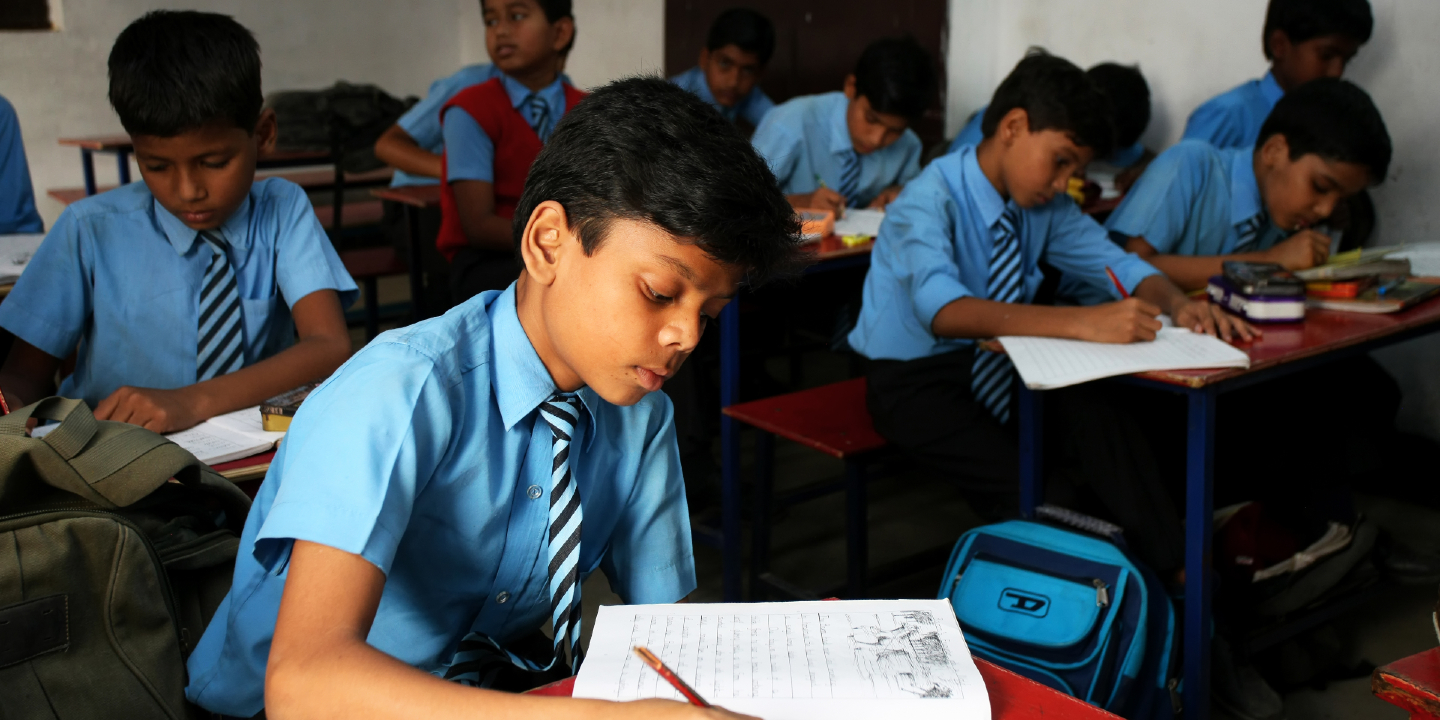 ©Shutterstock.com/Travel Stock
From scores to learning: rethinking success in Indian school education
ACER news
25 Apr 2021
6 minute read
Examination boards and schools have grappled with the challenges of administering effective assessments to students during school closures. The situation has given rise to several discussions and could perhaps shift our traditional focus away from scores to learning.
The Central Board of Secondary Education (CBSE) recently called off the Grade 10 board examinations and postponed those for Grade 12, due to the rapid increase in COVID-19 cases across the country. Both are pen-and-paper-based high-stakes tests that often determine the futures of candidates. Following CBSE, several other examination boards have taken the same decision, bearing in mind the health and safety of exam candidates.
The decision has brought relief to millions of students and their families for now. At the same time, many teachers and parents are worried about the future of the students affected by this change. Schools have remained closed for a long time and candidates have been preparing at home for these two vital examinations with the help of teachers and online teaching. Considering Grade 10 and 12 examinations are high-stakes assessments, the inability to attend the tests or the idea of losing momentum while preparing for postponed examinations have made many students and guardians anxious.
There is no doubt that these examinations have significant consequences for one's life; for instance, the choice of subjects in Grade 11 determined by the outcome of the Grade 10 exam can influence one's eventual career in college and beyond. It is, however, important to realise that employers of the 21st century look for skills and not just marks or grades. Building a strong foundation in literacy and numeracy and developing 21st century skills will help students to succeed in life and work beyond school. This pandemic has forced education systems to focus on assessments that help to strengthen student skills in core subjects and higher-order thinking skills.
Assessment is a critical element of evidence-based teaching. Assessments are used to understand what students know and can do, and target teaching strategies accordingly for further learning. As the Australian Council for Educational Research's (ACER) Chief Executive Professor Geoff Masters AO, a renowned international expert in educational measurement, writes, 'In reality, there is only one fundamental purpose of assessment in education: to establish and understand where learners are in an aspect of their learning at the time of assessment.' In this sense, 'Learning success is defined not simply in terms of year-level expectations or the performances of other students, but in terms of the progress individuals make in their learning,' Professor Masters writes.
The Progressive Achievement approach of assessment underpins most of ACER's work. This research-based approach provides data to understand where students are in their learning, and helps teachers design targeted lesson plans and monitor if students have made progress over time. The powerful progressive achievement scale, an outcome of psychometric analysis and research, provides bands with detailed descriptions of student skills and understanding. Every test-taker's scores position them on the scale, determining what a particular student knows and whether they have improved over the years when tested at regular intervals. ACER has developed progressive achievement scales in reading, mathematics, and other learning areas.
ACER's International Benchmark Test (IBT), available to schools in India, follows this approach. In addition to revealing granular details of student achievement, it benchmarks student performance nationally and internationally. The IBT questions test higher-order thinking skills where students are required to think and interpret rather than just recall.
Professor Masters' alternative way to think about learning 'recognises that students of the same age will be at different points in their learning and may be progressing at different rates, but sees every learner as capable of making good learning progress.' Monitoring student progress over time is one of the key features of the IBT assessment programme.
ACER plans to launch IBT@Home in 2021 so that students can sit IBT from the comfort of their homes. IBT@Home can be used as a self-improvement tool: students can take the test at their own convenience, understand what they know, and improve their knowledge and skills with the help of teachers. The assessments are available for students studying in Grades 3 to 10 and in three subjects – English, mathematics, and science.
The IBT@Home reports provide a clear and in-depth picture of student learning: subject-specific feedback on every question and a summary of strengths and areas for improvement. The educational challenges brought in by the pandemic may catalyse the creation of an education system where all stakeholders take their eyes off scores and help every child learn better.
The quotes used in this article have been taken from several articles written by Professor Geoff Masters AO in Teacher/ACER Discover.