Reporting mediums
Online assessments
All tests are automatically scored and reports generated in each school's online account.
Paper-based assessments
Teachers can score and report manually or electronically, or use ACER's Test Scoring and Analysis service.
ACER's sophisticated online platform makes reporting easy
Instant and interactive

Sort and report data in different ways to help identify learning patterns and trends, and pinpoint areas of need.

Reliable and informative

PAT reports give you the evidence you need to meet student needs, prove the impact of your teaching and work towards school improvement goals.

Flexible and easy to understand

ACER's sophisticated online platform makes reporting fast and simple.

"Being able to organise our assessment results in several different ways has helped us identify skills gaps and take steps towards better meeting our students' needs."
Analyse and organise data in ways that suit you
Individual student
Individual reports show the student's score and the difficulty of each question in the test they completed. This information can be used to diagnose the student's strengths and weaknesses within a learning area.
LeadersTeachers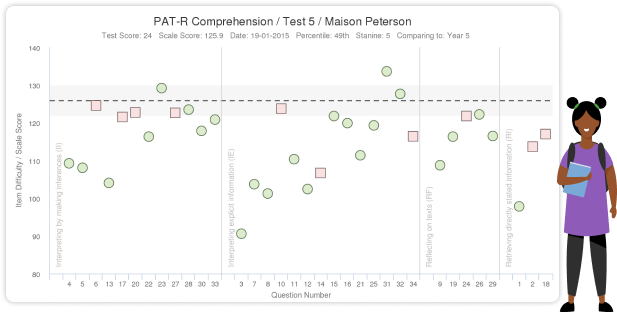 Group
A group report allows you to view students' correct and incorrect responses to items on the same PAT test. By referencing the difficulty of each item, the percentage of correct responses within the group, and the pattern of responses among students, you may begin to identify particular items, or types of items, that have caused students trouble.
LeadersTeachers

Achievement bands
A bands report shows the distribution of students' scale scores, from a selected group of students, along the relevant PAT scale.
Viewing student achievement in terms of achievement bands may help you to group students of similar abilities. By referencing the PAT achievement band descriptions, you can understand the types of skills typical of students according to their PAT band.
PrincipalsLeadersTeachers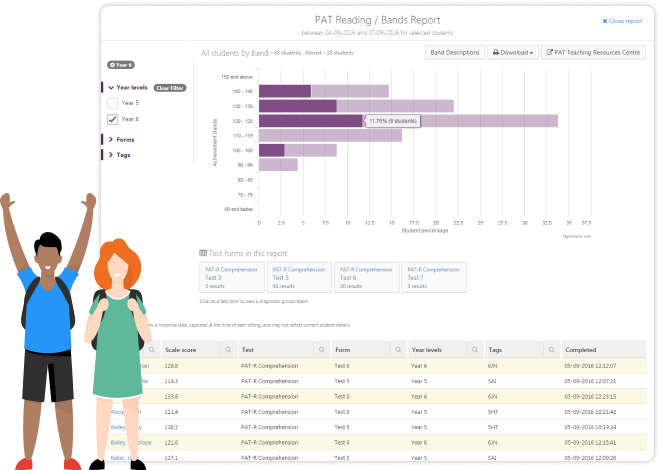 Norm reference
The norm reference report allows you to compare the PAT achievement of your student cohorts to the national norm samples. The distribution of student achievement is reported along the relevant PAT scale, so it's possible to report on students who completed different tests within the learning area.
PrincipalsTeachers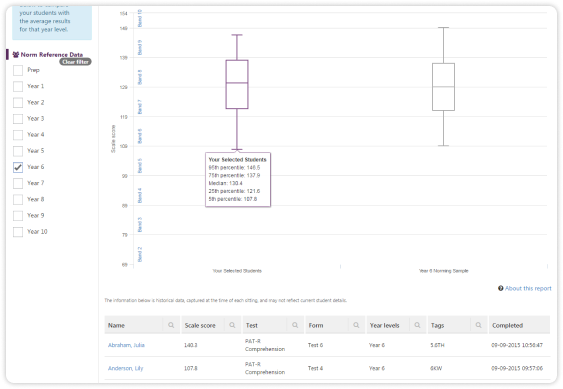 Longitudinal
Longitudinal reports allow you to observe students' progress within a learning area by comparing their scale scores from multiple testing periods over time. Longitudinal reports are based on scale scores, and contain students' achievement across different test forms within an assessment or learning area.
PrincipalsLeadersTeachers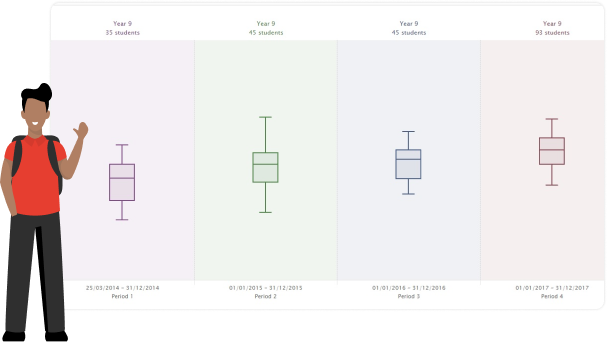 Do you have questions?
Ask us about the PAT reports best suited to your school's needs.
Paper-based reporting
Teachers can score and report manually or electronically, or use ACER's Test Scoring and Analysis service.