Target teaching to every student's strengths
The PAT Teaching Resources Centre helps you differentiate teaching in your classroom, offering the perfect resources to challenge each student at the appropriate level.
Features and uses
Connect to students' PAT assessment results
Direct in-platform links from assessment data to appropriate resources make targeted teaching easy.
Mapped to Australian, Victorian and New South Wales curricula
F–10 resources that are directly connected to local and national curricula.
Immediate classroom application
These time-saving, evidenced-based resources are classroom-ready, and are loved by teachers and leading educators across Australia.
Try the PAT Teaching Resources Centre free for 30 days!
Resource types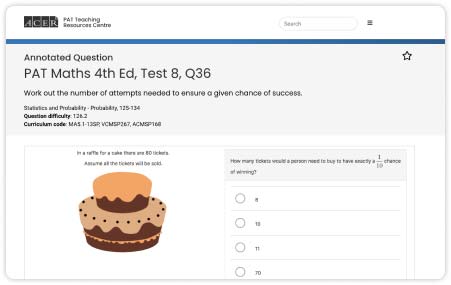 Annotated questions
Provide explanations of specific PAT assessment questions
Explain the key concepts and skills required to answer a question correctly
Discuss common errors and misconceptions
Assist in identifying specific skills that have been acquired, or have yet to be learned by students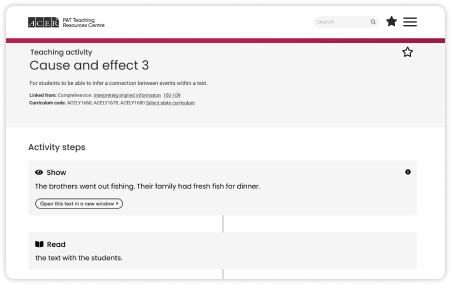 Teaching activities
Allow teachers to differentiate to students' ability levels
Identify and set specific learning intentions
Provide classroom examples to scaffold students' skills development
Provide further reading and links to PAT assessment examples
Videos
Target teacher or student capacity building
Provide professional learning opportunities for teachers
Explore how resources may be used in the classroom
Demonstrate learning activities that aid students' skill development
Free remote learning activities
Supporting learning from home
Assist teachers with remote differentiation, supporting continued learning progression at home
Include videos, student worksheets and teacher notes
Designed to be worked on independently by students, or with minimal adult intervention
Can be delivered directly to students or adapted by teachers
A wealth of teaching resources
Support your students' individual learning progress with over 2000 teaching activities and annotated questions across 5 domains
200+
Vocabulary Skills
resources
100+
Stem Contexts
resources
40+
Spelling Skills
resources
More free teaching resources
Pricing and purchasing
PAT Teaching Resources Centre 12-month licence
Full access to over 2000 online resources
Dedicated online and phone support team
Unlimited teacher accounts per school
Integrates with your school's online PAT assessment account
Built by teachers for Australian schools
The PAT Teaching Resources Centre supports teachers to help every learner grow.
How to purchase
Existing users
Log into your ACER school account and purchase assessments through the store.
New users, or need purchase support?
If you're not sure if your school has an account, if you don't have a login or you just need some help with purchasing, get in touch with our friendly support team and we'll have you up and running in no time.