Book 1 resources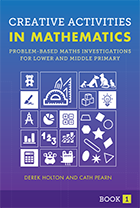 Creative Activities in Mathematics Book 1 provides twelve different class activities suitable for students in lower and middle primary school (Foundation to Year 4), along with teaching notes and staged lesson plans.
About the authors
Derek Holton is a mathematician and an Honorary Professor at the Melbourne Graduate School of Education.
Cath Pearn is a Senior Research Fellow in the ACER Institute and a lecturer in Mathematics Education at the University of Melbourne.
Student materials
Download a full set of activity sheets that provide a framework for student responses. These can be printed or copied for use in class.
Additional online resources
Part 1: Number and Algebra
Chapter 1: Numbers and words
Chapter 2: Cats and dogs
Chapter 3: Difference and sum problems
Chapter 4: Arks and Tarks
Chapter 5: The farmyard problem
Chapter 6: The 12 game
Part 2: Measurement and Geometry
Chapter 7: Classroom shapes
Chapter 8: Jenny's jelly bean problem
Chapter 9: Horrible Hal's humungous hall
Part 3: Statistics and Probability
Chapter 10: The longest name
Chapter 11: Penny's Pet Shop
Chapter 12: The teddies' race
Additional sites