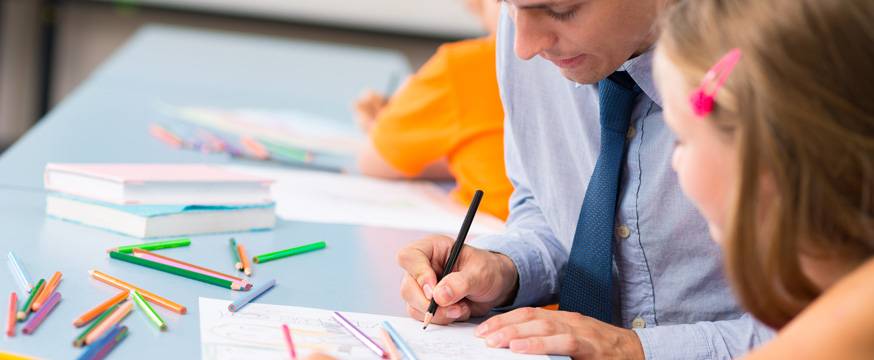 Assessment for targeted teaching
Research
20 Jul 2015
4 minute read
Assessment in schools should provide detailed evidence of student learning so that teachers can adapt their teaching to enable further learning growth, according to assessment experts.
The assessment of students' learning is undergoing significant transformation, according to Professor Geoff Masters AO, Chief Executive of the Australian Council for Educational Research (ACER).
Speaking ahead of ACER's August Research Conference 2015 on the latest assessment research to inform teaching and learning, Professor Masters said fundamental changes are occurring in the conceptualisation of, and approaches to, the assessment of student learning.
'New thinking about assessment is focusing on understanding where students are in their learning in order to identify appropriate starting points for action, and evaluate the effectiveness of such action.
'There is also a growing international interest in, and demand for, the assessment of a broader range of skills and attributes than those addressed in most current assessment efforts.
'Beyond this, advances in technology are opening the door to new ways of gathering information about student learning, including through records of real-time interactions in online learning environments.'
According to Professor Masters, why and what we assess is driving new thinking about and new metrics for assessment.
'New thinking about assessment is coming to appreciate that the focus of assessment is on understanding the current learning of students and then using this understanding to guide future action, monitor progress and evaluate the effectiveness of interventions. It has much in common with the use of assessment in, say, medicine or psychology, where the purpose is not so much to judge as to understand,' Professor Masters said.
'New metrics are also required if we are to assess students' long-term development of skills like creative thinking and collaborative problem-solving. The assessment of such skills and dispositions requires methods that are very different from those used to assess mastery of curriculum content.'
Appearing as a pre-recorded keynote speaker at Research Conference 2015 in August, Emeritus Professor Dylan Wiliam from the Institute of Education, University of London, said that while the core purpose of assessment is to support students' learning by informing teaching, accurate measures of educational change remain a challenge for teachers.
'Good teaching involves constant assessment, which informs how teachers adapt what they do to meet the needs of each student,' Professor Wiliam said. 'Teachers need to have the depth of pedagogical and content knowledge to understand what students need to know in order to tackle a particular task, and to understand the likely outcomes for students.
'In investigations to calculate the area of a trapezium, for example, a maths teacher needs to know the various solutions that are possible, and know that there are in fact exactly 13 conceptually distinct ways to do this. Such knowledge of instructional materials, knowing the subject at a depth, allows a teacher to identify the conceptual difficulties that students might have, essentially knowing what to look for as students tackle the investigation, and then knowing the different approaches to take to extend each student.
'So assessment involves planning a carefully chosen, and possibly differentiated, route ahead of time and taking readings along the way so that teachers can identify any speed bumps or hazards or even shortcuts along the way.'
According to Professor Masters, digital technologies are also enabling real-time assessment for adaptive teaching as students engage in on-screen learning.
'Carefully designed digital learning programs provide unique opportunities to collect evidence about students' knowledge and understandings, including by tracking the processes they follow in attempting to solve problems, and to trigger diagnosis and appropriate guidance about common student errors and misunderstandings.
'Such programs also enable more personalised forms of assessment in which tasks can be adaptively matched to the real-time performances of individual students at an appropriate level of difficulty to accurately identify their learning growth,' Professor Masters said.
Further information:
Research Conference 2015, on the theme Learning Assessments: Designing the future, will be held from 16 to 18 August in Melbourne. Visit <www.acer.edu.au/rc> for more information.