Setting the education agenda in Southeast Asia
Research
10 Mar 2016
4 minute read
Two young Australians who represented ACER at a recent international conference are helping to shape the education agenda for Southeast Asia.
Last year the ACER Foundation, as part of its aim to support educationally disadvantaged groups, supported two young people to join with peers at the 14th international SEAMEO INNOTECH conference in the Philippines to identify key issues in education as well as advise officials and education ministers.
The conference, addressing the theme, 'A better future for every learner in Southeast Asia', brought together 150 young people from 15 countries to help shape the post-2015 youth education agenda for Southeast Asia.
Thom Monaghan, a 2015 graduate of St Bernard's College in Essendon, Melbourne, and Elle Younger, a 2014 graduate of Cathedral College, Wangaratta, were selected as ACER youth delegates.
Rachel Parker, Research Fellow in ACER's Education and Development research program, said the conference was a great opportunity for ACER to continue its partnership with SEAMEO INNOTECH, the Southeast Asian Ministers for Education Organization, who ACER collaborates with on the longitudinal study on early years education in the Philippines.
'Thom and Elle were fantastic representatives, chosen due to their exceptional educational achievements, demonstrated commitment to social justice and passion to ensure quality education for all,' Ms Parker said.
'At the end of the conference there were seven top priorities identified for the youth education agenda, including integration of information and communication technology in education, 21st-century teaching and learning in a global setting, enhancing leadership skills, and improving health and nutrition in schools.
'Elle had the opportunity to present one of these key recommendations to officials and education ministers at the conference, to help inform future efforts in the region and provide quality education for all.'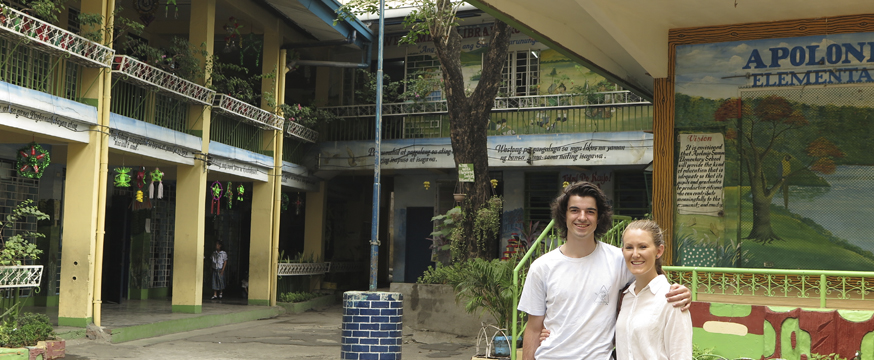 Pictured: Thom Monaghan and Elle Younger at a school in the Philippines.
Reflecting on the experience, Ms Younger said that the conference was a great opportunity to learn and share knowledge and experiences with people from different backgrounds.
'The range of discussions that took place revealed just how many factors contribute to education; joining conversations regarding drugs, sport, leadership, health, safety and technology gave a holistic and globalised view of the issues relating to education,' Ms Younger said.
'I felt inspired and empowered that the voice of an 18-year-old girl from rural Victoria could be projected to so many diverse cultures and societies, embodying what it means to speak out globally.
'I have a much better appreciation of how lucky we are in our access to education and the nation in which we live.'
Mr Monaghan shared a similar sentiment, saying he found participating in the conference both rewarding and eye-opening in terms of the challenges facing education in Southeast Asia.
'As well as attending the conference, we had the opportunity to visit two local schools in Manila, where we toured the facilities, talked with staff, distributed ACER curriculum books, and even got to teach some children AFL', Mr Monaghan said.
'Despite the challenges schools might face, it was incredible to see the smile on students' faces, which showed just how much they valued their education and appreciated being there.'
Further information:
To read more about SEAMEO INNOTECH and the Youth Education Agenda, visit www.seameo-innotech.org
To learn more about international initiatives of the ACER Foundation, visit www.acer.edu.au/about-us/foundation/international-assistance