Tracking university completions
Research
26 Oct 2016
4 minute read
Indigenous students are among those most at risk of not completing university, research confirms.
ACER research to track students through the higher education system – from commencement to completion – is informing retention policies and practices for at-risk groups at the national and institutional levels.
The Completing university in a growing sector: Is equity an issue? report found that university students from disadvantaged groups have a lower completion rate than the national average.
Funded by the National Centre for Student Equity in Higher Education (NCSEHE) at Curtin University, the research aims to provide insight for universities to better support their students through their higher education, and recognise the range of pathways taken to get there.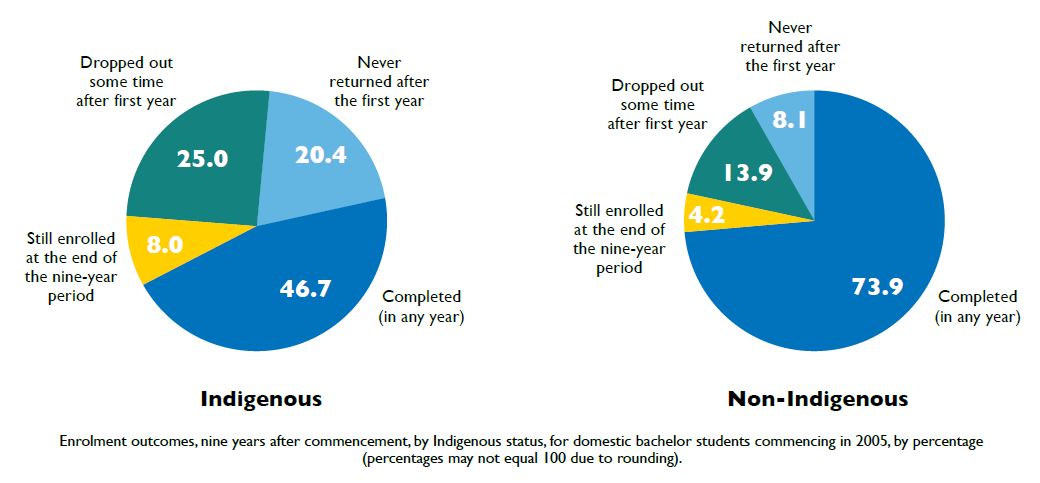 The report found that of the Australian students who commenced a bachelor degree in 2005, 73.6 per cent had completed their degree by 2013. For students from a low socioeconomic background, the completion rate over the same period was 68.9 per cent.
Dr Daniel Edwards, ACER's Research Director in Tertiary Education, said the findings showed an even larger difference between Indigenous and non-Indigenous students.
'The university completion rate of Indigenous students was just 46.7 per cent, and more than one in five Indigenous students in the 2005 cohort dropped out of university before their second year,' Dr Edwards said.
'The research found that certain enrolment characteristics – such as being a part-time student, older, from a low socioeconomic background or from regional or remote areas – were also related to lower completion rates.'
Dr Edwards and his team used data from the Higher Education Student Collection, and a cohort-tracking approach developed by the Commonwealth Department of Education and Training, to explore the effect on completion for students belonging to two or more of these equity and at-risk groups.
'The findings show substantial overlap in membership of these groups. For example, an Indigenous student is more likely to be from a low socioeconomic background than a non-Indigenous student,' Dr Edwards said.
'This information is extremely important because it provides a good foundation for more nuanced research into specific groups of students and their pathways through the system.'
'In particular, more detailed analysis of the pathways and outcomes for Indigenous students using the methods developed in this research would be hugely beneficial,' Dr Edwards said.
'However, there are a number of practical, legal and ethical barriers to be negotiated for developing more detailed analyses based on smaller and underrepresented populations such as Indigenous students.'
Completing university in a growing sector: Is equity an issue? also explored potential reasons for leaving university early, by examining national university student survey data. This analysis showed that students from at-risk groups tend to be more likely to indicate their intention to drop out of university than other students.
The results show that among students considering dropping out, disadvantaged students tended to cite financial matters, caring responsibilities and issues relating to 'getting by' as reasons that might influence dropping out, while more advantaged students were more likely to have reasons relating to choices that they had control over such as wanting to 'change direction'.
Dr Edwards said he hoped the research would help raise awareness of the higher education divide, and encourage stakeholders, government and researchers to work together to build an evidence base for identifying issues and developing policy solutions.
'More research is certainly needed to strengthen support for Indigenous students to complete their higher education,' Dr Edwards said.
Read the full report:
Completing university in a growing sector: Is equity an issue? by Daniel Edwards and Julie McMillan, Australian Council for Educational Research (2015).