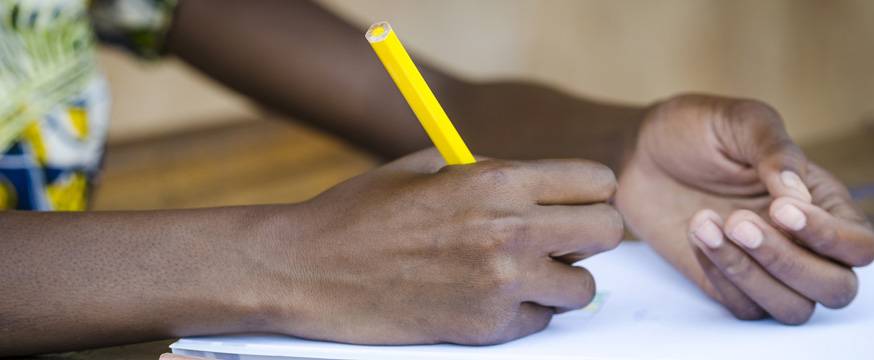 Schooling success: Support for African refugee students
Research
11 May 2016
4 minute read
The experience of African refugee students highlights the impact of teachers on successful outcomes.
Schooling success: Support for African refugee students
Supported by the ACER Foundation, ACER Research Fellow Dr Mary Kimani has explored the success stories of a sample of refugee students who arrived in Australia from Rwanda, Burundi, Southern Sudan, Somalia and the Democratic Republic of Congo.
Dr Kimani's qualitative study aims to inform a best-practice teaching and learning model that will guide support for students who have suffered severely interrupted schooling, or who have little or no experience of school.
The study confirms that refugee students have many odds to overcome, such as low literacy in their mother language and English, and being in a new country with an unfamiliar education system. Ultimately, all those interviewed by Dr Kimani successfully completed at least two years of high school in Australia and have been admitted to universities in Melbourne.
In a podcast interview for Teacher, Dr Kimani outlined what the qualitative study revealed about the current support that refugee students receive and the role that teachers can play in schooling success for these students.
Case against current counselling
Students in the study discussed the kinds of counselling they received when they first arrived in Australia. They observed that counselling mainly focused on helping them to cope with past traumas or experiences, and helping them learn about Australia.
Though this counselling is important, this group of students wanted to quickly get down to what they thought was most important to them: learning about the education system and mapping out possible pathways they could pursue. They did not want to be seen as victims but rather as youths with dreams, and they wanted to be supported in pursuing these aspirations.
Dr Kimani observed that this group of students was particularly interested in going to university, and considered university education as promising a better life of status and respect.
The students in Dr Kimani's study also faulted the approach to career counselling provided at school. Much school career counselling, the students argued, consists of providing them with information about the education system to read for themselves in order to make their own decisions. This poses two problems for this group of refugee students:
the complexity of English in the information provided is difficult for them to comprehend, and
they are not used to this laid-back approach to information-giving and decision-making – they are from a background in which adults are more involved in the decision-making process.
The influence of teachers
Students in the study identified the importance of critical teachers for success in schooling.
Teachers who had strong impact on the schooling success of refugee students included teachers who:
recognised and believed in the student's potential
were patient and understanding
provided guidance and support
broke content into small manageable tasks
kept communication simple
taught at a slower pace to accommodate student's learning pace
were concerned with students' wellbeing and future aspirations
checked individual students' understanding of the content at regular intervals, and
worked in small groups and one-on-one with individual students.
'They talked about teachers who went beyond the classroom walls to find out how they're doing,' Dr Kimani said.
'They particularly talked about teachers who they were working with in their homework clubs, more so because these teachers would have one-on-one time [with the students] and they would support them. They would be able to know what they were struggling with and then support them through that process.
'The greatest influence was the teachers who believed in them and who saw the potential beyond [what] the students could [initially] demonstrate.'
According to Dr Kimani, refugee students in the study reported being more engaged when teachers focused on what the students brought into the learning environment that could be integrated within the learning process.
'A strengths-based model rather than a deficit model validates what students know, offers respect and confirms that they have something to offer within the learning environment,' Dr Kimani said.
The study highlighted refugee students' wealth of knowledge that they bring into the learning environment, including resilience, self-efficacy, high career aspirations, family expectations and high value for education. Recognising and valuing this knowledge would lead to more engagement and participation of the refugee students. This could help to leverage learning experiences and consequent learning outcomes for refugee students from Africa.
Further information:
Find the podcast interview with Dr Mary Kimani in Teacher.