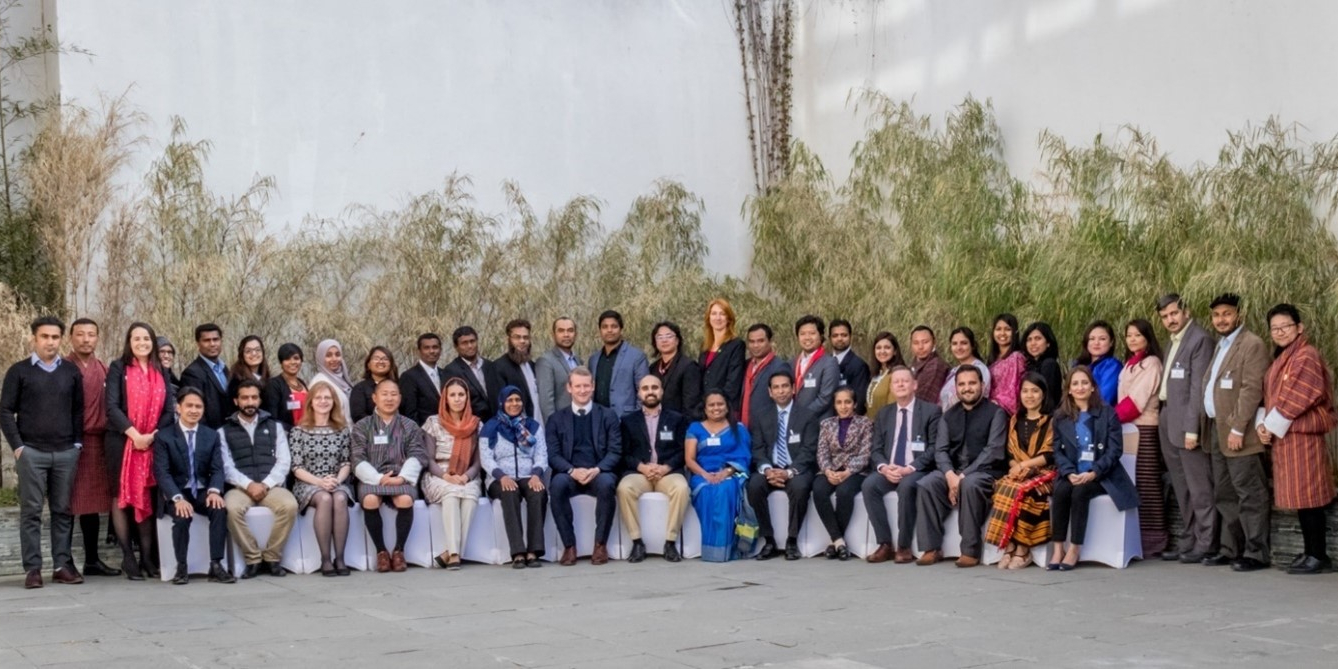 Alumni participants and workshop facilitators at the Regional Alumni Workshop in Thimphu, Bhutan, 2018. - © Australia Awards – South Asia & Mongolia
Social networks support regional development outcomes
Research
7 Aug 2023
6 minute read
New research shows post-award enrichment programs help strengthen Australia Awards alumni capabilities to use their skills, knowledge and networks to contribute to sustainable development.
Since 2016, the Australia Awards Global Tracer Facility has evaluated the long-term development contributions and diplomacy outcomes of Australia's investment in the Australia Awards and preceding Australian Government scholarships and fellowships.
The Global Tracer Facility's latest case study uses social network analysis to map connections between alumni that participated in a post-award enrichment workshop in Bhutan in 2018.
The workshop, titled Australia Awards Alumni as Champions for the Environment and Climate Action, was designed to cultivate communities of practice among attending alumni through project group work that allowed alumni with similar interests to meet, discuss ideas and collaborate.
Twenty-seven of 42 participating alumni responded to an online survey assessing their attitudes towards the workshop and their social networks with their fellow workshop peers.
Most alumni indicated that the 2018 workshop contributed to the long-term Program Outcomes of the Australia Awards. Ninety-six per cent responded that they were able to use skills and knowledge from their Australia Awards scholarship to design and implement their project. There was also strong agreement overall that the workshop enabled participants to form networks with other alumni from their own country (92.6%), as well as with alumni from other countries in the region (92.3%).
The social network visualisations developed from the data collected confirmed that alumni remained highly connected to one another. More than 97 per cent of alumni were still connected to at least one other alum 4 years after attending the workshop. These connections are both with alumni from the same and different countries.
Five types of current alumni connections or networks were investigated:
networks for developing connections with Australia
networks for seeking job advice
networks for sharing work-related skills and information
networks for informal connections like friendship
networks for leadership among the cohort.
The most common ways alumni reported interacting with one another was for informal reasons and to develop connections with Australia. All responding alumni reported that they would be interested in participating in future workshops and would be interested in mentoring future workshop alumni.
Social network analysis also provided an innovative way to identify and illustrate leaders within the alumni cohort. Six alumni from 5 countries were recognised more frequently by peers as being leaders within the cohort (highlighted in the network visualisation by a black ring around the circle that represents them), with the analysis showing that leaders were identified by peers from their own country as well by peers from other countries.
Figure 1: Combined current relationships among workshop alumni in Australian connections, job advice, skills sharing, and informal connections networks (large circles=survey respondents, small circles=non-respondents, black rings=network leaders)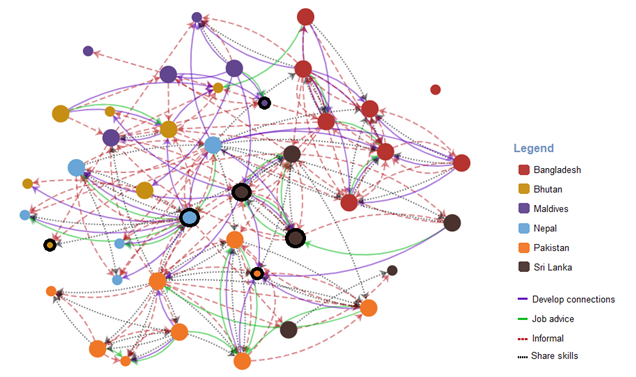 Characteristics more frequently associated with identified leaders were a passion for the field of climate change, an ongoing connection with peers, and demonstrated willingness to support peers to further their career and achieve their goals.
Interestingly, the study found a higher concentration of connections between alumni in the 2018 workshop cohort compared to previous social network analysis research of an on-award enrichment program alumni group and the country-wide Kiribati alumni network.
These findings suggest that programs for smaller cohorts of alumni with shared professional interests may foster more cohesive networks or communities of practice than programs for larger groups of alumni who have different professional interests.
It demonstrates that post-award enrichment programs like the 2018 workshop help to establish alumni networks and reinforce alumni links with Australia, which strengthens alumni capabilities to use their skills, knowledge and networks to contribute to sustainable development.
Further information:
To read the full report by Sarah Buckley, Leyna Clarke and Michelle Hsien, visit the Australia Awards Global Tracer Facility webpage.
The Australian Awards Global Tracer Facility is managed by the Australian Council for Educational Research (ACER) on behalf of the Australian Department of Foreign Affairs and Trade (DFAT).
Visit the ACER website to learn more about how our work supports policymakers, leaders and educators to improve educational policy and practice for learners around the world.