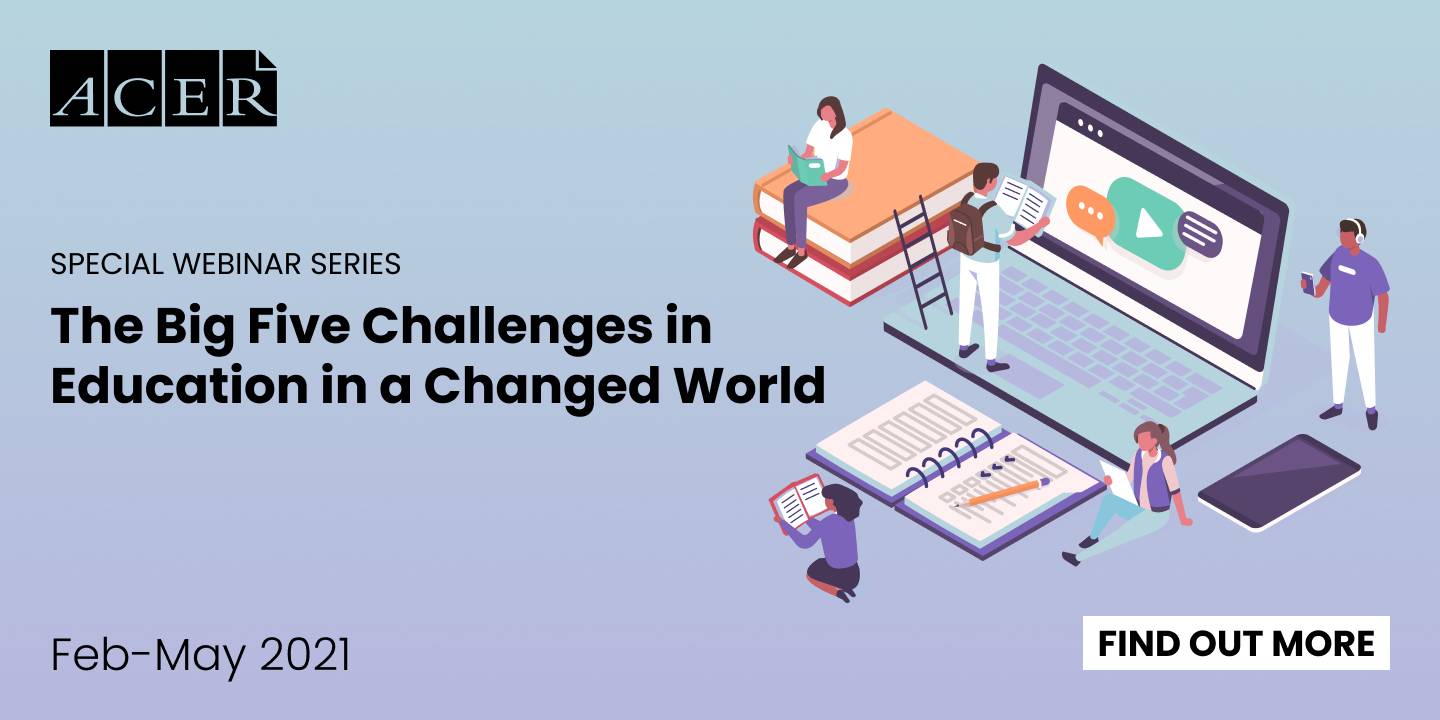 The 'big five' challenges in education, six years on: a special webinar series
Feature
22 Jan 2021
9 minute read
In a special series of free webinars, experts from educational research will join policymakers and practitioners to discuss the challenges facing Australian school education in a changed world.
In 2015, ACER Chief Executive Professor Geoff Masters AO wrote an influential series of articles on the 'big five' challenges facing Australian school education. Six years – and a global pandemic – later, what progress has been made towards meeting those challenges? In five webinars between February and May, experts from education research and practice around the world will discuss education's most pressing issues, and look to the future of education in Australia and beyond.
Despite reform efforts, regular government reviews and ongoing calls for change, progress towards improving the quality and equity of Australian education is often slow, Professor Masters wrote in 2015. The same is true on the international stage; progress towards meeting the UN's Sustainable Development Goal 4 – to ensure inclusive and equitable quality education and promote lifelong learning for all – was too slow before COVID-19 hit, and what progress had been made was reversed by school closures caused by the pandemic.
Real reform depends on tackling the deepest and most stubborn underlying challenges facing Australian education, Professor Masters argued.
He identified the following 'big five' challenges:
Raising the status of the teaching profession
Reducing disparities between Australian schools
Designing a 21st-century curriculum
Getting all children off to a good start
Reducing the 'long tail' of underachievement
Here's how Professor Masters described the challenges in 2015, and his ideas on ways to tackle them.
Raising the status of the teaching profession
Top-performing school systems consistently attract highly able people into teaching, driving up the prestige of the profession and in turn attracting even more quality candidates, according to a 2007 McKinsey report. In some of the world's highest performing countries, entry to a university teaching degree is as competitive as entry to courses such as engineering, science, law and medicine.
Given that these high performers recruit the vast majority of their teachers from the top third of school leavers, and Australian governments appear to aspire to do the same, national progress in achieving this goal could be monitored by tracking the percentage of education degree offers made to Year 12 students with ATARs greater than 70. While the ATAR isn't the ideal measure – very high-performing countries like Singapore and Finland emphasise academic achievement in teacher selection in combination with other attributes such as motivation for teaching, willingness to learn and communication skills – it is a good place to start. This percentage would provide a simple national performance indicator.
Reducing disparities between Australian schools
Results from the OECD's Programme for International Student Assessment (PISA) point to a growing gap between the experiences of Australia's most and least advantaged students since the survey began. Schools in Australia have become increasingly different in their performances in PISA. Associated with this increasing disparity have been increasing differences in performance in low and high socioeconomic status schools.
A straightforward national indicator of disparities between Australian schools is the percentage of total variance in students' performances attributable to 'between-school' differences (with the remaining variance being 'within-school'). An immediate national objective should be to reverse the current trend of increasing disparities between Australian schools as reflected in PISA.
Designing a 21st century curriculum
There are many reasons to question how well the curriculum is equipping students for life and work in the 21st century. Long-term declines in the ability of Australian 15-year-olds to apply what they are learning to everyday problems (as evidenced in PISA results), and in the proportion of Year 12 students choosing to study advanced science, technology, engineering and mathematics (STEM) subjects at a time when these skills are increasingly important, are particularly concerning.
These challenges will not be addressed by changes to the school curriculum alone, but also depend on investments in teacher quality, changes in pedagogy and the alignment of assessment processes to new curriculum priorities. Nevertheless, the content and organisation of the curriculum and the emphases given to different forms of learning in the curriculum are important determinants of student engagement and learning outcomes. Two specific challenges for a 21st century curriculum lay in prioritising depth over breadth of learning and promoting cross-disciplinary, team-based problem solving.
Getting all children off to a good start
Many children start school at risk of being locked into trajectories of long-term low achievement, which can lead to disengagement, poor attendance and early exit from school. According to the Australian Early Development Census (AEDC), 22 per cent of children – around 60 000 – starting school are 'developmentally vulnerable'. Indigenous children and those from low socioeconomic backgrounds are disproportionately represented in this group. Developmentally vulnerable children are, on average, less likely to make successful transitions to school and are at risk of poorer long-term educational outcomes.
Universal access to high quality, affordable, integrated early childhood education and care delivered by qualified early childhood educators with a strong understanding of child development and health and safety issues is a solid starting point. Smoothing the transition to school by establishing individual learners' starting points through assessment, increased collaboration between primary schools and early childhood education settings, and programs of support and targeted interventions from the moment children start school is a crucial next step.
Reducing the 'long tail' of underachievement
One of the biggest challenges facing educators is to find better ways to meet the learning needs of the many students who fall behind in our schools, fail to meet year-level expectations (often year after year) and, as a consequence, become increasingly disengaged. The OECD estimates that one in seven Australian 15-year-olds fails to achieve an international baseline proficiency level in reading and finishes school without the reading skills that the OECD believes are required to participate adequately in the workforce and to contribute as productive citizens in the 21st century. In mathematics, one in five Australian 15-year-olds fails to achieve the international baseline level, leaving school without the adequate maths skills for life beyond school.
Currently, a curriculum is developed for each year of school, students are placed in mixed-ability classes, teachers deliver the curriculum for the year level they are teaching, and students are assessed and graded on how well they perform on that curriculum. An alternative approach would be to diagnose through assessment each student's starting point for learning, target teaching appropriate to their needs, monitor progress over time and share that progress with parents and families.
Revisiting the 'big five' challenges six years on
The world has undergone significant changes since Professor Masters identified the pressing issues facing the Australian education system, not least a pandemic that is having a devastating impact on many students, yet these challenges remain to varying degrees. In a special series of free webinars, experts from educational research will join policymakers and practitioners to discuss what progress has been made in each area – and what must happen next if we are to improve the quality and equity of Australian education.
Registrations are now open for our first session. Numbers are limited so reserve your place now.
The Big Five Challenges in Education in a Changed World webinar series:
Find out more about the International Day of Education.