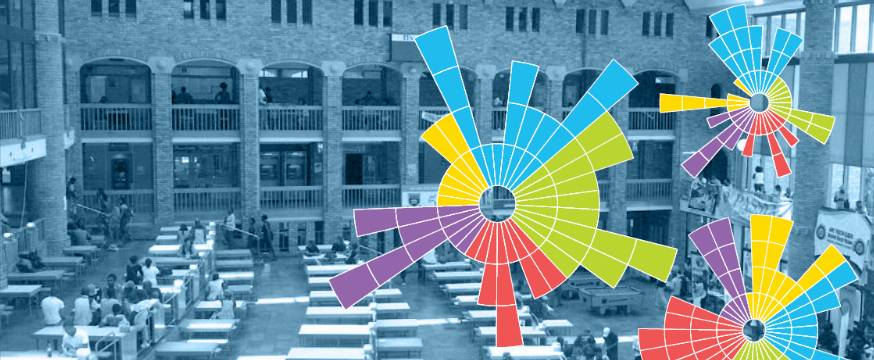 Profiling the diversity of Australian universities
Research
4 Jul 2013
6 minute read
A comprehensive new collection of university profiles is making it possible to measure the diversity of Australia's higher education system, as Hamish Coates explains.
Profiling the diversity of Australian universities
Australia has a vibrant higher education market, with 41 universities and around 130 non-university institutions. Nonetheless, it could be argued that systemic diversity in Australia is relatively low as there are only a handful of institutional types.
The need for diversity
There is substantial consensus in the research literature that diversity in higher education is a good thing. Systems with more diverse institutions perform better than systems with less diverse institutions, for several reasons.
First, more diverse systems better meet the diverse needs of students. A diverse set of institutions allows students to choose the one that best reflects their preferences and abilities, thereby optimising the chances of successfully completing a higher education degree.
Second, a diverse system stimulates social mobility. Historically, a small higher education system catered for the elite and was the perfect vehicle for maintaining that elite. Diverse higher education systems have different access points and progression pathways that enable increased participation from the lower socioeconomic strata and other equity groups.
A third argument relates to better meeting labour market needs. Labour markets increasingly fragment and differentiate, thus requiring different types of graduates. A more diverse higher education system is better able to respond to these needs.
Australian universities would clearly benefit from having an institutional profile that differentiates it from others. Given this, there is a need for a systematic way to capture the distinctiveness of each institution.
Creating institutional profiles
Drawing on the European Commission's U-Map and U-Multirank projects, a team of researchers at ACER and the LH Martin Institute have gathered data from numerous publicly available sources to offer a visual map of each of Australia's 41 universities. The resulting profiles encapsulate a broad range of perspectives about these institutions, providing a much more comprehensive picture than current rankings.
Evidence-based profiles were built using classification structures for institutional characteristics that mirror those being rolled out globally through U-Map and U-Multirank. The profiles display what the institution does, how they are performing, and how they compare to other institutions across five dimensions:
Teaching and learning;
Student profile;
Research involvement;
Knowledge exchange; and
International orientation.
There are several indicators within each dimension. For reporting purposes, each institution was placed in the first, second, third or fourth group on each indicator. Where data on an element was not available the indicator was left blank.
The resulting profiles encapsulate ... a much more comprehensive picture than current rankings.
The output was compiled graphically into a sunburst profile for each institution. Figure 1 provides an example profile for 'Median University'. This fictitious institution represents the average of all Australian universities, providing a reference point against which profiles for individual universities can be compared.
Figure 1: 'Median University' profile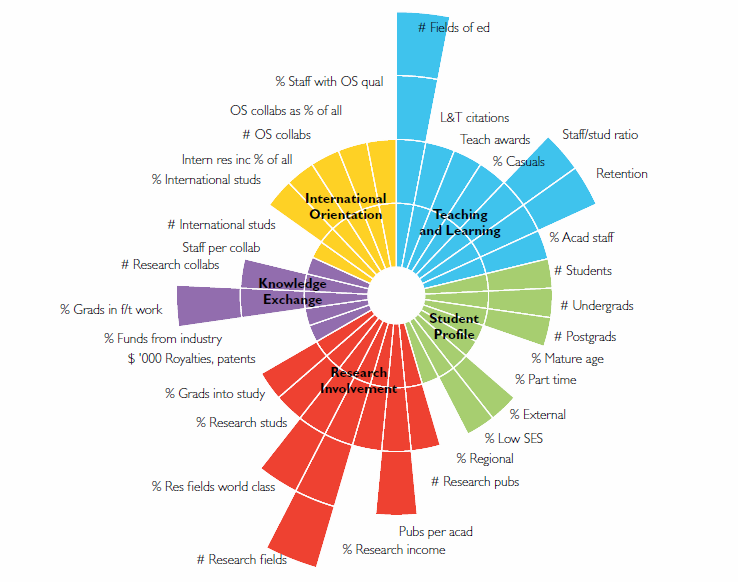 By providing information about the activity or performance of an institution in terms of the dimensions of its mission, institution profiles serve as transparency instruments allowing both internal and external stakeholders to get to know the institution and to assess its fit with their needs and priorities.
Refining the profiles
These profiles are a snapshot of Australian universities based on data collected at a particular time. They by no means provide insights into the developmental dynamics that are also part and parcel of our system. The formative nature of this work implies that there are many constraints and limitations to work through.
ACER and the LH Martin Institute intend to refine and update these profiles as new insights and data become available. There is a need for more nuanced analysis through inclusion of additional indicators and dimensions. Potential additions include 'learning outcomes', 'regional engagement' and 'community engagement' dimensions. A range of optional institution-level dimensions or indicators, such as financial metrics and indicators of governance, might also be considered.
A further step is to develop multilevel (i.e. discipline, program or degree) indicators that enable profiling within institutions. Mapping at this level would enable academic faculties, departments and/or schools to better position themselves against a landscape of 'sameness'. Producing activity and performance profiles at sub-institutional levels allows for national and international comparisons of the distinctiveness of particular disciplines, programs or degrees, encourages differentiation, and presents powerful reference points for various stakeholders. It is the credible next step for higher education systems, and institutions within, to focus on transparency and quality in their educational functions.
Implications for decision-making
A transparent instrument which provides information about an institution's activities has an important role to play in an era of greater accountability. For higher education institutions, these profiles offer effective ways to better understand, analyse and position themselves in rapidly changing national and global contexts. For governments, it is about finding the right mix of institutions to underpin the development of a knowledge economy alongside the other national agendas.
This initial construction of Australian institution profiles makes clear that policy makers and university leaders can and must make strategic choices, working together to find the critical balance of institutional aspirations against those of the nation as a whole. This is important not only for improving the performance of the higher education system but also in progressing the economic, social and cultural vitality of Australia.
Further information:
The full research briefing, Profiling diversity of Australian universities, by Hamish Coates, Daniel Edwards, Leo Goedegebuure, Marian Thakur, Eva van der Brugge and Frans van Vught, is available here.